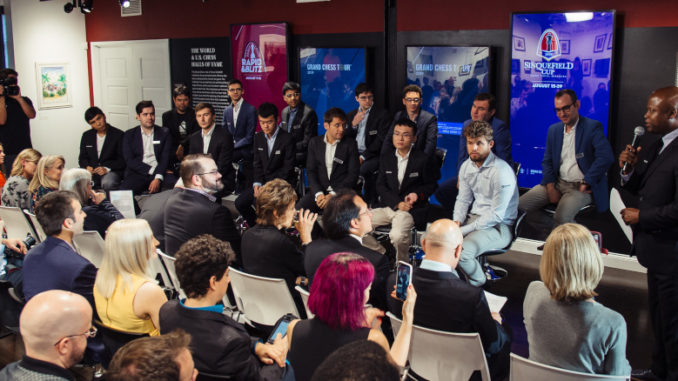 Round 4 of the Sinquefield Cup 2019, was played on Tuesday 20th August, in Saint Louis, United States of America. Leading the tournament, was Viswanathan Anand, thanks to his win over Ian Nepomniachtchi in round 1. Apart from that game, the tournament had seen all draws. However, this was not without some spicy play and near misses.
If it had not been for Fabiano Caruana's spicy play, there would have been another full stack of draws in this round also. The American Grandmaster made the White pieces count against Levon Aronian to join Anand in the lead.
The game was a Berlin Defence in the Ruy Lopez, which tends to produce groans straight away due to its high number of draws. However, on this occasion, it was the hero of the day. The reason for this, was perhaps due to the speed with which the game descended into obscurity. It followed Quirhuayo-Cuellar, Lima 2016, until Caruana's 10.Qf3, which seems to be a novelty. The former World Championship challenger, then went on to sacrifice a pawn in order to situate a knight on d6. This is shown in the diagram, below.
This kind of thing is extremely irritating to the opponent, because the knight is very influential on d6. It impedes Black's development, which is illustrated very well by the obligatory 13…Rf8. There followed 14.Bg5 and White is threatening to really bust Black up by taking on f6. 14…Ne4 was really the only good move for Aronian and after 15.Nxe4 dxe4 16.Qxe4, Caruana had his pawn back.
Steadily, White's position improved and solidified and when Black refused 31…Qxb2 in favour of 31…Nc4, the tactics came out in the American's favour and saw him a pawn to the good. The diagram, below, shows the state of affairs after Fabiano's 46.a4.
Here, White is certainly better, but Black is defending. Correct is 46…bxa4 and then after 47.Qxa4 Qf5 (or …Rc4) keeps up the fight. Unfortunately for Levon, he was in severe time pressure and blundered with 46…Qc5(??). This allowed Fabiano to strike hard, with 47.Re8+(!). After 47…Kh7 48.Rxc8 Qxc8, Caruana was winning a second pawn with 49.axb5.
This gave White two beautiful connected passed pawns on the Queenside. With Black having no counterplay or checks and hardly any time at all, it was an impossible task and the point was soon going to the home player.
This result would see Fabiano Caruana joining Viswanathan Anand in the lead, much to the delight of the home crowd in Saint Louis. Anand himself could only manage a draw as White against Wesley So. Their game was a Petrov's Defence, in which Anand got the better of things. It was probably not enough to make it produce more than a half point, though and they drew in 42.
Magnus Carlsen pushed Shakhriyar Mamedyarov in their game, but couldn't quite get the win that one feels he very much needs. The World Champion played the black pieces in a Meran and had a really nice opening result. The diagram, below, shows the position, with Magnus having played 21…Qxc5.
It is easy to see that Black has the freer game and better pieces. The bishop pair is not only good for Magnus, but Shakhriyar's knights are not having the best of times right now. However, after White's 22.Rac1, Magnus slipped up with 22…Qb6(? better is …Qf8 or …Qe7). I thought this might be a technical glitch at first, because the move just looks wrong. However it does seem to have been what he played, allowing 23.Na4 Qa7 24.Nc5. Mamedyarov had improved things a little.
Carlsen stayed in control of the game, however even though Mamedyarov found himself with a passed pawn on the e-file. Carlsen used his bishop pair to full effect, rounding up on the pawn and liquidating it. Then, the question was whether White could stop Black's own passed pawn on the b-file or not. Luckily for Mamedyarov, the answer was yes … but only just! The final position is shown below. Though Carlsen could advance his pawn to b2, Mamedyarov's control of the b1 square (and c2 square for that matter) saves the day.
Elsewhere, Anish Giri and Maxime Vachier-Lagrave, got into a Grunfeld Defence. Giri had the better game as White and managed to get himself a really nice passed pawn on the d-file. To his frustration, he didn't have enough pieces to support its advance and Vachier-Lagrave organised his defence well. Draw in 45. The Closed Ruy of Hikaru Nakamura and Ding Liren, went 47 moves, but wasn't hugely eventful.
The Russian derby game between Sergey Karjakin and Ian Nepomniachtchi hardly got out of the blocks. They found a way to repeat in 21-moves, with almost all of the pieces still on the board.
Standings after 4 rounds:
Anand, Caruana — 2.5
Carlsen, So, Nakamura, Ding, Giri, Mamedyarov, Vachier-Lagrave, Karjakin — 2.0
Nepomniachtchi, Aronian — 1.5
Round 5 is the last round before the one and only rest day. Under normal circumstances, these can see either fireworks or lots of early baths. However, this one could be interesting, not least because Magnus Carlsen will have White against Sergey Karjakin. Levon Aronian also has White against Shakhriyar Mamedyarov, who is just pipping him at the bottom of the standings.
And with the all-American derby of Wesley So and Fabiano Caruana at least even money to be a draw and Viswanathan Anand playing Black against Maxime Vachier-Lagrave, could we see one or two changes in the standings as we cross the halfway stage? Let us hope that the players think so!
The Sinquefield Cup 2019 is held between August 15th and 29th, in Saint Louis, United States of America. It is part of the 2019 Grand Chess Tour and follows on immediately from the Saint Louis Rapid & Blitz. It is a 12 player round-robin over classical time controls. Prize fund is $325,000 (£267,468 / €292,938), 1st prize is $90,000 (£74,068 / €81,121). Official website: https://grandchesstour.org/2019-grand-chess-tour/2019-sinquefield-cup