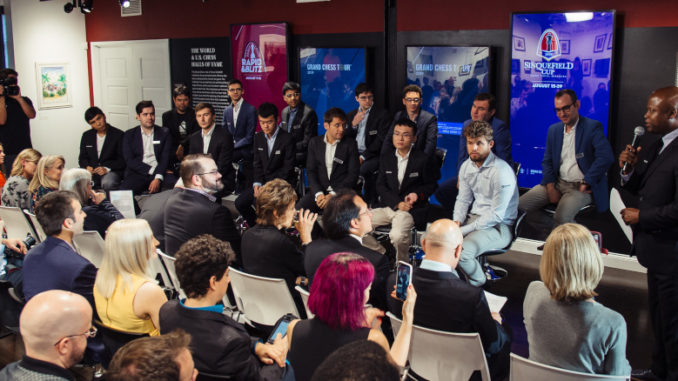 Round 3 of the Sinquefield Cup 2019, was played on Monday 19th August, in Saint Louis, United States of America. It saw a full sweep of draws for the second day running. Once again, though, this was not without some tantilising play here and there.
Perhaps Sergey Karjakin found karma to be a bit of a you-know-what in this round. In round 2 he had agreed a rather feeble 35-move draw with Ding Liren and was the first to finish. In this round, Hikaru Nakamura took him to 104-moves. Their Catalan saw no captures until 25.Nxg6. Then, after 25…Qxg6 26.c5, the structure was rather locked down. This is shown in the diagram, below.
These kinds of positions are extremely difficult to make progress in. Advantages are redundant, because of the lack of opportunities to break through. They tend to see quick draws (which is where I thought this one was going) or a timely sacrifice.
And that was what was needed after Nakamura's 48.a5, when niether player was going anywhere fast. Rather amusingly, they set about piece shuffling, which was fruitless to be quite fair and made rather a mockery of the rule prohibiting draw offers. Then, there was a bit of an 'lol' moment, when White sacrificed a pawn with 90.a6, 8 moves or so from the 50-move rule. After a couple of exchanges, it was time to repeat and end the agony. The final position (after 104.Be8) can be seen below.
Ding Liren had an interesting game against Maxime Vachier-Lagrave. The game was a Grunfeld Defence, in which Ding (playing White) allowed his pawn structure to be messed up in return for the open g-file. This is shown in the diagram, below.
Unfortunately for Ding, he wasn't able to hold on to his bishop pair. If he had been, he would have had an extremely strong stance I feel. Even so, it was he who held the edge as the game moved on, thrusting the h-pawn up the board to probe his opponent's position. The diagram, below, shows the situation after White's 17.h5.
What is interesting, here, is that Ding's King is actually very well off in the centre of the board. Vachier-Lagrave is also not very active and it is extremely difficult for him to generate counter chances any time soon. The trade off is that White will have to sort out how he will bring his a1-rook into the game.
And this was quite crucial I feel, because had Ding been able to call upon that rook, Vachier-Lagrave would have been toast. Even without it, Ding managed to build up a lot of pressure against Black's King, but just lacked something. That something was a rook on the g-file.
This allowed Vachier-Lagrave the time to liquidate and get himself into the game. Perhaps Ding was disappointed at this, or felt that he must have missed something somewhere, because he did not play the best of endgames. The diagram, below, shows the position after Vachier-Lagrave's 41…Kc5.
As you can see, much has changed and the tide is now actually turning. Luckily, Ding played very accurately and there followed: 42.Re6 Rf8 43.Bxd5 Rxf2 44.Kc3 cxd5 45.Rxe7. The game was drawn at move 50.
Perhaps Ian Nepomniachtchi could have tried for more than his half point against Shakhriyar Mamedyarov. In the Ruy Lopez Moeller Defence, Nepomniachtchi was definitely the better with White. Shakh's 24…f5 is a tad inaccurate, as shown in the diagram, below.
Here, Ian's 25.Rxc8 should perhaps have given way to 25.exf5. After 25…Rxf5 26.Rxc8+ Bxc8 27.Qe4, Black is rather tied up in the centre. White will want to play Rc1, looking to get to c6, for example. Black can easily cover this with …Bd7, but White has the rook lift Rc3, on its way to e3, when it puts pressure on e5. Black would then have to be absolutely accurate to defend. (In this variation, the rook going straight to e1 would be wasteful as Black has …Qc5, which hits f2, the rook not being on e3. Nxe5 would then see …Qxf2+ and a likely draw.)
Even after 25.Rxc8, though, Ian still managed to advance his d-pawn to d6, but this didn't stay a threat for long and then his chance was gone completely. The point was split in 53.
The other games were rather lack-lustre by comparison. Levon Aronian was unable to make the White pieces work for him, in his Giuoco Pianissimo against tournament leader, Viswanathan Anand. To be quite fair, I hadn't expected much of a tussle between these two and it indeed wasn't. The players steadily exchanged down into a largely symmetrical rook and pawn ending, before repeating moves.
By the same token, the much-awaited clash between Magnus Carlsen and Fabiano Caruana, was also a bit like watching paint dry. It was a Queen's Gambit Accepted, but despite early promise, it fizzled out very quickly with rapid exchanges and was drawn in 43. Wesley So and Anish Giri drew an Open Catalan. White was slightly better in the middlegame, but So didn't fancy pursuing anything and they were soon repeating.
Viswanathan Anand stayed in the lead, then, with all eyes turning to round 4. Would the penultimate round before the one and only rest day, spark things up a bit?
The Sinquefield Cup 2019 is held between August 15th and 29th, in Saint Louis, United States of America. It is part of the 2019 Grand Chess Tour and follows on immediately from the Saint Louis Rapid & Blitz. It is a 12 player round-robin over classical time controls. Prize fund is $325,000 (£267,468 / €292,938), 1st prize is $90,000 (£74,068 / €81,121). Official website: https://grandchesstour.org/2019-grand-chess-tour/2019-sinquefield-cup