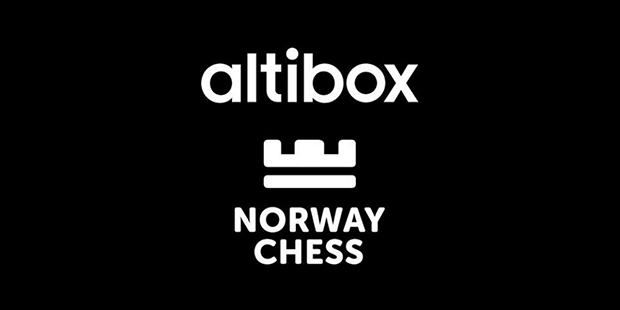 The 4th edition of the Norway Chess Tournament, is underway, in Stavanger, Norway. It is a round-robin event, played over 9-rounds. The event will be played under classical time controls (100 min for 40 moves + 50 min for 20 moves, + 15 min for the rest of the game with an increment of 30 seconds per move, starting from move 61). 'Sofia' rules apply.
The tournament has a new sponsor this year, in the form of Altibox, a Norwegian broadband and communications company. That is not the only change, with the event removing itself from the Grand Chess Tour, apparently due to differences in vision for the future of chess events.
Top seed is of course Norway's chess superstar and current World Champion, Magnus Carlsen. Carlsen's challenger for the world title, Sergey Karjakin of Russia, was also given a place at this event, but since qualifying to play Carlsen a few weeks ago, (by winning the 2016 Candidates Tournament), has withdrawn. He cited the need to prepare – yes, November is indeed looming.
Needless to say, this has not gone down too well with the organisers. In a statement published on their website, the action was described as 'disrespectful'. Karjakin has been replaced by Li Chao of China, who has reportedly postponed his wedding in order to play the event … one can only wonder how that decision went down.
The full list of players is given below, (given in order of seeding for the event, world ranking in brackets):
Magnus Carlsen, Norway, 2851 (1)
Vladimir Kramnik, Russia, 2801 (2)
Anish Giri, The Netherlands, 2790 (4)
Maxime Vachier-Lagrave, France, 2788 (5)
Levon Aronian, Armenia, 2784 (7)
Pavel Eljanov, Ukraine, 2765 (12)
Pentala Harikrishna, India, 2763 (13)
Li Chao, China, 2755 (15)
Veselin Topalov, Bulgaria, 2754 (16)
Nils Grandelius, Sweden, 2649 (112)
In a nice opening novelty for this event, a blitz competition was played on Monday. Interestingly this would decide the pairings for the main tournament – the five top finishers will have five white games in the 9-rounds and the rest only four. How beneficial this will be remains to be seen.
Magnus Carlsen dominated the blitz event, with a score of 7½ from the 9 rounds. It could have been a better score in all honesty, but the World Champion pushed the boat out a bit in his final round game against Anish Giri, and sank. The full blitz standings are given below (games at the bottom of this report).
Magnus Carlsen — 7½
Anish Giri — 6½
Maxime Vachier-Lagrave — 6
Vladimir Kramnik — 6
Levon Aronian — 4½
Pentala Harikrishna — 4
Veselin Topalov — 3
Nils Grandelius — 2½
Li Chao — 2½
Pavel Eljanov — 2½
This works out in the following line-up for the first round.
Carlsen vs Harikrishna
Giri vs Eljanov
Vachier-Lagrave vs Li Chao
Kramnik vs Grandelius
Aronian vs Topalov
Play begins at 16:00 local time. If you need to, you can check your time, here.
More Information: Altibox Norway Chess 2016 Website