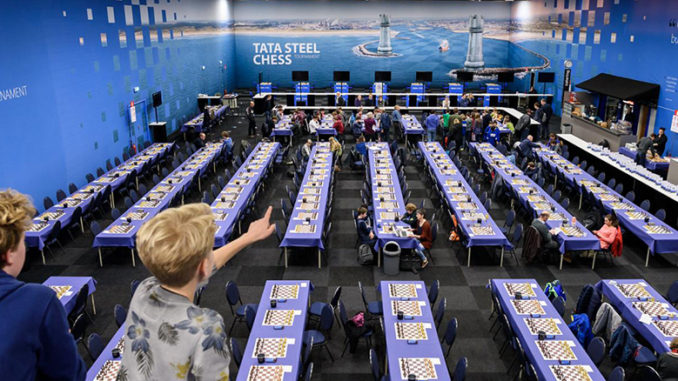 Round four of the Tata Steel Chess Tournament 2018, took place in Wijk aan Zee, the Netherlands on Tuesday 16th January. The round would see Dutch hero, Anish Giri, face off against World Champion, Magnus Carlsen of Norway. The game would end in a draw — one of four in this round — other results being as follows:
Hou, Yifan 0-1 Matlakov, Maxim
Karjakin, Sergey ½-½ Mamedyarov, Shakhriyar
Caruana, Fabiano ½-½ So, Wesley
Adhiban, B. ½-½ Anand, Viswanathan
Wei, Yi 1-0 Jones, Gawain
Giri, Anish ½-½ Carlsen, Magnus
Kramnik, Vladimir 1-0 Svidler, Peter
Wei Yi and debut-maker Matlakov earn first points; Kramnik wins Russian derby
British Grandmaster, Gawain Jones, would have been hoping for a good solid performance in this round, at least to consolidate his well-earned point from the previous round (in which he defeated Baskaran Adhiban). Sadly for Gawain, it was not to be and he would surrender it to Wei Yi of China. The game was a King's Indian Defence, which saw Wei (who can be a little backward coming forward at times), playing positively as White. 25…Bf6(?) was a slip by Jones, as shown by Wei's 26.Rg5(! diagram) and here we see the vulnerability of the Black position.
Immediately, this is the bishop on h5, but Black also has a knight on b4, which is not the best piece either. For example, should Black opt to accept the rook with 26…Bxg5 here, then after 27.hxg5 there would probably follow 27…Bxf3+ 28.Bxf3 Kg7 29.Be4 Rh8 30.Bb1(!) and White is having a much better time with his two bishops than Black is with his two rooks. And from here, he has the very simple plan of Ne4 and Nf6. If we add to this that Black's b4-knight will take some time to be re-deployed, (via a6 of all squares), then White has a sublime return for his rook and Black's situation is very bleak indeed.
Hence, Jones decided upon 26…Bg6, but this is not a good solution — or any solution — to his problems, it is just the lesser of evils. It certainly didn't work out for him and Wei Yi converted without problems.
Russian Grandmaster Maxim Matlakov, is taking a little time to settle in this tournament. This, of course, is no surprise and it should not be overlooked that it is his first time on such a stage. His win over Hou Yifan in this round will hopefully go some way to easing any lingering nerves. Hou is herself not having the best of times so far during this tournament and one must wonder whether her academic studies are having some affect on her chess. For me, she certainly seems to lack a little of the sparkle and confidence that I have seen from her over the years.
The game saw a Marshall Counter-Attack in the Ruy Lopez and reached the position shown in the following diagram, (after 27…a4), with approximate equality. Here, Hou, playing White, went for the exchange sacrifice of 28.Rxa4(?!).
Personally, I find this a worrying decision and not only because the sacrifice seems unsound and does not lead to sufficient compensation for the rook. Obviously, White is feeling some pressure, but the sacrifice only made matters worse and to be honest has a certain desperation and perhaps even frustration factor about it. 28.Kg3 (in order to challenge the Black Queen with Qf4) seems much more constructive and in context. Even 28.Qe3, with the idea of Ne1 and Nd3, was more appropriate. And via this route, Hou may have picked up her pawn anyway — 28…Nc4 (other continuations seem harmless), 29.g4 Nxe3 30.gxf5 Nxf5 31.Rxa4. Black is perhaps better, but White is by no means out of the fight.
After the sacrifice, however, she was in big trouble and needed help from her opponent if she was going to survive. Unfortunately for her, Maxim Matlakov is a very potent player when given an edge and showed exactly what he is capable of. He managed to exchange into an endgame effortlessly and from here Hou Yifan had too many weaknesses to be a serious entity. Matlakov then returned the exchange, and obtained a passed pawn that ultimately sealed White's fate.
The other point of the round went to Vladimir Kramnik, who bested countryman, Peter Svidler. Unfortunately, there is not very much to say about this game other than it was a below par showing from Peter. Like Hou Yifan, he very much fell on his own sword. Kramnik played White in a Grunfeld Defence and the game saw the Queens coming off early. However, this did not stop the game taking a certain spice to it. Unfortunately for Svidler, his opponent enjoyed the best of the opening and clearly enjoyed the more active pieces.
Then came Svidler's 18…Rc7(?), which was inaccurate and should probably have given way to …Be5. As it was, White was in command upon 19.Rxa7 and never looked back. One could perhaps regard the game as a virtual miniature as Svidler seems completely done for at this point. Certainly after 20…b6(? …e6 was perhaps more worthy) 21.Nb5, the Russian Champion was in his last throws. After a few more moves, he decided not to put off the inevitable and resigned. I must say, a very surprising capitulation for a player of Svidler's quality. Interestingly, he will have White in the next round, against Hou Yifan — both players will certainly be looking to perform better!
Giri and Anand Still Leading
The other games were drawn. Among these was the afore-mentioned clash between Magnus Carlsen and Anish Giri. I am sure that this match-up played at least some part in the very impressive crowd present. Certainly, all attention was concentrated towards the centre board.
The game started with a promising decision by Magnus to respond to Anish's 1.e4 with the French Defence. Carlsen has been highly critical of this opening and has rarely played it. So, did the Norwegian have something cooked? Well, if he did, then he didn't get the opportunity to show it. The game followed known territory until Giri's 16.Rd2 and seemed to rapidly sharpen up, with White having an open King on the Queenside, with Black's Queen on the b-file and looking quite mischievous. However, just as quickly as the tension had built, it was over. Exchanges came steadily and the players then split the point. Oh well, my Dutch friends, there's always next year!
Elsewhere, Fabiano Caruana will probably be a little disappointed to have gone back to the hotel with a mere half point. He had very good chances against Wesley So, but let them slip much to So's relief, no doubt. Vishy Anand had no problems as Black against countryman, Baskaran Adhiban. The Rapid World Champion was probably better towards the end, but his opponent managed to hang on for a half point. Karjakin-Mamedyarov was the usual kind of Petrov's Defence draw that makes us all groan. Both of these players seem a little out of sorts to me so far in the tournament. Indeed, Shakh is on 2.5/4, but I don't know, since his win over Hou Yifan in round 2, he has seemed subdued rather than energised to me.
All of this means that Anish Giri and Viswanathan Anand are still in joint lead of the tournament, with 3.0/4 . Carlsen, Kramnik and Mamedyarov are just behind.
Masters Standings after Round 4:
Anand, Giri — 3.0
Carlsen, Kramnik, Mamedyarov — 2.5
Karjakin, Wei Yi, So, Matlakov, Jones — 2.0
Caruana, Svidler — 1.5
Adhiban — 1.0
Hou Yifan — 0.5
Masters Round 5 – Wednesday 17th January
Svidler, Peter – Hou, Yifan
Carlsen, Magnus – Kramnik, Vladimir
Jones, Gawain – Giri, Anish
Anand, Viswanathan – Wei, Yi
So, Wesley – Adhiban, B.
Mamedyarov, Shakhriyar – Caruana, Fabiano
Matlakov, Maxim – Karjakin, Sergey
Note that this round is held in Hilversum, not Wijk aan Zee — Masters start at 14:00.
Photographs
Unless otherwise stated, photographs are by John Lee Shaw © www.hotoffthechess.
Clicking an image opens the image viewer.
---
---
Challengers
The Challengers group sees Anton Korobov and Vidit Gujrathi still in the lead with 3.5/4. Both won their games (against Girya and Dronavalli respectively) and are clearly the players to beat. Second seed, Bassem Amin, however, is having a nightmare of a tournament and at the bottom of the table on 1.0/4! In this round, he would lose to bottom seed, 16-year-old Lucas van Foreest. If there were any spectators around who were disappointed by Giri's draw with Carlsen, then Lucas certainly will have pepped them up somewhat. The youngster out-played his opponent and though the game was a bit topsy-turvy, it was Bassem who made the last mistake. And it was a big one, which would see him having to give a rook to save mate.
Full results:
Bok, Benjamin ½-½ L'Ami, Erwin
Vidit, Santosh Gujrathi 1-0 Harika, Dronavalli
Van Foreest, Lucas 1-0 Amin, Bassem
Gordievsky, Dmitry ½-½ Krasenkow, Michal
Bluebaum, Matthias ½-½ Tari, Aryan
Xiong, Jeffery ½-½ Van Foreest, Jorden
Korobov, Anton 1-0 Girya, Olga
Challengers Standings after Round 4:
Korobov, Vidit — 3.5
Gordievsky, L. Van Foreest — 2.5
J. Van Foreest, Xiong, L'Ami — 2.0
Tari, Krasenkow, Bok, Bluebaum, Girya, Dronavalli — 1.5
Amin — 1.0
Challengers Round 5 – Wednesday 17th January
Girya, Olga – Bok, Benjamin
Van Foreest, Jorden – Korobov, Anton
Tari, Aryan – Xiong, Jeffery
Krasenkow, Michal – Bluebaum, Matthias
Amin, Bassem – Gordievsky, Dmitry
Harika, Dronavalli – Van Foreest, Lucas
L'Ami, Erwin – Vidit, Santosh Gujrathi
With Thanks To:
Tata Steel and the organisers of the Tata Steel Chess Tournament.
Official Website: www.tatasteelchess.com