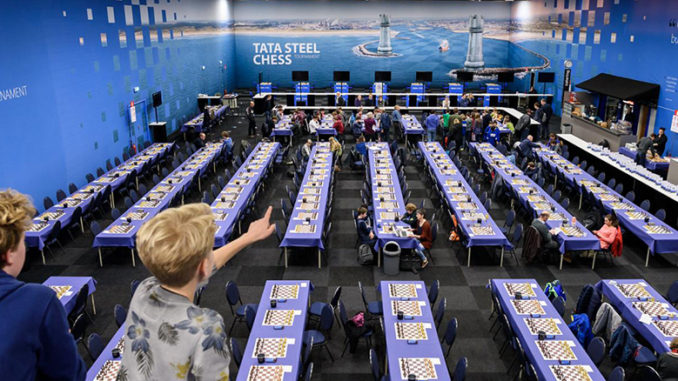 Now, it's not like me to complain (honest), but, the one problem with the Tata Steel Chess tournament being held at this time of year in the Netherlands, is the weather. January is never very impressive in this part of Europe. On the bright side, it is not snowing or icy (touch wood), but temperatures are low and moisture high, (today, it is absolutely belting down), which means that the sniffles are starting among those in the press room. Hopefully that is what it is, anyway and that the flu epidemic that is sweeping the country is giving Wijk aan Zee a wide berth!
Alright, to the chess then and even though the weekend is over (and in spite of the weather) there was a very impressive crowd present for the round. I am sure that those present would feel quite rewarded, too, as there was a lot of fighting chess to witness. This produced the following results:
Kramnik, Vladimir ½-½ Hou, Yifan
Svidler, Peter ½-½ Giri, Anish
Carlsen, Magnus ½-½ Wei, Yi
Jones, Gawain 1-0 Adhiban, Baskaran.
Anand, Viswanathan 1-0 Caruana, Fabiano
So, Wesley ½-½ Karjakin, Sergey
Mamedyarov, Shakhriyar ½-½ Matlakov, Maxim
Anand Dents Caruana's Hopes, Joins Giri in Lead
Game of the round, should probably go to Indian Grandmaster and seasoned campaigner, Viswanathan Anand, who defeated Fabiano Caruana. The game was a Petrov Defence and this usually receives groans from players and spectators alike. However, credit must go to Fabiano Caruana for the positive way with which he plays this opening as Black. In this game, though, perhaps he over-cooked his goose. His 16…d4(?! …a5 was perhaps more in context) just looked wrong and was. After 17.f4 Nd5 18.fxg5 Ne3 19.Qd2 Bxd3 20.Qxd3 Nxf1 21.Kf1, Anand's two pieces trumped Caruana's extra rook and though the American would pick up a couple of pawns, his own on d4 would fall.
From here, it was essential that Black got active and quickly, but White just had too much play and control in the position. It was total domination and the outlook began to appear very bleak very rapidly. Caruana's position seemed to deteriorate move by move and Anand's pieces began to descend upon the Black King without mercy. There was no defence and the finish, 42.Rd6(!!), was vintage Anand, ending things on the spot. As the following diagram shows, Black is unable to prevent mate without heavy losses — specifically, his Queen.
With this result, Anand joins Anish Giri at the top of the standings, with 2.5/3.
Jones Also Wins to Join Chasing Group
The other winner of the round, was Englishman Gawain Jones, who is only just behind the leaders. He made the most of his White game, also, to take a point from Indian Grandmaster Baskaran Adhiban. With the White pieces, Gawain outplayed his opponent in a French Defence. This puts Jones in amongst the chasing group, along with Carlsen and Mamedyarov. They are just behind Anand and Giri, with 2.0/3.
The other games were drawn and this includes the afore-mentioned Magnus Carlsen who seemed totally impotent with White against Wei Yi. Carlsen played one of the worst openings I have seen from him and started to look very dissatisfied early on. His opponent had no problems equalising and never seemed under any pressure. The game could have been agreed drawn way before it was at move 46. No doubt as unimpressed as everyone else, Carlsen was in no mood to talk after the game.
By contrast, Wesley So had a good opening against Sergey Karjakin and perhaps built up good prospects. I have not had chance to look deeply at this game, but it seems to me that castling on move-18 was a little slow for Wesley and gave Sergey some time to organise. From here, some exchanges followed and the game quickly headed to a draw. Vladimir Kramnik might be feeling a little short-changed following his game with Hou Yifan. It looked like he had his opponent under all kinds of pressure and Yifan's Queen looked very badly placed to me. However, she was able to resolve her problems and the players then repeated.
Peter Svidler admitted to being somewhat tired after his marathon 7-and-a-half-hours game against Wei Yi, in the previous round. It was a game which he barely survived. Today he faced Dutch hero, Anish Giri. The game was drawn in 21 and both payers seemed quite satisfied with the result. The Slav of Mamedyarov-Matlakov lasted a mere 25-moves.
Standings after Round 3:
Anand, Giri — 2.5
Mamedyarov, Jones, Carlsen — 2.0
Karjakin, So, Svidler, Kramnik — 1.5
Caruana, Wei, Matlakov — 1.0
Hou, Adhiban — 0/5
Photographs
Unless otherwise stated, photographs are by John Lee Shaw © www.hotoffthechess.
Clicking an image opens the image viewer.
Masters Group round 4 – Tuesday 16th January
Hou, Yifan – Matlakov, Maxim
Karjakin, Sergey – Mamedyarov, Shakhriyar
Caruana, Fabiano – So, Wesley
Adhiban, Baskaran – Anand, Viswanathan
Wei, Yi – Jones, Gawain
Giri, Anish – Carlsen, Magnus
Kramnik, Vladimir – Svidler, Peter
---
---
Challengers
In the Challengers Group, there is a two-way tie at the top of the standings between Gujrathi Vidit and Anton Korobov, who both won their games in round three. Korobov beat Benjamin Bok and Vidit took a point from Bassem Amin. The other winner of the round was Matthias Bluebaum, who beat Jorden van Foreest with Black.
Korobov, Anton 1-0 Bok, Benjamin
Girya, Olga ½-½ Xiong, Jeffery
Van Foreest, Jorden 0-1 Bluebaum, Matthias
Tari, Aryan ½-½ Gordievsky, Dmitry
Krasenkow, Michal ½-½ Van Foreest, Lucas
Amin, Bassem 0-1 Vidit, Santosh Gujrathi
Harika, Dronavalli ½-½ L'Ami, Erwin
Standings after Round 3:
Korobov, Vidit — 2.5
Gordievsky — 2.0
J. Van Foreest, Xiong, L'Ami, Harika, Girya, L. Van Foreest — 1.5
Tari, Bok, Bluebaum, Amin, Krasenkow — 1.0
Challengers Round 4 – Tuesday 16th January
Bok, Benjamin – L'Ami, Erwin
Vidit, Santosh Gujrathi – Harika, Dronavalli
Van Foreest, Lucas – Amin, Bassem
Gordievsky, Dmitry – Krasenkow, Michal
Bluebaum, Matthias – Tari, Aryan
Xiong, Jeffery – Van Foreest, Jorden
Korobov, Anton – Girya, Olga
With Thanks To:
Tata Steel and the organisers of the Tata Steel Chess Tournament.
Official Website: www.tatasteelchess.com