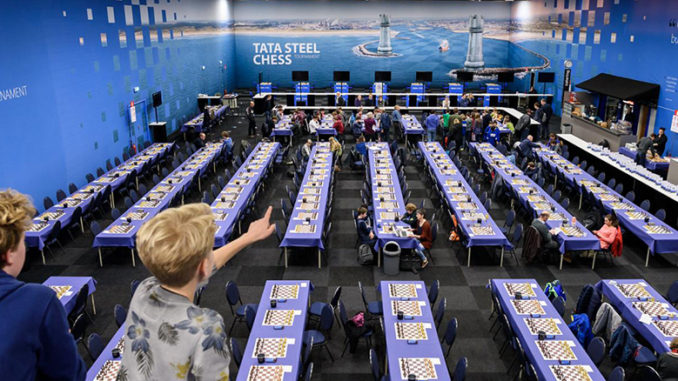 Round seven of the Tata Steel Chess Tournament 2018 was held on Saturday 20th January. It would be the bloodiest round so far in this year's tournament, with four of the seven games seeing points being earned. Full results were as follows:
Carlsen, Magnus 1-0 Hou, Yifan
Jones, Gawain ½-½ Svidler, Peter
Anand, Viswanathan 0-1 Kramnik, Vladimir
So, Wesley ½-½ Giri, Anish
Mamedyarov, Shakhriyar 1-0 Wei, Yi
Matlakov, Maxim ½-½ Adhiban, Baskaran
Karjakin, Sergey 1-0 Caruana, Fabiano
Magnus Carlsen adds to Hou Yifan's woes
Among the winners in this round, was World Champion, Magnus Carlsen, who ensured that Hou Yifan's horrid tournament would continue by depriving her of yet another point. Carlsen played a nice game, starting with his decision to seek the exchange of Queens at the earliest opportunity.
I think this was a very prudent choice, firstly because Hou had lost to Magnus with a bad endgame blunder in 2016. Psychological warfare is often as potent in chess as a brilliant move. The second reason that an early endgame was wise, is that as Hou's academic studies become more important in her life, perhaps her chess studies are on the back burner. And her play so far in this tournament would go some way to supporting that theory. It certainly allows Magnus to pit one of his super strengths against a potential vulnerability of his opponent.
Whether these possibilities had anything to do with Magnus' decision, or it was simply that he liked it, he didn't look back after the Queens came off. With the better placed pieces, he would then exchange rook for bishop and pawn and a nice initiative. The diagram, below, shows the situation after White's 45.gxf5.
Here, we see that White is dominating the play. His knight, King, and b and d pawns are far more positively situated than Black's forces. Anything other than precise endgame play by Black would be costly. And from here, perhaps psychology came into play yet again. There followed 45…Rf2 46.Nd6(? perhaps g3-g4 was more appropriate) and now, Black has to play 46…h5(!). A possible continuation would be: 47.d5 Rf1 48.b7 Kc7 49.Ne8+ Kxb7 50.Nxg7 Kc7 with a chance to hold with correct play.
However, …h5 was the move that cost Hou back in 2016 — is this why she refused it? One would think not, but then again, the logic behind the move is very sound, it stops g3-g4, threatens a later …h5-h4 — it stops White getting up to too much on the Kingside.
By contrast, Hou's 46…Rg2(?) un-eyed the f5-pawn and allowed 47.Ne4, consolidating before the last push. And when …h5 did come on move 50, it was too little too late. Carlsen brushed it aside with 51.d5-d6 and had the point in 55.
Mamedyarov takes 3rd win on the spin
Figuratively speaking, Shakhriyar Mamedyarov is on fire at the moment. The Azerbaijani Grandmaster claimed his third point in a row in this round, at the cost of Wei Yi on this occasion. The game was an Open Catalan, in which Black did rather well. However, Mamedyarov was allowed to obtain the more positively placed pieces. Wei can sometimes be a little too reserved in his play and in this game he was also quite compliant in his opponent's plans.
This gave Mamedyarov the better endgame and Wei under-estimated the danger in allowing White a passed pawn on the a-file. Ultimately, stopping this pawn would mean heavy material loss for Black and he resigned. The diagram, below, shows the final position.
Elsewhere, Vishy Anand had an unpleasant game against Vladimir Kramnik. In the Giuoco Piano, Kramnik had no problems equalising as Black and punished White for undertaking a bit too much pawn play. This left Anand lacking when it came to the activity of his pieces. It is not very often one sees Vishy having such a passive position as he obtained, but the tension and potential was all with Kramnik. 36…Qc8(!) unleashed the threat of …Qg4, slipping right into the White camp, completely winning. An undoubtedly disappointed Anand knew that defeat was inevitable and resigned.
Fabiano Caruana is not having a great tournament and this will come as a surprise to many. In his game against Sergey Karjakin, the American inexplicably hung a pawn with 17…Qe7(??). It is hard to believe that such strong players make these kind of blunders, but mortals such as myself can take comfort in the fact that they do. From here, Karjakin did not relinquish his grip and Caruana found himself under increasing pressure until his resignation on move 46.
Mamedyarov Extends Lead
The other games were drawn, which means that Shakhriyar Mamedyarov extended his lead to a full point at the top of the standings. And he wont be feeling too comfortable there, considering that chasing him are Giri, Carlsen, So and Kramnik. One round remains before the penultimate rest day.
Masters Standings after Round 7:
Mamedyarov — 5.5
Giri, Kramnik, So, Carlsen — 4.5
Karjakin, Anand — 4.0
Jones, Matlakov, Svidler — 3.5
Wei — 2.5
Caruana — 2.0
Adhiban — 1.5
Hou — 1.0
Masters Round 8 – Sunday 21st January
Hou, Yifan – Caruana, Fabiano
Adhiban, Baskaran – Karjakin, Sergey
Wei, Yi – Matlakov, Maxim
Giri, Anish – Mamedyarov, Shakhriyar
Kramnik, Vladimir – So, Wesley
Svidler, Peter – Anand, Viswanathan
Carlsen, Magnus – Jones, Gawain
---
---
Challengers
The Challengers Group saw Michel Krasenkow stopping the point-spree of Anton Korobov, who had won his previous four rounds. However, Korobov will not have been too disappointed at this result, considering that his nearest rival, Gujrathi Vidit, also drew. Points of the round went to Aryan Tari against Olga Girya and Matthias Bluebaum beat Dronavalli Harika with Black.
This keeps Korobov a point ahead of Vidit in the standings going into round 8.
Van Foreest, Jorden ½-½ Bok, Benjamin
Tari, Aryan 1-0 Girya, Olga
Krasenkow, Michal ½-½ Korobov, Anton
Amin, Bassem ½-½ Xiong, Jeffery
Harika, Dronavalli 0-1 Bluebaum, Matthias
L'Ami, Erwin ½-½ Gordievsky, Dmitry
Vidit, Santosh Gujrathi ½-½ Van Foreest, Lucas
Challengers Standings after Round 7:
Korobov — 6.0
Vidit — 5.0
L. van Foreest — 4.0
L'Ami, Tari, Bluebaum, Gordievsky — 3.5
Krasenkow, Xiong, J van Foreest, Bok, Amin — 3.0
Harika, Girya — 2.5
Challengers Round 8 – Sunday 21st January
Bok, Benjamin – Van Foreest, Lucas
Gordievsky, Dmitry – Vidit, Santosh Gujrathi
Bluebaum, Matthias – L'Ami, Erwin
Xiong, Jeffery – Harika, Dronavalli
Korobov, Anton – Amin, Bassem
Girya, Olga – Krasenkow, Michal
Van Foreest, Jorden – Tari, Aryan
With Thanks To:
Tata Steel and the organisers of the Tata Steel Chess Tournament.
Official Website: www.tatasteelchess.com