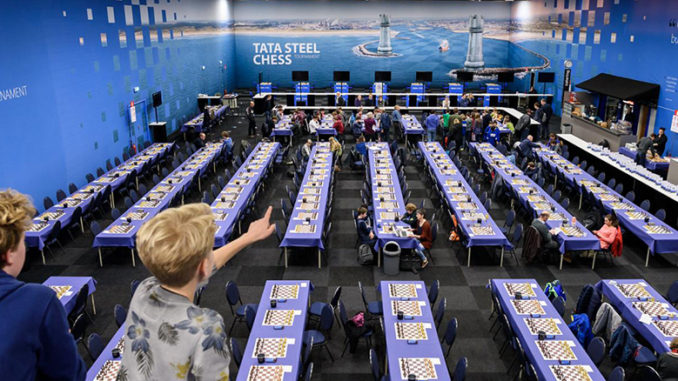 Round eight of the Tata Steel Chess Tournament, would be the last round before the second (and penultimate) rest day. A day off would be very much needed, too, for it would see its fair amount of drama! This would leave a 3-way-tie between Carlsen, Giri and Mamedyarov.
Hou, Yifan 0-1 Caruana, Fabiano
Adhiban, Baskaran ½-½ Karjakin, Sergey
Wei, Yi ½-½ Matlakov, Maxim
Giri, Anish 1-0 Mamedyarov, Shakhriyar
Kramnik, Vladimir ½-½ So, Wesley
Svidler, Peter ½-½ Anand, Viswanathan
Carlsen, Magnus 1-0 Jones, Gawain
Carlsen defeats Jones after 'crude' blunder … by Carlsen!
Could there be anything worse than being a piece down against the World Champion? Well, for Gawain Jones, this turned out to be … being a piece up! Carlsen-Jones saw Black doing exceptionally well after White played what is probably one of the worst moves in his career. A huge result for Jones was beginning to look likely. Such was Carlsen's predicament, that I believe Norwegian television (which has been covering the event live) switched attention away from his board.
The diagram, above, shows the position in all its ugliness (from White's perspective anyway). Magnus Carlsen has just played 17.g4. It is not really possible to give this move enough question marks, it is out of context, firstly and loses material to 17…f4. This is what happened in the game and after 18.h4 fxe3, it was clear that Magnus Carlsen was in trouble. A lot of it. There followed 19.Qxe3 h6 20.Qc5 (Ne4 would be super for Black) 20…Bb7 21.Ne4 with White standing very badly — see diagram, below.
Chess is a strange game, though and we all know that material and stance is important, but so is finding the right moves. And it was here that Gawain started to lose it a bit. From being the underdog with nothing to lose, he had become the favourite and expected winner in the game and it is my suspicion that the occasion got to him somewhat. There is no one able to slate Gawain for this — or Magnus for his earlier blunder that matter. We have all suffered delusions of grandeur and played complete lemons in our games and we have all choked at the board (or computer) and blown stonking positions with lame moves.
For Jones, this began with 21…Re6(?) which was far from optimum. This, together with the fact that there were far better options (…Qe7, …Kh8, …Bf8) already worried me that Black's judgement was perhaps being hampered and clouded by what was going on at the board. And it continued after 22.h5, when …Bf8 followed by …g5 was incredibly natural. Gawain went for 22…Qb6 and was still doing fine, but after 23.g5, …Bf8 really needed to be played. Instead, there was, 23…hxg5(?) and after 24.Qa3, White was surviving, albeit by the skin of his teeth.
Amazingly, a few moves later, Carlsen was winning. Jones had played some very ineffective moves and I think had just suffered from the occasion and tightened up. However, this, in my opinion, is a fine example of what separates the likes of Magnus Carlsen from other players. Alright, he blundered, but when given chances, he made no mistake about taking them.
This came primarily in the recovery of his position. When presented with less than first-rate punishing moves by his opponent, Carlsen punished him instead. This continued when he was given chances to gain advantage and culminated in his conversion of that advantage. Once his opponent was on the back foot and suffering, he kept him there and piled on the pain. The diagram shows the complete reversal in fortunes and here Jones resigned.
This will no doubt be a very painful result for Gawain and one can't help but feel for him, he is one of the nicest chess players to meet. It is one of those things that is the nature of the beast in sport, especially those governed by human performance. Even top strikers snatch and shoot wide of open goals at times. However it is right that he is hurt by this and it will make him all the stronger.
As for Magnus Carlsen, I was very impressed by his honesty after the game. He described his blunder as 'crude' and said it was embarrassing. However, I wonder how the interview would have gone (indeed if there would have been an interview) had the game concluded as had been expected. Importantly for Magnus, is that the point would give him a share of the lead at the rest day.
Special kudos should go to Gawain Jones, it should be added, who went to the live broadcast studio afterwards to talk about the game — top drawer!
Giri halts Mamedyarov to join the lead
Carlsen-Jones was not the only game creating a stir in this round. Elsewhere, Anish Giri was taking it to group leader, Shakhriyar Mamedyarov, who had been looking extremely dominant. Playing White in the Symmetrical English, Giri refused the Queen trade offered by his opponent's 13…Qb4 and clearly wanted to play.
This was perhaps the first sign that Mamedyarov wasn't up for it in this game and some of his moves from this point would support that. They were very quiet and unambitious and actually seemed rather compliant to his opponent. This gave Giri a very pleasant position in which he could pursue the point without too much risk. In the end, it was quite the capitulation by Mamedyarov and this would cost him sole lead.
As if there had not been enough drama, twists and chokes already, there then came the game of Hou-Caruana. This was a very interesting game, not least because both of these players are having a very poor tournament by their standards.
And it had begun to look like it was not Fabiano Caruana's day for turning the tide as Hou Yifan took the better of things as White in the Ruy Lopez. She enjoyed the best of the activity, Black not being able to make the most of his bishop pair due to the closed nature of the position. 33.Qd2(?) was a little too slow, however and should have given way to Rf3, with a clear initiative to White. As it was, Caruana began to find activity and swing the balance.
From here, Black's position steadily improved and he managed to exchange pieces favourably, his bystander light-squared bishop for one of White's active knights, for example. Then, when a Black knight arrived in the White camp with 41…Nb3(!), the resolution of 42.Bxb3 axb3 was not sufficient and Black was already enjoying the position much more. In no time, Black was in command, exchanging into a favourable endgame in which he was two pawns up. There was nothing left for White to do but resign.
And … breathe …
The other games were drawn, which means that there is a three-way tie for the lead as the players enjoy their second rest day of three. No doubt some will be enjoying it more than others. Anish Giri will be delighted to be up there, as will the home crowd no doubt. Magnus Carlsen will be on cloud nine I should think, while Shakhriyar Mamedyarov will probably be feeling a bit miffed with himself.
And at the other end of the spectrum? Well, Gawain Jones will hopefully be putting his demons to rest following his game with Carlsen, but it will be very hard for him to not be dwelling on what could have (and, honestly, should have) been. As for Fabiano Caruana and Hou Yifan, there seems to be a bit of stock taking needed with a view to doing themselves more justice in the remaining rounds.
Play continues on Tuesday.
Master Standings after 8 Rounds:
Giri, Mamedyarov, Carlsen — 5.5
So, Kramnik — 5.0
Anand, Karjakin — 4.5
Svidler, Matlakov — 4.0
Jones — 3.5
Wei, Caruana — 3.0
Adhiban — 2.0
Hou — 1.0
Masters Round 9 – Tuesday 23rd January
Jones, Gawain C B – Hou, Yifan
Anand, Viswanathan – Carlsen, Magnus
So, Wesley – Svidler, Peter
Mamedyarov, Shakhriyar – Kramnik, Vladimir
Matlakov, Maxim – Giri, Anish
Karjakin, Sergey – Wei, Yi
Caruana, Fabiano – Adhiban, B.
---
---
Challengers sees Korobov drop the ball and lose sole lead
Not to be out-done by the Masters, the Challengers also saw drama as longterm leader, Anton Korobov, lost with White to Bassem Amin.
Bok, Benjamin 1-0 Van Foreest, Lucas
Gordievsky, Dmitry 0-1 Vidit, Santosh Gujrathi
Bluebaum, Matthias ½-½ L'Ami, Erwin
Xiong, Jeffery ½-½ Harika, Dronavalli
Korobov, Anton 0-1 Amin, Bassem
Girya, Olga 0-1 Krasenkow, Michal
Van Foreest, Jorden 1-0 Tari, Aryan
Korobov had enjoyed a spell of domination in the group, which saw him winning four games on the spin before drawing in the previous round. And in this round he was doing very well until the wheels came off his bus. From holding the initiative, 31.hxg4(? better was Nf1) was a serious positional oversight and from here Black took over the game completely. A bitter loss for Korobov, who is perhaps feeling some fatigue?
Elsewhere, Gujrathi Vidit was also winning with Black against Dmitry Gordievsky, which means that Korobov now shares the lead with him again. The Indian Grandmaster is just not to be shaken!
This certainly opens things up a bit in this group for the remaining rounds. While Vidit and Korobov are leading by two clear points, neither of them can afford to take their foot off the gas if they wish to have a chance at graduating to the Masters group next year.
For me, the player to watch is still Lucas van Foreest. It is true that Lucas is the bottom seed in the group, however he has shown some great preparation in this tournament and is brimming with confidence. And having beaten his older Brother, Jorden in this tournament, as well as Bassem Amin and Junior World Champion Aryan Tari, so he should be! And having Korobov yet to play, it may only take one more big result for the youngster to really spice this group up a lot!
Challengers Standings after 8 Rounds:
Vidit, Korobov — 6.0
Amin, Krasenkow, Bok, L. van Foreest, L'Ami, Bluebaum, J. van Foreest — 4.0
Tari, Xiong, Gordievsky — 3.5
Harika — 3.0
Girya — 2.5
Challengers Round 9 – Tuesday 23rd January
Tari, Aryan – Bok, Benjamin
Krasenkow, Michal – Van Foreest, Jorden
Amin, Bassem – Girya, Olga
Harika, Dronavalli – Korobov, Anton
L'Ami, Erwin – Xiong, Jeffery
Vidit, Santosh Gujrathi – Bluebaum, Matthias
Van Foreest, Lucas – Gordievsky, Dmitry
With Thanks To:
Tata Steel and the organisers of the Tata Steel Chess Tournament.
Official Website: www.tatasteelchess.com