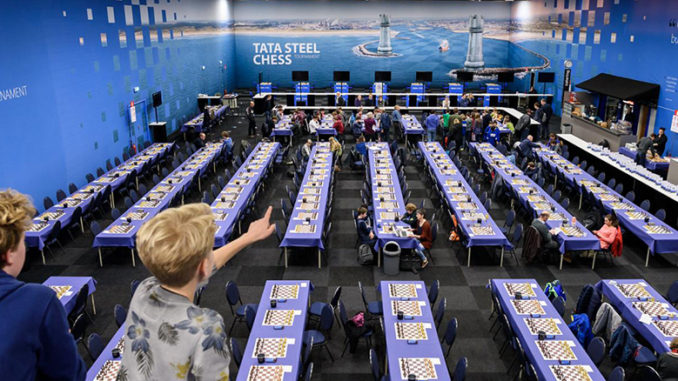 The Tata Steel Chess Tournament 2020, continued with round 4 on Tuesday 14th January. It would be the final round before the first rest day. Looming rest days are always lotteries really, with it being anybody's guess as to what is going to happen. Sometimes players will give that little bit extra, knowing that they will get a day off afterwards, while it is also possible that they will go for a quick peace, taking a bit of an extra rest.
What would this case bring? Well it was certainly no lazy day in the main.
Alireza Firouzja, went into the round leading the Masters group, but would not go into the rest day that way. Unfortunately for him, he came up against Wesley So in this round, who was certainly in the mood to do some work.
With all due respect to everyone, I think it is fair to say that So is the first elite player that Firouzja has faced in this tournament, and it was going to be very interesting to see how he would do. This, not only because of the opposition, but the stage also.
Though he would lose the game, (which is certainly no disgrace), I think there are very positive signs, when we take the bigger picture into account. He acquitted himself extremely well as black, the game being decided with one or two lapses, which can be held against no one.
The other win of this round, came for Vladislav Artemiev, who added to Vladislav Kovalev's poor start to the tournament. The Russian handed the Belorussian his 3rd loss in the opening 4 games. Kovalev will kick himself for his 35…Nh7(?), which should have given way to 35…b4, with approximate equality. However, his chosen move allowed Artemiev to seize an initiative that just grew in strength. Already a pawn down, 39…Rd8(??) was a further slip, allowing Artemiev's temporary exchange sacrifice, 40.Rxe6(!), which quickly decided matters.
The other games were drawn, but Magnus Carlsen did not have a pleasant game at all against Jorden van Foreest. The Dutch Grandmaster had won a nice game against Daniil Dubov in the previous round and obviously came into this game with his tail up against the World Champion. And why not, with a second White on the spin?
The game was a Two Knights Defence and saw van Foreest extremely well prepared. Carlsen did not get the best out of the opening and his opponent took a nice initiative. However, it is extremely hard to beat Magnus, who fought hard and defended well to earn half a point. And with this draw, Magnus passed Sergey Tiviakov's run of 110 games unbeaten. With 111, Magnus only has 39 to go to beat Bogdan Lalic's run of 150.
However, as Tarjei J. Svenson points out in his excellent Twitter thread on the subject, Lalic's draws are against completely different opposition to Carlsen's and it is debatable as to whether that particular record should be counted. Can of worms opened … ?
[THREAD] It turns out Carlsen does not have the longest unbeaten streak anyway:

According to my research, Croatian Grandmaster Bogdan Lalic played 150 FIDE rated games without a loss between September 2010 and October 2011.

But at a much, much lower level. /1 https://t.co/e5ZXXjt2ID

— Tarjei J. Svensen (@TarjeiJS) January 15, 2020
Anyway, this all left Wesley So at the top of the standings, having dethroned Alireza Firouzja. The players will now have a rest day, before leaving Wijk aan Zee for a day. They will play round 5 at the Phillips Stadium, in Eindhoven, home of PSV Eindhoven football club.
Masters Group, round 4 Results:
Dubov ½-½ Duda
Artemiev 1-0 Kovalev
So 1-0 Firouzja
Giri ½-½ Vitiugov
Yu ½-½ Anand
Xiong ½-½ Caruana
van Foreest ½-½ Carlsen
Masters Standings after Rd 4:
So — 3.0
Xiong, Caruana, Firouzja, van Foreest, Artemiev — 2.5
Carlsen, Giri, Duda, Dubov — 2.0
Vitiugov, Anand — 1.5
Yu — 1.0
Kovalev — 0.5
It was a Black day in the Challengers Group, with the 3 decisive games all going against the first move. Nihal Sarin opened his account, at the expense of Max Warmerdam, as did David Anton Guijarro, besting Jan Smeets. Elsewhere, Surya Shekhar Ganguly, was taking a point from Dinara Saduakassova, to go into the rest day as sole leader of the group. The Challengers also get a rest day on Wednesday, before having the stage in Wijk aan Zee all to themselves on Thursday.
Challengers Group, round 4 Results:
Mamedov ½-½ Eljanov
Smirnov ½-½ Grandelius
Warmerdam 0-1 Sarin
van Foreest ½-½ Keymer
Abdusattorov ½-½ l'Ami
Saduakassova 0-1 Ganguly
Anton Guijarro 1-0 Smeets
Challengers Standings after Rd 4:
Ganguly — 3.0
Mamedov, Eljanov, Anton Guijarro, Sarin, l'Ami — 2.5
van Foreest, Smeets — 2.0
Abdusattorov, Saduakassova, Grandelius, Smirnov, Keymer — 1.5
Warmerdam — 1.0
Round 5, Thursday 16th January, Masters (Eindhoven) start at 14:00, Challengers (Wijk aan Zee) at 13:30, local time.
Masters: Carlsen vs Dubov, Caruana vs van Foreest, Anand vs Xiong, Vitiugov vs Yu, Firouzja vs Giri, Kovalev vs So, Duda vs Artemiev.
Challengers: Smeets vs Mamedov, Ganguly vs Anton Guijarro, l'Ami vs Saduakassova, Keymer vs Abdusattorov, Sarin vs van Foreest, Grandelius vs Warmerdam, Eljanov vs Smirnov.