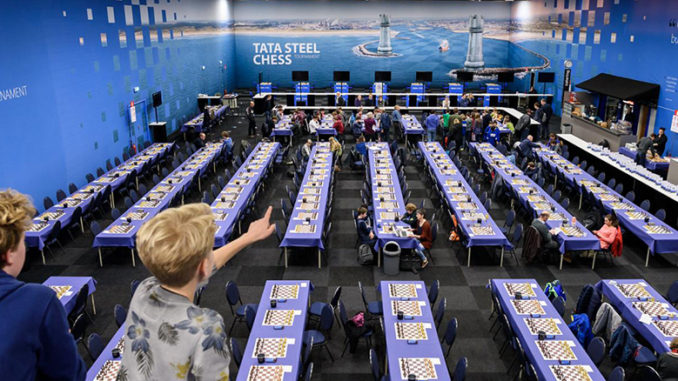 The Tata Steel Chess Tournament 2020, continued on Monday 13th January, with round 3. Things were a little quieter in the playing hall, with the weekend being over, but there was still the buzz of spectators, and of course the sound of clocks being pressed from the amateur groups.
Over at the top end of things, the Masters and Challengers arrived to continue the campaign for their respective 2020 title.
The Masters had seen a bloody day in round 2, and the chess world was treated to some exciting chess in this round also. I am not one for awarding 'Game of the Day' titles, but if I were, the tie between Dutch Grandmaster Jorden van Foreest, and Russian Grandmaster Daniil Dubov, would be a serious contender.
The thing is, I also feel that to call this a 'game' would be rather unfair to van Foreest, who was dictating things very soon after the opening. It seems to me, to have been an excellent bit of preparation, that saw Jorden in control throughout and netted him an almost perfect point.
The round also saw a point for Fabiano Caruana, who won the tussle of the Petrov players, against Yu Yangyi. The opening was indeed a Petrov, which saw Caruana playing White and always having the best of things by varying amounts. Yu's 38…gxf5(?) magnified this, letting the American into the h6-square with his Queen. From here, Caruana took a very nice advantage into the endgame, which was over quite quickly.
The other point of the round went to Alireza Firouzja, who took White against Vladislav Artemiev and outplayed him in a Caro Kann. I have to say, I find it impossible to not be impressed with Alireza at the board. He may be a mere 16-years-of-age, but he plays like a seasoned pro. If he continues in this way, he is likely to be a real force for decades to come. He goes top of the standings in this group, can he make it his own?
The other games were drawn, and this included Magnus Carlsen taking White against Jeffery Xiong. I thought that Magnus looked quite up for it at the start of the round, and perhaps he was, (he could also just have been cranky), but Jeffery is no lightweight and coped with the World Champion's 17.h4 and 19.g4 antics very well. Infact, the American was better when the Queen's came off of the board.
It started to look a little like Carlsen may have over pushed things, but as he tends to do, he managed to throw enough spanners in the works of his opponent to survive. This kept his chances of passing Sergey Tiviakov's run of 110 unbeaten games alive, as with this draw, he equalled it.
Interestingly, Magnus will play Jorden van Foreest in the next round. The Dutchman must be feeling good after his win against Dubov. Will he be feeling good enough to have a go at being spoiler to Carlsen's attempt at 111 games unbeaten?
Masters Group, round 3 Results:
Van Foreest 1-0 Dubov
Carlsen ½-½ Xiong
Fabiano 1-0 Yu
Anand ½-½ Giri
Vitiugov ½-½ So
Firouzja 1-0 Artemiev
Kovalev ½-½ Duda
Masters Standings after Rd 3:
Firouzja — 2.5
Xiong, van Foreest, Caruana, So — 2.0
Dubov, Artemiev, Giri, Carlsen, Duda — 1.5
Anand, Vitiugov — 1.0
Yu, Kovalev — 0.5
All points were split in the Challengers Group, which sees things staying the same with a 5-way tie at the top of the standings.
Challengers Group, round 3 Results:
Anton Guijarro ½-½ Mamedov
Smeets ½-½ Saduakassova
Ganguly ½-½ Abdusattorov
L'Ami ½-½ Van Foreest
Keymer ½-½ Warmerdam
Sarin ½-½ Smirnov
Grandelius ½-½ Eljanov
Challengers Standings after Rd 3:
Smeets, Mamedov, Ganguly, l'Ami, Eljanov — 2.0
van Foreest, Saduakassova, Anton Guijarro, Sarin — 1.5
Abdusattorov, Grandelius, Warmerdam, Smirnov, Keymer — 1.0
Round 4, Tuesday 14th January, 13:30 local time.
Masters: Dubov vs Duda, Artemiev vs Kovalev, So vs Firouzja, Giri vs Vitiugov, Yu vs Anand, Xiong vs Caruana, van Foreest vs Carlsen.
Challengers: Mamedov vs Eljanov, Smirnov vs Grandelius, Warmerdam vs Sarin, van Foreest vs Keymer, Abdusattorov vs l'Ami, Saduakassova vs Ganguly, Anton Guijarro vs Smeets.