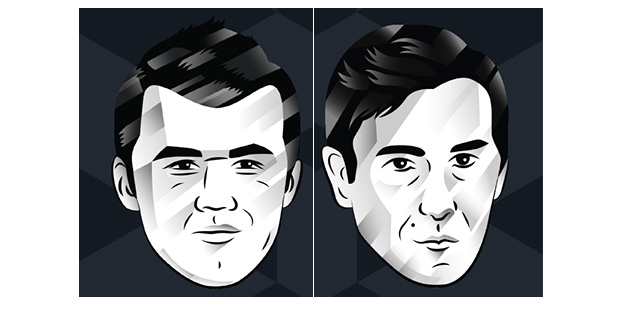 The World Chess Championship match between Magnus Carlsen and Sergey Karjakin, resumed on Monday 14th November after the rest day. The match had seen two rather straight-forward draws so far, and when game 3 produced a Berlin Defence, the expectations of a fight were not high. Indeed, social media was extremely negative and dismissive of any potential, with many calling the draw almost straight away. And this is understandable, the Berlin Defence is so heavily analysed and deep in theory, that the sharpness required for exciting chess can be lacking in the games.
However, humans are not perfect beings and human chess can produce the unexpected. In this game, that is exactly what happened.
The game saw Magnus Carlsen with the White pieces, and once again he took a rare line in a common opening. His 10.Re2 has been seen only a handful of times before and prompted Sergey Karjakin to once again slump into a deep think of 25-minutes. The game proceeded in a very casual way, with nothing of event, which increased the damnation from many observers, amateur and professional. White held some advantage, but as can be the case in the Berlin, Black held things together and was solid enough that nothing drastic was possible.
That was until Karjakin's 30…Ra2, which was out of context. All of a sudden, the challenger seemed to switch from solid and tight play, to some delusion of grandeur and aggression. Coupled with his following move, 31…c5, things had become tough for him. Carlsen smelled blood, and pressed, but in all fairness, it was not his best day at the office. He is unquestionably a genius at our game, but in this instance he missed a few critical moves during the course of the game and did not capitalise as we would expect him to. As resilient as always in defence, Karjakin fought extremely admirably and obtained some play on the Kingside, particularly a passed h-pawn. With this, and some of Carlsen's moves, which were good but just not good enough, he was able to throw enough spanners in the works, that White could not continue to push in the end, due to Black's own threats.
A very tense and exciting draw was the result.
After the game, Magnus Carlsen was obviously disappointed, he should have won this game. When asked if he was worried about what he will find when he looks at it, he replied, "yes, absolutely". Quite rightly, he undoubtedly let his opponent off the hook and this is extremely unlike him. Sergey Karjakin seemed the happier of the two, and I think that this is very logical. It goes without saying that he made mistakes, and he admitted to being badly prepared for 10.Re2. However, he survived, against one of the most powerful players in the world and is still level in the match. Simply put, both players messed up in this game, but Magnus Carlsen made the final, most crucial mistakes.
With the scores at 1½ points each, the match continues on Tuesday 15th November, with Sergey Karjakin having the white pieces for game 4. I can not help but feel that we could see a game, the challenger must come out and use some momentum, and attempt to have Carlsen rueing his missed chances. It makes no sense at all to me, for Karjakin to come out and play safe and give Carlsen a day off to regroup before his next white game. If Sergey Karjakin wants to win this match, game 4 could be when he makes that abundantly clear.