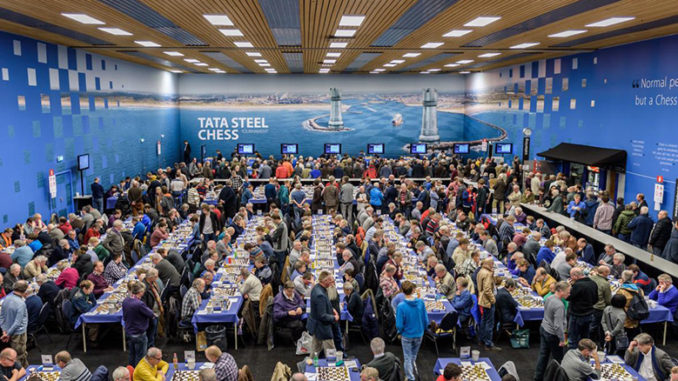 Round 9 of the Tata Steel Chess Tournament, played on Tuesday 25th January, saw Magnus Carlsen defeat Dutch Grandmaster Loek van Wely in the only decisive game of the round. After a couple of very tough rounds, the World Champion did exactly what he needed to, (if he wanted to keep his hopes in this tournament alive anyway), and has recovered to within half a point of the lead. This is still held by Wesley So, who drew a rather lifeless game against Levon Aronian.
Van Wely chose the Scheveningen Sicilian in response to Carlsen's 1.e4 and Magnus was clearly in an aggressive mood, immediately pushing his g-pawn forward for the Keres Attack. He obtained a good game, perhaps aided somewhat by van Wely, whose play was at times a little complicit. This led to White getting the better of the activity and netting himself a pawn.
Van Wely tried to liquidate out of trouble and simplify the situation, but this only left Carlsen with the better endgame, having an outside passed pawn on the Kingside, which was extremely strong. As if this was not enough, White then added two more passers on the Queenside. Black was no match for this and Carlsen converting was never in doubt.
After the game, Magnus was not really in the mood to speak to journalists and left the venue quickly, heading back to his hotel. He can be like this, win, lose or draw, but I can't help but wonder if he is suffering a little at the moment. Rounds seven and eight were tough on him to say the least, and perhaps it has had an impact on his confidence. If so, perhaps this win will help him regain his composure, even though he didn't seem quite satisfied with it.
The rest of the games saw split points, including a 79-mover between Ian Nepomniachtchi and Pentala Harikrishna, but the longest game of the round came in Wei-Adhiban, which took 92-moves to decide.
There are now four games remaining in the tournament, so still everything to play for. Round 10 will see the second 'Chess On Tour' event, taking place at the Philharmonie in Haarlem. Thursday will be the final rest day before the concluding weekend of the tournament.
Masters Group Standings after Round 9.
So — 6.0
Carlsen, Eljanov, Wei — 5.5
Aronian, Karjakin, Adhiban — 5.0
Harikrishna, Giri — 4.5
Wojtaszek, Andreikin — 4.0
Rapport, Nepomniachtchi — 3.5
van Wely — 1.5
Masters Group Round 10, Wednesday 25th January, 14:00 local time.
Aronian – Rapport
Van Wely – Giri
Harikrishna – Carlsen
Adhiban – Nepomniachtchi
Eljanov – Wei
Karjakin – Andreikin
So – Wojtaszek.
The Challengers group saw another round of largely decisive games and this produced a bit of a change at the top. Gawain Jones lost with black to Jeffery Xiong and Ilia Smirin won with black against Jorden van Foreest. This means that Smirin joins Markus Ragger in the lead with 6.5 points. Ragger, himself, drew his game with Aryan Tari.
Challengers Group Standings after Round 9.
Ragger, Smirin — 6.5
Xiong, Jones — 6.0
Hansen, Lu — 5.5
l'Ami, Grandelius — 5.0
Tari — 4.5
Dobrov, Bok — 3.5
van Foreest — 2.5
Lei — 2.0
Guramishvili — 1.0
Challengers Group Round 10, Wednesday 25th January, 13:30 local time.
Grandelius – Dobrov
Lu – Hansen
Jones – Lei
Guramishvili – Xiong
Smirin – l'Ami
Tari – van Foreest
Bok – Ragger.