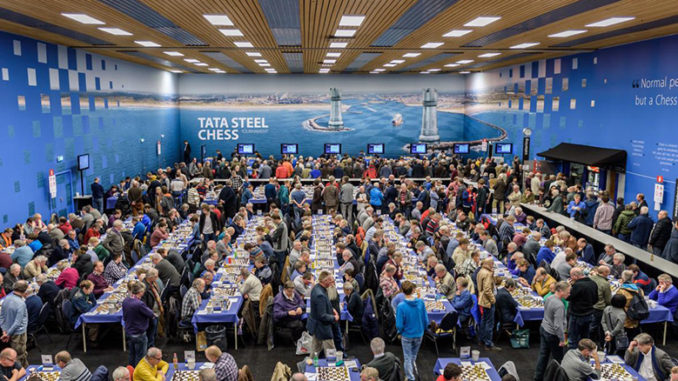 Wesley So is leading the Tata Steel Chess Tournament Masters group at the last rest day of the competition. So beat Radoslaw Wojtaszek in round ten, to extend his lead to a whole point over his nearest rivals — Aronian, Carlsen, Karjakin, Eljanov and Wei. Other victories in round ten went to Levon Aronian, who defeated Richard Rapport and Sergey Karjakin, who beat Dmitry Andreikin.
The round was played away from the tournament's home in Wijk aan Zee and hit the road as part of the 'Chess on Tour' feature. The tournament had already visited the football stadium of Dutch team Feyenoord, for round five; this time, play took place at the Philharmonie Theatre in Haarlem.
So ended up completely dominating his game with Wojtaszek. In a Catalan, Black seemed to be doing ok in the game, but White ended up establishing a huge presence on the Queenside. At one point, So had not one but three passed pawns, which were threatening to completely swamp Wojtaszek's position. The ease with which this happened and the sudden change in situation was on the one hand brilliant by So and on the other very alarming from Wojtaszek's perspective. From here, Black was overwhelmed and converting proved relatively straight forward for So, who was on the verge of forcing Wojtaszek to exchange his final piece in order to prevent White Queening.
Aronian quickly got the better of the Queen's Indian with Rapport, obtaining the better development and more active pieces. Black, unfortunately gave White far too much time and freedom and then Aronian confidently sacrificed a piece for a powerful initiative. This came in the form of two advanced f-pawns ripping into the Hungarian's King position. This quickly turned into a winning attack, against which Rapport had no response. A very nice game from Aronian.
The Giuoco Piano of Karjakin-Andreikin was going quite well for Black, who will have been quite pleased with things out of the opening. Unfortunately Andreikin got a little carried away and over-pushed slightly, which allowed White to get a strong footing in the position. Black put a little too much concentration into advancing his passed d-pawn, and took his eye off of White's own threats. This was namely a passed pawn of his own, which proved extremely difficult to deal with. In the endgame, White's Kingside pawn majority decided the day in favour of Karjakin, while Andreikin was completely taken up on the opposite flank.
The other games in the round were drawn and this means that Wesley So extends his lead in the group to a whole point. With only three rounds remaining, the American is in a very strong position in the group on 7/10 and will take some beating now. Realisticaly speaking, I think that only Aronian, Carlsen, Karjakin, Eljanov and Wei have a chance of doing this, but they are going to have to attack in each of their remaining games if they wish to do so.
Interestingly, Yi Wei will play So in round twelve, which could be an exciting game if Wei has ambitions. However, Wei will be Black and will likely need more than his Petroff in order to be a threat to So. Another interesting tussle could be Carlsen-Karjakin, coming up in the final round.
Let's hope for fireworks when play resumes on Friday!
Masters Group Standings after Round 10.
So — 7.0
Aronian, Carlsen, Karjakin, Eljanov, Wei — 6.0
Adhiban — 5.5
Harikrishna, Giri — 5.0
Wojtaszek, Nepomniachtchi, Andreikin — 4.0
Rapport — 3.5
van Wely — 2.0
Masters Group Round 11, Friday 27th January, 13:30 local time.
Wojtaszek – Aronian
Andreikin – So
Wei – Karjakin
Nepomniachtchi – Eljanov
Carlsen – Adhiban
Giri – Harikrishna
Rapport – Van Wely.
The Challengers Group sees a three-way tie at the top, with Jeffrey Xiong joining Markus Ragger and Ilia Smirin in the lead thanks to a win with Black over Sopiko Guramishvili in this round. Xiong has dropped only a half point in his last three games.
Just a half point behind the leaders are Eric Hansen and Gawain Jones — this group really could go down to the wire!
Challengers Group Standings after Round 10.
Ragger, Smirin, Xiong — 7.0
Hansen, Jones — 6.5
Grandelius — 6.0
l'Ami, Lu — 5.5
Tari — 5.0
Bok — 4.0
Dobrov — 3.5
van Foreest — 3.0
Lei — 2.5
Guramishvili — 1.0
Challengers Group Round 11, Friday 27th January, 13:30 local time.
Ragger – Grandelius
van Foreest – Bok
l'Ami – Tari
Xiong – Smirin
Lei – Guramishvili
Hansen – Jones
Dobrov – Lu.