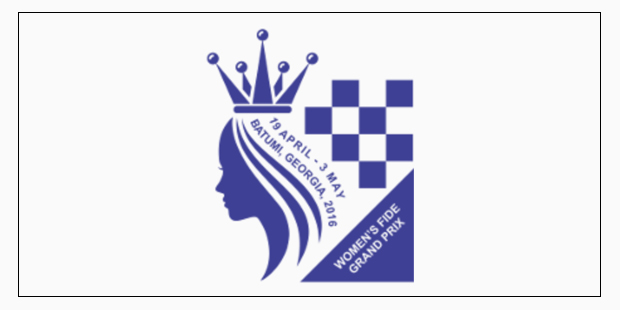 The 3rd leg of the FIDE Women's Grand Prix being held in Batumi, Georgia, between the 19th April and May 3rd. The event follows on from the first and second legs, which were held in Monaco (October 2015) and Tehran (February 2016) respectively. Following this event, there will be a fourth leg in China (in July) and allegedly a fifth in Russia, at a date to be announced.
The Grand Prix series will of course decide a challenger to the World Champion in 2017. After the first two stages, Humpy Koneru of India leads with 190-points. Natalia Pogonina of Russia is in second place with 170-points and current World Champion Hou Yifan is just behind with 160-points.
That being said, it was recently announced by FIDE, (on the website of the Batumi tournament), that Hou Yifan, had withdrawn from the Grand Prix Cycle. "She has now only one option to keep the title," they went on, "to win the title again in the next Women's World Championship with a knockout system." An interesting development, Hou had of course declined to defend her title in the 2015 cycle also, citing scheduling reasons.
Anyway, back to the current event in Batumi. It is an 11-round round robin, seeing former World Champion, Mariya Muzychuk (2561) as top seed. The line up is completed by: Alexandra Kosteniuk (2557), Anna Muzychuk (2555), Nana Dzagnidze (2535), Xue Zhao (2504), Valentina Gunina (2497), Bela Khotenashvili (2493), Lela Javakhishvili (2489), Nino Batsiashvili (2476), Almira Skripchenko (2453), Elina Danielian (2445), Olga Girya (2442).
At the first of two rest days, there are four players tied for the lead. These are, Javakhishvili, Dzagnidze, Skripchenko and A. Muzychuk, who have set a pace of 2½/4. Alexandra Kosteniuk is just a half point behind on 2-points. The Russian started the tournament badly, losing to Lela Javakhishvili. Kosteniuk managed to recover, with draws in rounds two and three, and then a win over Olga Girya in round four. She will have to pull her socks up, however, if she wants to be a contender.
It has to be said that Mariya Muzychuk is not showing her top seed status at the board so far. The Ukranian had a short draw with her Sister, Anna in round 1, but then lost with White to Almira Skripchenko in round 2.
The game was a Sicilian Defence and Black equalised very easily. Muzychuk, who can be a little hesitant at times, and is perhaps lacking in a little confidence following her rather uncomfortable defeat at the hands of Hou Yifan in their World Title match in March, was certainly backward in coming forwards in this game.
Black was already better when White committed the blunderous 47.Kg3? (diagram, below) allowing her opponent to capture her pawn with check and safely advance her own passer. Soon there was a second passer added, and White's rook and King were unable to cope. Game over.
Muzychuk's fortunes would not improve following this game, she would lose to Gunina also, before drawing with Zhao in round 4. At the rest day, she occupies the bottom of the score board, just a point from 4 games.
Standings after 4 Rounds:
Javakhishvili, Dzagnidze, Skripchenko, A. Muzychuk — 2½
Kosteniuk, Danielian, Gunina, Batsiashvili, Girya — 2
Khotenashvili, Zhao — 1½
M. Muzychuk — 1
Play continues on Monday 25th April with round 5.
Play begins at 15:00 local time. If you need to, you can check your time, here.
More Information: FIDE Women's Grand Prix Batumi Website
Rounds 1-4 Games for Replay: