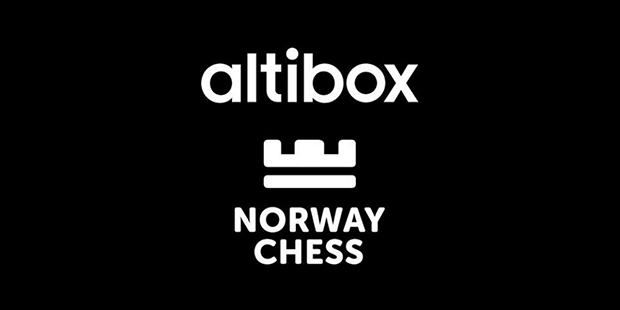 Round 5 of the Altibox Norway Chess Tournament 2016, was the first after the rest day. These can always be unpredictable affairs, with some players coming out all fresh and with their sleeves rolled up, while others can try to take a second day off and go for a quick draw. There were a couple of quiet games, it has to be said, but luckily for chess fans, there was also some tension.
Veselin Topalov broke his duck and got back to winning ways. The Bulgarian took a point at the expense of Nils Grandelius. In a closed Ruy, Black wasn't doing too badly, but the decision to exchange on d4 on his 13th move was a little too complicit. In hindsight, maintaining the tension and continuing development with 13…Bb7 would probably have served him better. As it was, White obtained a lovely pawn centre and the question now was whether or not Black could hack it away or coax it to over-reach.
As it was, play was mostly directed to the wings, with Black thrusting his Queen's pawns forwards and White taking up active piece play on the Kingside. White had the best of things, however, with Black just not being able to make in-roads. White was then able to place his remaining rook along the g-file, firing towards the Black King. Grandelius was finding himself somewhat tied down. Topalov won a pawn, then another, and then a piece. Meanwhile, the Black pawn creeping down the board was a mere pretender, as demonstrated by 42.Nf4 and Black resigned. Ultimately, this point would mean that Topalov would move to just a half point off the lead, along with Kramnik and Vachier-Lagrave.
Interestingly enough, the other full point of the round was also decided in 42 White moves. And they belonged to Pentals Harikrishna of India, who bested China's Li Chao. The game was a King's Indian, an opening that seems to have lost popularity these days. Chess is such a fickle game, we don't have to go back so long ago that this opening was how most 1.d4 games were answered.
Here, Black was doing well enough at first, but soon found himself struggling to get his Queenside pieces out. Maybe this is a nuance of this opening? I have never played it so don't know much about it I must admit. Please feel free to let me know in the comments if you are more clued up.
White was able to get a pawn up to the g5-square, as shown in the diagram, above, and Black obviously found this hard to live with. His 18…f6 was by no means obligatory, and after 19.gxf5 Qxf6, White would have had some initiative with 20.0-0-0. As it was, however, Harikrishna chose 20.Nd1 which was considerably slower. This knight, it seemed, would go to d3 in a rather time-consuming manouever via f2.
The problem for Li Chao, was that there was little that he could do himself, having become far too passive. Therefore, this was not at all costly to White. When 0-0-0 did come, on move 23, it was still with a nice initiative, and all that Black could do was play a waiting game, really, and see how White would choose to attack him.
The answer came swiftly, White gave his f-pawn in order to free his e-pawn, which marched potently forward to e6, and White was in command. Black was forced to sacrifice his light-squared Bishop, the one and only move the piece had made in the game. Black would get three pawns for his piece, but the material compensation was not equalled in the position. White soon broke through and began to mop up pawns to be a clear piece up. Black accepted defeat. A nice game from Harikrishna.
If Magnus Carlsen, leading the tournament by a half point, fancied a game against Anish Giri, then he would be rather frustrated. The home sweetheart and World Champion was given no opportunity by his Dutch opponent. In a Ruy Lopez, Giri equalised rather effortlessly as Black, and the game was one which seemed constantly and absolutely under control. One would have needed to take a huge risk in order to attempt to generate anything, but that was likely to be costly. With most pieces exchanged, the players repeated.
The other draws, Aronian–Vachier-Lagrave and Kramnik-Eljanov, were not very eventful really.
Standings after 5 rounds:
Carlsen — 3½
Vachier-Lagrave, Topalov, Kramnik — 3
Giri, Aronian, Harikrishna — 2½
Li Chao, Eljanov — 2
Grandelius — 1
Round 6: Monday 25th April
Giri-Harikrishna
Eljanov-Grandelius
Vachier-Lagrave–Carlsen
Li Chao-Topalov
Kramnik-Aronian
Play begins at 16:00 local time. If you need to, you can check your time, here.
More Information: Atibox Norway Chess 2016 Website