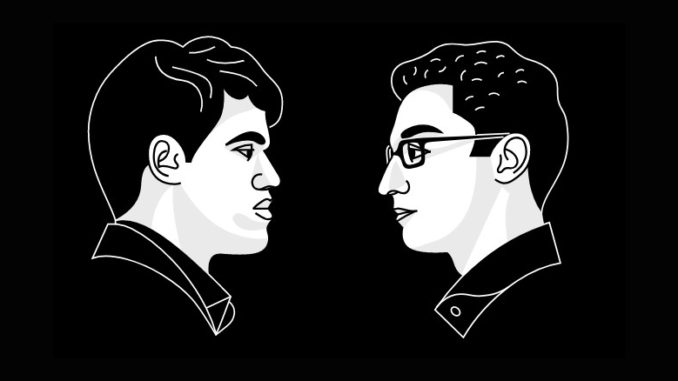 Game eleven of the FIDE World Chess Championship 2018, was played on Saturday 24th November. It saw Magnus Carlsen with his final White game of this twelve game match.
After ten draws so far, time is fast running out if either of the players want to win the match outright, (and the foolhardy side of me still believes that they both do). Therefore, I was sure that if Magnus Carlsen and his team had cooked anything up against Fabiano Caruana, we would see it today.
What could the World Champion do, then?
The answer is very little. In fact, perhaps the most exciting moment of the game was the first move, which was made by Carlsen's former challenger, Sergey Karjakin. Of course, their 2016 match saw seven consecutive draws, after which Karjakin won the eighth game. After Carlsen equalised in game ten, the match had been settled on tie-breaks, with Carlsen the victor.
It looks like this match might be resolved by the same means, only with no decisive games, after an eleventh successive draw today.
Just as he had in game six, Carlsen invited Caruana's beloved Petrov Defence, the opening that Fabiano has breathed a new life into over the last couple of years. It was clear that whatever the Champion had brought to the table (if anything at all) had not materialised. And he admitted in the press conference afterwards that Fabiano had surprised him.
The game fizzled quickly into a totally drawn ending, which was called by British Grandmaster Jon Speelman even as early as Caruana's 12…Qa5. As soon as the move was on the board, Jon proclaimed, "Oh, so he's going for the ending is he … ?" This was followed by words to the effect of, 'Boo hiss.'.
But Jon was absolutely right, the exchange of Queens quickly followed after which the players arrived at a totally dead endgame, seeing a symmetrical structure in which it would be extremely difficult if not nigh impossible for either to lose. They played on until move 54 before shaking hands and splitting the point, but God only knows why.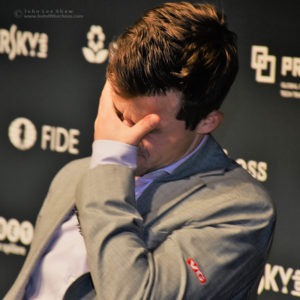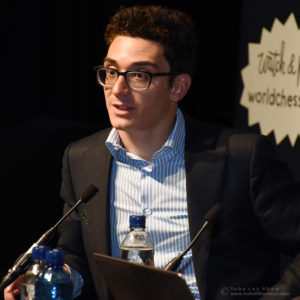 What can one say about this game? Not a lot really, to be quite honest. It is not often that I attend a chess event and risk falling asleep in the press room, but today was one of those days. It was a very unambitious opening day for Magnus Carlsen, where he achieved nothing and very quickly simplified. I have to say, I am puzzled.
So, there is now another rest day, before the final classical game of this very strange match. The challenger, Fabiano Caruana will have White and must feel that he has destiny in his hands. Will he choose to seize the day and play to win the World Title? Or, will he err on the side of caution and risk the lottery of tie-breaks?
Both are not without their risks, dear reader. We wait to see in which one, the American chooses to trust his fate.