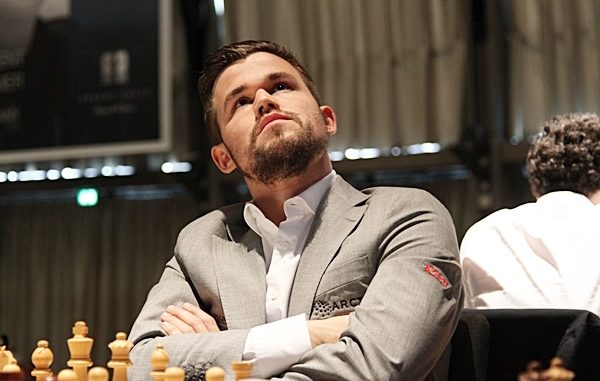 It was just last November, that Magnus Carlsen had us chess fans banging our heads against a wall. Alright, maybe you rose above the befuddlement of his rather lack lustre World Title defence against Fabiano Caruana, dear reader, and in that case I take my hat off to you. The whole thing almost saw me in therapy.
Since retaining his title, however, Carlsen has won the Tata Steel Chess Tournament for a record seventh time, back in January of this year. 2019 has also seen him take clear first at the Shamkir Chess Tournament. And now, he has won the Grenke Chess Classic, with a commanding 7.5/9.
The tournament was held between April 20 and 29, in Germany. Rounds 1-5 were held in Karlsruhe and for the remaining rounds, play moved to Baden-Baden. Magnus Carlsen (2854) led the field, with Fabiano Caruana (2819), Viswanathan Anand (2774), Maxime Vachier-Lagrave (2773), Levon Aronian (2763), Peter Svidler (2735), Arkadij Naiditsch (2695), Francisco Vallejo-Pons (2693), Georg Meier (2628) and Vincent Keymer (2516) also competing.
The World Champion totally validated his top seed status.
It is not so much the tournament win that I find so positive for Carlsen, but the way that he went about it. His chess was very lively, much more like the Magnus that we are so used to seeing. Only Anand, Caruana and Naiditsch were able to hold their own against him, with Keymer, Vallejo Pons, Meier, Aronian, Svidler and Vachier-Lagrave succumbing.
This gave Magnus a performance rating of 2990, even higher than that of Shamkir (2988), which he described as one of the best tournaments he has ever played. Surely the Grenke Chess Classic is now right up there also.
Standings:
Carlsen — 7.5
Caruana — 6.0
Naiditsch, Vachier-Lagrave — 5.0
Svidler, Anand, Aronian — 4.5
Vallejo Pons — 4.0
Meier, Keymer — 2.0