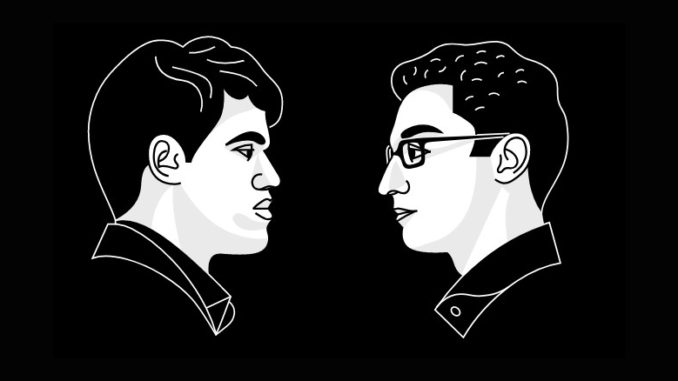 Norway's Magnus Carlsen, begins the defence of his World Title at the weekend. He will play Fabiano Caruana of the United States of America in a twelve game match. The first to 6.5 points will be crowned World Chess Champion.
Carlsen won the World Title in 2013, when he defeated Viswanathan Anand. Without being disrespectful to Vishy, it was not his finest match to say the least. To me, he seemed tired and overawed and didn't really put up much of a fight. Magnus won quite comfortably and the crown has been his from then on. He defended it in 2014, in a rematch against Anand and in 2016, against Sergey Karjakin.
I don't know about you, dear reader, but I am expecting this match to be a bit different than the Magnus Carlsen World Title matches to date. I think it is fair to say that Magnus has been favourite in his title matches so far.
Against Anand it was sort of a changing of the guard, the crown was expected to pass from the older generation to the new. It had been inevitable that Magnus would be the one to pick up the baton and take the game into a new era. It was not a matter of if but when. Vishy, the fine ambassador for the game that he is, who has been there, done it and bought the tshirt, seemed to bow out gracefully.
Against Sergey Karjakin, the chess world barely survived, I think. It was a rather dull affair, with the Russian not really bringing very much to the table. He employed quite negative tactics to try to get Magnus to self destruct. Having said that, though, it nearly worked! Sergey was the first to draw blood and take a win after seven, painful (torturous) draws. Unfortunately for him, this seemed to fire Magnus up and he would level the match and then win on tie-breaks.
This time around, though, there is a different air to the match. I sense it. There seems to be a feeling that Magnus is not such an overwhelming favourite against Fabiano Caruana. There are whispers that this could be a close one.
It certainly is on paper. With only a few points between them in the ratings, could Magnus lose not only his World Title, but also his World #1 spot? Speculation has begun as to his motivation, with even his Sister, Ellen, voicing concern recently that he could retire if he is defeated.
Just how plausible is all of this? It's plausible; however, it has to be remembered just who we are talking about, here.
A Class Of His Own
When describing Magnus within chess, it is hard sometimes to know where to begin. He has been called many things. Of those printable, the old chestnuts of 'genius', 'prodigy' and 'best player ever' are in there. As is the more poetic, 'Mozart of chess'. While all of the above may be true, they are to a certain extent, just scratching the surface, I feel.
In my opinion, Magnus plays human chess like no other. These days, with computers being used as a training and preparation tool, it is sometimes very difficult to separate human from machine. At times, very clear computer moves stick out like sore thumbs. By that, I don't mean in any unethical way, more in that the computer is beginning to influence playing style. Personally, I don't find this a good thing.
I have to say, I have never had this feeling when playing through the games of Magnus Carlsen. If one looks hard enough, there is always a scheme, a plan, an idea, a purpose at the heart of each move. The problem for spectator, commentator, and opponent alike, is very often finding it. In the documentary, 'Magnus', Carlsen himself says that he sees things differently at the board than others. He talks of seeing patterns. I find this very evident in his games. Sometimes he seems to be a conjurer, commanding the board. Just like Ronnie O'Sullivan does a snooker table, or Roger Federer a Tennis court.
So, do I think that Fabiano Caruana is punching above his weight? I'm sorry, but kind of, yes — but then again, not necessarily, no.
Class Is Permanent — Form and Focus On The Other Hand …
Even Magnus Carlsen can't just turn up at the board and expect to play his best chess. Focus, concentration, motivation, health and fitness, sleep, temperament, are just a few things that can make a difference on the day. And a huge one.
Let's cast our minds back to the Sinquefield Cup in August of this year. I can imagine, that one moment flashes into your mind. Round seven, right? When Magnus played Fabiano and got great chances against the American's beloved Petrov? There was that visit to the confessional …
Bold statement from @MagnusCarlsen in the confessional booth#SinquefieldCup #GrandChessTour pic.twitter.com/O2MAZ4cRcL

— US Chess (@USChess) August 25, 2018

I don't know what struck you at that moment, but for me, it was that this was not like Magnus Carlsen. And it wasn't, at all. Magnus doesn't tend to do things like this. He is normally super focused on the game, on winning the point. To me, this was Magnus distracted.
And who can blame him? During this tournament, a clearly proud and biased American chess public had I think decided to waft Fabiano Caruana in Magnus's face a bit. And I think it got to Magnus a bit more than he would want to admit.
It began right at the press conference. There was careful staging, seating Fabiano and Magnus right in the centre, separated only by Rex Sinquefield. And right above them … ? A background declaring: 'Fabi Wins!'.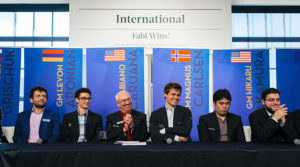 Concidence? I don't think so. And it didn't stop there. When Magnus arrived for his game against Fabiano, he was confronted by giant cardboard heads of his opponent.
The world champ was greeted by the giant head of his opponent @MagnusCarlsen @FabianoCaruana #SinquefieldCup #GrandChessTour pic.twitter.com/Xa5Ljg9JDt

— US Chess (@USChess) August 25, 2018
I don't care how much smiling went on at the time, it will not have been appreciated. And I think that the greatest example of that was Magnus visiting the confessional booth when he clearly felt that he had his rival on the ropes.
Of the visit, Magnus said that he was having some fun, but with all respect to him, I am not quite so sure. Maybe there was a bit of fun to it, but I think that he was also making a statement — that when all is said and done, (and the Fabi camp had said and done a bit), the real talking is done at the board.
Unfortunately, by doing this, Magnus ended up going against this very message and shooting himself in the foot. He went back to the board, muddled up his move order and had to settle for half a point instead of a full one. He had clearly interrupted himself and broken his concentration. I have little doubt that had he stayed at the board, he would have won the game.
This, my dear reader, is vulnerability.
Couple this with the fact that Magnus has recently been very candid and open about how unpleasant he finds the prospect of ceasing to be World #1. It has, as he said, been a part of him now for several years. He has, sort of, admitted to feeling the heat. Could this explain his horrid clanger of a move at the European Chess Club Cup, just weeks ago. Playing Ding Liren as White, Carlsen's 23.g4(?) was a complete lemon and he barely survived the game. Was this perhaps a wobble?
Then there is the fact that Magnus can be quite temperamental. When he is not in the mood or not happy, then he can be like a bear with a sore head — and I speak as someone who has felt the claws once or twice.
Here, we have to consider game eight of his match with Karjakin a couple of years ago, which saw Carlsen being the first to lose after a string of seven rather frustrating draws. He was said by some to have become brat-like, throwing a tantrum. He was in no mood to hang around to talk to the press afterwards, and got into a bit of trouble for it.
More vulnerability.
It seems, then, that there are certainly some threats towards Magnus away from the board, that can end up influencing his performance at it. They are not going to present themselves often, though. This is in many ways thanks to Carlsen's excellent support network. Not only is there his family, but also people such as Peter Heine Nielson and Carlsen's manager, Espen Agdestein.
At the board, Magnus has less chinks in his armour in my opinion. He is hard to out-prepare, because he can play most respectable openings around. He can be surprised, of course, but he tends to sort things out sooner or later. This all means that Fabiano is not going to find it easy to force Magnus out of his comfort zone and into his. Finding good surprises will be key, the Challenger should definitely not be playing novelties for novelty's sake.
Also, Magnus does not tend to rely heavily on preparation himself and is just as likely to come up with new inventions over-the-board as well as at the laptop. He doesn't have a preferred style of position, being able to grind things out with the best of them as well as handle super sharp knife-edge confrontations.
One of his greatest weapons is being able to change the mood of the position, he just seems to see the twists and turns. This will make it very tricky for Fabiano to have any idea as to what to expect. I would not be surprised if we see Magnus trying to get Fabiano out of book early, with many games boiling down to bare knuckle over-the-board chess.
Also not insignificant is that Magnus Carlsen is a fit 27-year-old and seasoned to the demands of World Chess Championship matches now. He is not going to suffer too much from fatigue unless Fabiano can keep him at the board with things to work out.
This is what Sergey Karjakin almost had right in their 2016 match. He kept Magnus at the board, working and expending energy. The problem was, it was energy attacking, which is quite encouraging in a way and can be energising. Had that been energy defending and sorting out problems, it would have been much more detrimental for the World Champion.
Conclusion
When push comes to shove, I feel that the only one who can truly defeat Magnus, is Magnus. I don't just mean with this match, but with his chess in general. No matter how great a player is, they can not win against themselves.
The questions to be answered, will be how well (or not) Magnus can handle himself during this tournament and stay focused. I have to say, I think that this time around, it is unknown territory for us all and we are just going to have to give it a few games before we have even the faintest idea.
I do think that Carlsen's motivation remains high, however. He is in chess to win and set records, to be a great. He wants that to continue for as long as it can and he will fight for it. I have few doubts about this. I will be very surprised if questions as to his motivation last very long during this tournament. As for him retiring … I don't think we are anywhere near that bridge yet. And to be honest, Fabiano Caruana should hope that is the case, because otherwise, Magnus will be going into this match without a care in the world, and that could result in this tournament becoming his opus.
Join me on Wednesday, for a look at Fabiano Caruana's chances of following in Bobby Fischer's footsteps and taking the World Chess crown to America.
Schedule:
Opening: November 8th.
Game Days (November): 1 – 9th; 2 – 10th, 3 – 12th, 4 – 13th, 5 – 15th, 6 – 16th, 7 – 18th, 8 – 19th, 9 – 21st, 10 – 22nd, 11 – 24th, 12 – 26th.
Rest Days (November): 11th, 14th, 17th, 20th, 23rd, 25th, 27th (if tie-breaks).
Tie-Breaks / Award Ceremony / Closing: November 28th.
Games begin at 15:00 local time. (check your time here.)
Official Website | https://worldchess.com/