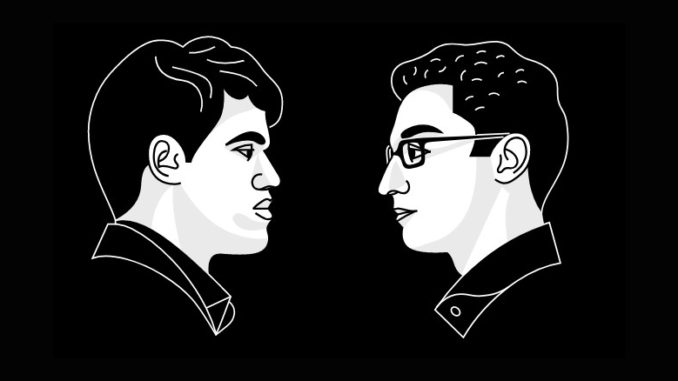 Game eight of the FIDE World Chess Championship 2018, was played on Monday 19th November. It was always going to be a very interesting game one way or another.
There seems to be little between the contenders, reigning World Chess Champion, Magnus Carlsen of Norway, and his Challenger, Fabiano Caruana of the United States of America. Carlsen has failed to stamp any authority on things in the seven games so far and Caruana is not yet threatening to seize the initiative.
The result is that we have an unexciting (some would say tedious) deadlock.
Carlsen Plays With Fire
I said in my previous blog piece, that one of the players may need to take a risk if they want to win this match and perhaps we saw it in this game. For instance, with Carlsen's 18…g5 and 19…f4? (D)
With this undertaking, the Champion put some air around his King in return for some possibilities on the Kingside. However, Caruana's King proved rather safe and the American was making his own inroads on the Queenside.
And it seemed that the inroads were quite threatening, as White built up an increasing advantage. Norwegian computer, Sesse, had the edge at something like +1.8 at some point.
Perhaps this is true for a super computer, that can calculate thousands of moves in seconds. However, from a human perspective, it is not so simple. Carlsen's predicament seemed tough, for sure, but just where the Achilles heel in his position was, proved unclear.
And Fabiano Caruana did not want to push things, opting for the rather tame 24.h3 instead of the more testing 24.Qh5. In the press conference afterwards, Caruana said that he could not make Qh5 work. And indeed, it is does need to be proven. That being said, it also seems to be the best move by far. Certainly, just how h3 worked instead, is even harder to prove. To me it just looks like a bailing.
And it let the World Champion off the hook. After 24…Qe8, which Caruana said he underestimated, White's possibilities seemed neutralised and Carlsen will have been breathing much easier. It was no surprise that the players started going through the motions from here, exchanging down and simplifying the position towards the draw that they agreed on move 38.
As the match enters its final throws, this game could prove very crucial. If Caruana ends up losing the match, then he may regret his decision to not explore his advantage more in this game. One has to feel, that if you are playing for the World Chess Championship (and World number 1 spot in the rankings let's not forget), then Qh5 was the move to play. Especially in a match like this, where chances are few and far between.
Did the Challenger freeze? Did he fear over pressing and getting caught on the counter? Did he feel that he may well be playing into his opponent's hands? Answers on a postcard, but this was certainly a half chance, that perhaps could have become a very good chance.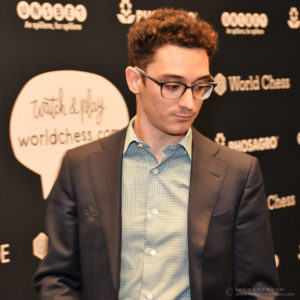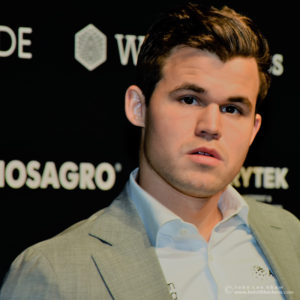 Magnus Carlsen certainly seemed buoyed after the game. This was a striking contrast to the previous day, when he came across as low and dejected. Does he feel that his Challenger blinked in this game? Or, could it be that he is relieved and happy to have got game eight (the one he lost to Karjakin after seven draws in their 2016 match) out of the way? If so, then we could be in for a new Carlsen from here on in.
The Moment Of Truth Approaches
The players will now have a rest day, after which they will return to the stage. Worthy of a mention, is that this will be the last time that they will play two games on the trot, as games eleven and twelve have a rest day in between.
Carlsen will have White for game nine and we wait to see if he and his team have anything up their sleeves to side step his opponent's super-deep preparation.
Obviously, the match 'proper' is now a best of four, with each having two whites and two blacks remaining. If they want to win the title outright and take tie-breaks off the table, (and, yes, I still believe that they do), then this match is about to come alive.