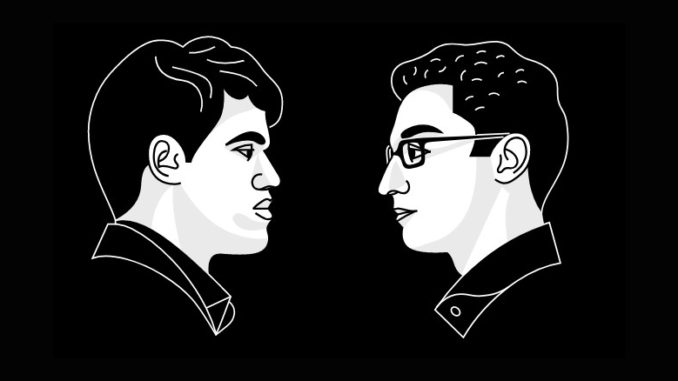 Game seven of the FIDE World Chess Championship 2018, was played on Sunday 18th November. World Champion, Magnus Carlsen, would get the second half of this twelve game match underway, with his second White game on the spin. The Norwegian, would start this game with a determined and focussed stare, but end it deflated in disappointment.
Carlsen, is a former chess prodigy, who has gone full circle and become a long-standing chess hero. In this round, his first move was played by another prodigy, nine-year-old Shreyas Royal, who hopes to emulate Carlsen's achievements.
Shreyas, (who was born in India but has lived in the United Kingdom since he was three-years-old), made the news some months ago, when the British government was poised to deport him from the United Kingdom, due to complications with his Father's work visa. This was pounced upon by the international media and caused a huge outcry. Ultimately, the UK Home Secretary, Sajid Javid, intervened. The deportation was halted and Shreyas and his family were allowed to stay.
Today, he played 1.d4 for Magnus Carlsen –not the first time that he has played the first move for the World Champion, (London Chess 2017)– and was rewarded with a smile, a "well done," and a high five.
Another Lack-Lustre Performance From The Champion
The high-five with Shreyas was probably Carlsen's high point in this game. From there onwards, he had little cause to celebrate. To say that he got nothing from the game, would be putting it rather diplomatically to be honest. He was simply repelled. Fabiano Caruana once again out-cooked him as Black and had a game in which he was unthreatened.
Carlsen admitted in the press conference after the game, that he had not expected his opponent's 10…Qd8, though he knew of the move. I found this a rather strange admission, basically saying that he was totally caught out as White. Actually, strange is putting it very mildly — it is more like WTF insane!
Carlsen seemed rather dejected after the game and this leads me to feel that he is not where he wanted to be at this stage. That may seem like the obvious statement of obvious statements, dear reader, but let me explain.
As I have said in a couple of previous reports, I firmly believe that Magnus's play so far has revolved around this point in the match. I think that after the drawing of colours was made and it was clear that Carlsen would have two whites around the halfway stage, that it was around here that he had been looking to strike. I think that this was all the stronger when Fabiano didn't do very much with his own white game in game five.
I think the fact that Magnus failed to do anything with both of these Whites and that it was infact his opponent who was closer to winning one of them than he was, is really plan failed. He looked very much like the wheels had fallen off the bus in this press conference and I can imagine that this is why.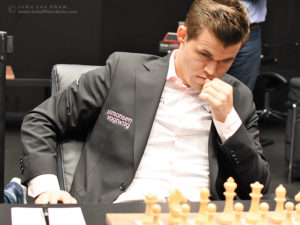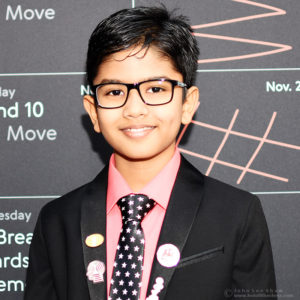 The question is now where the World Champion goes from here. Simply put, he has tried 1.d4 and 1.c4 and gotten nowhere fast. With 1.e4, he almost lost. He and his team must now make a decision as to what to continue with and what improvements can be made before his next White game. The good news is that there is a rest day before the time comes to show their hand; the bad news is that there is also a Black game to get through.
And this Black game will be against a Challenger who must be very happy with his match position at the moment. Fabiano must be feeling that he has survived a critical point in the match right now and that perhaps he has a chance to seize some momentum.
Chess fans following the match took to social media again after this round, to deplore the string of draws. One person said to me that it was 2016 (Carlsen vs Karjakin) all over again, "…but without any action." I feel that is rather harsh.
In 2016, there was lots of threatening going on, it just did not yield fruit. Sergey Karjakin played rather negative chess is the hope of frustrating Magnus Carlsen into losing his patience, over pressing and tripping himself up. And to a certain extent, it worked. Karjakin was after all the first to win.
And, it should not be forgotten, that that was after seven straight draws — perhaps another reason that Carlsen was feeling so low after this game. Does he feel at risk of history repeating itself? This is very possible!
Something Must Give … And Soon
By contrast to the 2016 match, very little threatening is going on at all in this one. The players seem to be jabbing at distance and there is very little contact so far. However, once again, it must be emphasised that if we are to have the two best players in the world facing off against each other for the highest prize in chess, then to expect anything else is just not realistic.
Carlsen and Caruana are extremely strong and well matched. They are also extremely well prepared. This is why, as has been mentioned several times, White means nothing in this match. Sooner or later, the first move advantage of old is being neutralised through work done away from the board. What will decide games and win points is human skill and creativity from that point on. This was well put yesterday in a tweet by Grandmaster Yannick Pelletier …
At the highest level nowadays, one must forget about white or black. Top players' opening preparation is so deep that they generally neutralize each other. The concept of white fighting for an opening advantage is obsolete. What matters is the ability to play chess afterwards.

— Pelletier Yannick (@PelletierChess) November 18, 2018
With this being said, Yannick did miss one thing out and that is the human emotion of desire and the human ability and willingness to take risks. Who wants to be World Champion the most? Who is willing to push the boat out a bit to try and grasp it? Who will chance going off book a little, roll their sleeves up and just play chess? That could very well be what breaks this deadlock. However, should it backfire, then it could cost that player the World Title. This is being indicated round by round.
And for all the draws and apparent quietness now, it should also be borne in mind, that when a slip happens, the match atmosphere will flip instantly. The fire will be lit and there will be blood. And one of these human beings will suffer immensely, with the eyes of the chess world upon them. Considering how things are going so far, they will be fully aware that their match may well then be over.
That is the realm that we are living in, dear reader. The match is drawing to a close and the World Champion is almost crowned. It is exciting, tense, and people are getting nervous.
Just think how it must be for the players!