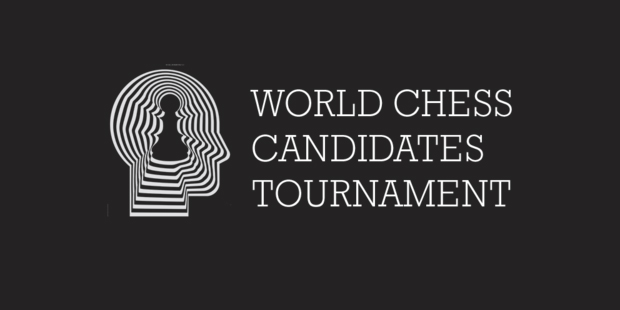 The eleventh round of the FIDE Candidates Tournament 2016, took place on Thursday 24th March. It would see quite an eventful round with two decisive games. Among them, would be Peter Svidler's first full point of the tournament.
The Russian played the black side of a Slav Defence against Levon Aronian. The game followed a line that Aronian had had, also as White, against Ponomariov in the World Blitz Championship, 2009. Svidler varied with his 13…Nbd5 (Ponomariov had played 13…Bd7 and the game had been drawn) and this led to a very different game.
Black played perhaps a little too defensively, and this allowed White to take some initiative and build up on the Kingside. He didn't really look like he was making much headway, however, and Black was able to improve his position.
After Aronian's 32.Qb2, (shown in the diagram, above), Svidler had 32…b6 on hand to hold things, but decided to invest a pawn for activity, beginning with 32…Rac8. After 33.Qxb7 Rb8 (…h4 was perhaps a little more testing, followed by …Qa3) 34.Qe4, (Qxa7 would be inaccurate, and after 34…Rb1+ 35.Kf2 Rb2+ White is probably looking at repetition, as other options suit Black down to the ground, with continuations of …Rhb8 or …Qa3). There followed: 34…Rhc8 35.Rb5 Rxb5 36.axb5 Qa3 and Black was doing perfectly fine all of a sudden.
Things started to swing a few moves later, when Black won the f-pawn. From here, Aronian's position deteriorated alarmingly rapidly, illustrating how situations can turn on a knife edge in chess. His fatal error came with 46.Qd2 (see diagram, below) which allowed Svidler to pounce with 46…Qb1+! winning. After 47.Kf2 the White King is dislodged and now comes Black's powerful follow up, 47…Ra8! This is what decisively tips the balance, a case of a rook intimidating a Queen, …Ra2 now a serious threat which cannot be ignored and the Queen must seek safety. There are no good options for Aronian here, he is simply losing, and there followed 48.Qe1 Qb2+ and he resigned.
The other win of the round would be Viswanathan Anand's. The former World Champion was a half point behind the leaders going in to this round, and would face one of them in the form of Sergey Karjakin. Anand would only have one White round remaining after this one, and so if he seriously had aspirations of having a chance of going forward to play Magnus Carlsen for the World Championship for a third time, then he really had to make this game count.
The game was a Berlin Defence, which suggested that maybe Karjakin was signalling his willingness for a draw and/or was not going to make it easy for Anand to find winning chances. However, Anand had other ideas, his 10.Nxe5 appears to be new. It led to good play for him, White definitely having the best of things early on, but when Anand chose to exchange down and the Queens came off, the position looked very quiet.
Black will actually have been fairly satisfied, clearly equal with every bit as much positional presence and activity as White. However, White owned the d-file with his rooks, and the way things were, it meant that Black was going to find it very difficult to seize any initiative as long as White kept his play clean and solid. At this stage of the tournament, being able to play on in relative safety, was a valuable factor. And this proved fruitful for Anand, as Karjakin did open the door for him with one or two oversights.
The diagram position shows the situation after an exchange of rooks on c7. Here, Black's attention turned to the white passed pawn on c7, which he immediately sought to deal with via 36…Rc8. This pulls the rook away from where it was very functional. If Black was concerned about the c-pawn, …Bc8 would have held it in place after which it can be attacked. 36…f5 was also a more positive alternative, giving White more chance to make an error, and would have brought some resolution on the Kingside, after which, Black would have more time to go after c7.
After 36…Rc8 Anand seized some initiative with 37.f5. (The immediate 37.fxg5 was also possible: 37…Rxc7 (…fxg5 is also good for White, 38.Bxg5 Rxc7 39.Kf2) 38.g6+ Ke7 39.Bf4 Rc8 with an undoubtable edge to White.) The game continued, 37…Bd7 and all of a sudden Black had some positional considerations. For example, his bishop is not looking very much part of things anymore, and White can press on the Kingside.
This Anand did, with 38.h4, clearly better and making hay while the sun shines. Play saw Karjakin get rid of the c7-pawn, but at cost. White obtained a new passed pawn on the Kingside and threatened to win a pawn on the Queenside which would give him another. Karjakin soon found his position tied in knots, and surrendered the point.
The remaining two games were drawn. Topalov-Caruana saw a Symmetrical English. Topalov prepared well, taking a sharp line which contained a number of subtleties. He gained the upper hand, but Caruana put up strong resistance and actually managed to turn things around. Unfortunately, this was at the cost of his clock, which left him with little left to sort out aggressive options. Though he had an undeniable edge in the latter stage of the game, it was the American who offered the draw and this was accepted.
Giri-Nakamura saw the Giuoco Piano come out once more, and Anish Giri make his eleventh draw in eleven games. There is huge discussion going on about this, with the Dutchman's advocates and critics exchanging views. Where the game is concerned there is not much to get into in all honesty. White obtained an advantage in the game, but didn't seem to really want to do anything with it to me. This allowed Black to cross his t's and dot his i's and the players split the point.
Three rounds remain, and there is still much to play for at the top.
Standings after 11 rounds:
Caruana, Anand – 6½
Karjakin – 6
Giri, Svidler, Aronian – 5½
Nakamura – 4½
Topalov – 4
Round 12, 25 March, 15:00 local time
GM Peter Svidler – GM Anish Giri
GM Hikaru Nakamura – GM Viswanathan Anand
GM Sergey Karjakin – GM Veselin Topalov
GM Fabiano Caruana – GM Levon Aronian