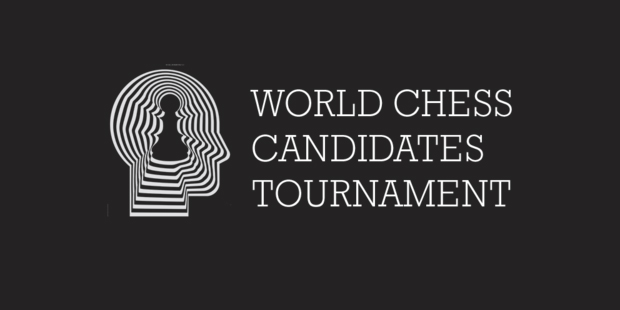 Round 12 of the FIDE Candidates Tournament 2016, was played on Friday 25th March. The tournament was in its closing stages, and this round would really turn the heat up somewhat.
Going into the round, Viswanathan Anand was joint leader. His victory over Sergey Karjakin in the previous round, gave Anand's campaign to set up a third World Title match with Magnus Carlsen a real boost. However, round-twelve spelled a new day, and the former World Champion was brought down to Earth with a bit of a bump.
He faced American Grandmaster, Hikaru Nakamura, and the round would be tough for Anand. The game was an English opening, with Nakamura's 8.a3 apparently a novelty – I say 'apparently' because it seems too natural a move to be a novelty in such a position … but, databases rarely lie. Anand seemed to be doing fine from the opening as Black, compensating what could be said to be a slight space inferiority with good development and finding good squares for his pieces.
Nakamura's 10.e3 (shown in the diagram, above) was rather provocative, appearing to leave White's knight on h4 out on a limb. It all but dares Black to play …g5 because, well, where is the knight going to go? Surely the American has a problem? This is obviously the way that Anand was thinking, as he did indeed play 10…g5. However, Nakamura was more than ready for it. There followed: 11.b4 Bb6 (11…gxh4 seems to be more valid) 12.Bb2 Nxd5 13.cxd5. And now I would like to pose a question: if you had to make a split-second decision, where would you move the knight to? For me, the e5-square sticks out. Failing that, the horrid b8, or bite the bullet and take on h4. Anywhere but where Anand ended up putting it, which was d4.
To me, this move looks all kind of wrong, but Anand was already in a very difficult predicament. Clearly he'd been out-booked, here, and his problems had most likely started with 11…Bb6. Now it was a case of damage limitation and the thought process was probably concerning where best to sacrifice the knight, expecting to get the piece back with …gxh4. However, Nakamura had yet another surprise – 14.d3!
This is a classy move, and it really puts the situation in perspective, White has the position under his control and has the time to target the e4-square, threatening to open and expand the position. This really carries a lot of weight when considering White's superior piece activity and coupled with the isolation and openness of the black King position. White is on the move, very quickly.
Anand chose to continue with 14…gxh4 and there was nothing better than this. Unfortunately, however, the damage has already been done and Nakamura converted his advantage rather effortlessly. A huge disappointment for Anand, this, and the former World Champion seemed rather shell-shocked afterwards.
Sergey Karjakin and Veselin Topalov got in to a Sicilian Scheveningen, which saw Black produce a new move with 12…Nb6. The players castled on opposite wings and White played very aggressively, gaining a very potent initiative on the Kingside. Black set up on the Queenside, obtaining the semi-open c-file, but seemed to be jogging on the spot in comparison.
From the above position, which shows the situation after 18.h6, Topalov began to go really wrong, with 18…fxg6. This move jumps out immediately as seriously flawed, allowing 19.Nxe6, forking Queen and Rook. In hindsight, 18…hxg6 was a better choice, but after 19.hxg7 Re8 20.Rdg1 White would still hold the better stance. As it was, 19.Nxe6 won the exchange for White as Karjakin seized Topalov's rook for a bishop. Though White could have played stronger in taking full advantage, Karjakin never looked in doubt of the point. As much a factor of this is the erratic nature of Topalov's play during this tournament. After this round, the Bulgarian would remain on just 4-points.
The other games were drawn. Svidler-Giri was an English Four Knights, which left known territory with Black's 16…Nd6. From here, Svidler will perhaps have felt slightly frustrated, as his opponent, (who had drawn all his games up to this point, and looked set to be after going the whole hog), did not really play very ambitiously. With Black shuffling aimlessly and seeking exchanges, it was clearly up to White to stick his neck out and take the risks if there was going to be any kind of game. Svidler did not shy away from this, but it cost him, and by the time control Black held a little initiative. Fortunately for his opponent, Giri did not seem interested in using said initiative, and this, coupled with good resistance from Svidler, saw the point split.
Caruana-Aronian was a Ruy Lopez, which saw White have the better of things for the majority of the game. However, Black took up a very active defence and was not at all shy in coming forward. White seemed to me to be a little nervy, and found himself punished for hanging around a little too long. Had Aronian opted for 53…h2 instead of 53…Qg2, Caruana may have found himself under some pressure. As it was, whatever chances were there went begging and the players agreed a draw in 67-moves.
All this meant that Sergey Karjakin re-joined Fabiano Caruana in the lead of the tournament. Just behind them was Viswanathan Anand, who would be licking his wounds from his defeat in this round. With two rounds left, would he be able to recover? The only other players in touch with the lead are Giri, Svidler, Aronian, but it would take big mistakes from the leaders to open the door for one of those. For Nakamura and Topalov, it is a case of damage limitation and respectability, now.
The penultimate round beckons after a rest day …
Standings after 12 rounds:
Caruana, Karjakin – 7
Anand – 6½
Giri, Svidler, Aronian – 6
Nakamura – 5½
Topalov – 4
Round 13, 27 March, 15:00 local time
GM Fabiano Caruana – GM Peter Svidler
GM Levon Aronian – GM Sergey Karjakin
GM Veselin Topalov – GM Hikaru Nakamura
GM Viswanathan Anand – GM Anish Giri