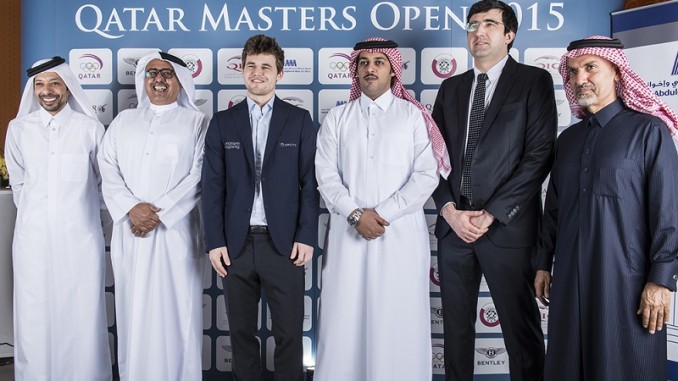 Magnus Carlsen's end of 2015 just keeps getting better. Merely weeks after winning the London Chess Classic and inaugural Grand Chess Tour in the same day, the World Champion has won the Qatar Masters Open.
The event, held in Doha, was played over 9-rounds, and boasted some big names among its field of 132. Vladimir Kramnik, Anish Giri, Wesley So, Sergey Karjakin, Li Chao, Shakhriyar Mamedyarov and Pentala Harikrishna, were all present. Defending Champion was Yu Yangyi. But, as Mark Crowther of The Week in Chess remarks, "It is possible that this is the first appearance by a reigning World Champion in a Swiss Open at standard time controls since Boris Spassky played in Vancouver in 1971."
Carlsen did not have things his own way during the event, however, and took a little while to get going. After 3 rounds, Anish Giri and Li Chao were leading, with 3/3 and Magnus lagged a half point behind. The leaders would play each other in round 4, and draw. Carlsen would see a chance to get his foot in the door, and this he did by defeating Jan-Krzysztof Duda.
In round 5, the gloves came off, Carlsen would face Li Chao, and it may surprise some to learn that they have never played before. Carlsen, playing white, could bank on facing a Grunfeld if he planned to open 1.d4, but clearly took nothing else for granted — "… playing through Li Chao's games before the round today, I realized that I don't understand the way that he plays at all." Compliment or insult? Answers on a postcard. The game itself was a sharp affair, in which players exchanged threats, counter-threats, mating threats, all over the place. It was clearly going to be a question of who would take their eyes off the ball first. Well, it would not be Carlsen, who seemed to be on a mission, and used the round to assert himself.
And so, with Anish Giri being held to a draw by Wesley So, Carlsen would enjoy sole lead of the tournament. Hot on his heels, though, would be the likes of Anish Giri, Vladimir Kramnik, Sergey Karjakin, and Shakhriyar Mamedyarov. Going in to the penultimate round, Mamedyarov had joined Carlsen at the top of the table, along with Sanan Sjugirov. But Sjugirov would be facing Vladimir Kramnik with black, which (no disrespect to Sjugirov) would be a tough task, so Carlsen must have been thinking that a win over Mamedyarov was what he should be going for. He would have black, also, but he plays it just as positively as he does White. He actually made quite light work of it in their Queens Gambit Declined — or is it more accurate to say that Mamedyarov fell on his own sword? Judge for yourself.
---
---
The above win taken into account, along with the fact that Carlsen's main rivals (Giri, Ponomariov, Karjakin, etc.) drew, other than Kramnik, who did indeed defeat Sanan Sjugirov, meant that Magnus Carlsen would lead by a half point, (over Kramnik and defending champion, Yu Yangyi), at the end of round 8 on 6.5/8. Kramnik and Carlsen would play each other in the final round, and draw a rather tame Berlin. This meant that Carlsen would be assured of the title, unless Yu Yangyi could deliver the goods against Wesley So. Well, he did, in a game lasting 77-moves, which saw some good quality passed pawns overcoming knight and rook.
And so, Yangyi and Carlsen, would finish the scheduled 9-rounds with a score of 7-points.  The event would be settled by means of blitz tiebreaks. Carlsen would wrap things up in straight games, a precise sacrificial attack in the first, and a miniature in the second, thanks to a blunder from his opponent.
This 2-0 score meant that Magnus Carlsen claimed victory, and the $27,000 (£18,313; €24,861) first prize. Yu Yangyi and Vladimir Kramnik would finish in second and third respectively. A nice, competitive tournament, and it is very good to see that some well funded opens are attracting the big names.
Final Standings:
[table id=6 /]