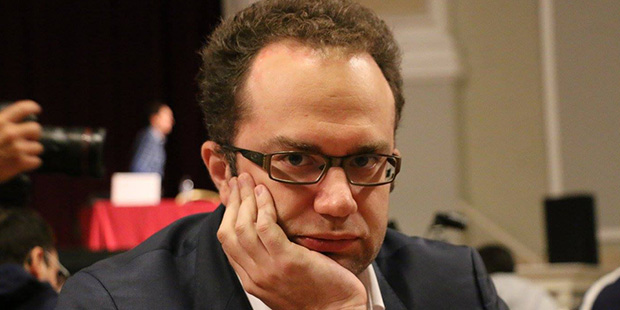 The Isle of Man is a small island in the UK. It is actually located in the Irish Sea, between Great Britain and Ireland. Largely unpopulated, the Isle of Man boasts amazing landscapes and is home to 17 national glens branching from the sea, as well as numerous gardens, parks and other attractions.
From October 1st to 9th the island played host to an international chess tournament. The event, a nine-round swiss, was organised by the Isle of Man International Chess Committee and chess.com who sponsored the event. Held at the Villa Marina & Gaiety Theatre, in Douglas, three sections would be contested, Minor, Major and Masters. The £12,000 ($14,866, €13,317) purse for the Masters section, attracted top GM's from all over. Top seed was Fabiano Caruana of the United States of America, with his rating of 2808, narrowly over fellow countrymen Hikaru Nakamura (2789) and Wesley So (2782). Other players included Pavel Eljanov, Michael Adams, David Howell, Peter Leko, Hou Yifan, Arkadij Naiditsch, Anna Ushenina, Gabriel Sargissian and Alexei Shirov.
The event was won by Ukranian Grandmaster, Pavel Eljanov on tie-breaks. Eljanov had scored 7½/9 along with Fabiano Caruana, but took first prize on progressive score in order to take first place. Alexei Shirov had been an early leader, but Eljanov's defeat of Shirov in round six (game, below) bumped the Latvian down out of the top ten. This proved very costly to Shirov's chances of victory in the tournament.
From here, Eljanov made the top slot his own and it was only in the final round that he was caught by Caruana, who had defeated British GM Michael Adams — Eljanov shared the spoils of his final game with Wesley So. Just behind Eljanov and Caruana, was Arkadij Naiditsch on 7/9. Naiditsch had also been victim to Eljanov during the tournament, ultimately spoiling his chances of first place.
Final Standings:
Eljanov, Caruana — 7½
Naiditsch — 7
So, Shirov, Salem, Howell — 6½
Nakamura, Adams, Rodshtein, Vidit, Fressinet, Sargissian, Granda Zuniga, Grandelius, L'ami, Lenderman, Brunello, Aravindh — 6