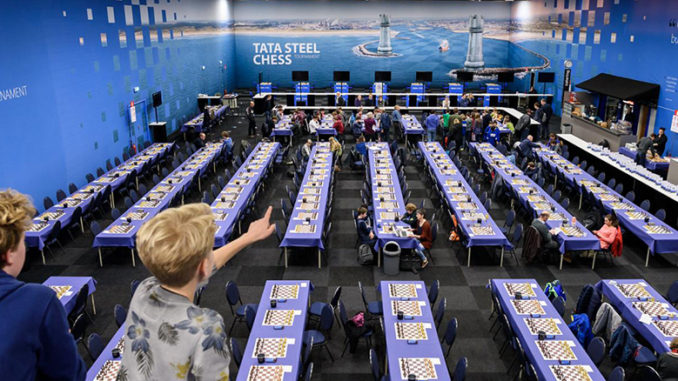 Happy New Year dear reader! I hope that the festive season has treated you well and given you all your heart desired! I would like to take this opportunity to wish you and yours all the very best for 2020!
In the event that you feel in any way deflated now that the decorations are down — they are down, aren't they? — and the credit card bill has arrived, I have just the thing to put the wind back in your sails:
It's Tata Steel Chess Tournament time again!!
The 82nd edition of this prestigious event, (which is really more of a chess festival than a mere tournament), will run from January 10th to 26th. The spotlight event, will be the Masters group, as it has been since 2014, (changing from groups A, B, and C).
Leading the field this year, is World Champion, Magnus Carlsen (NOR 2872). 2020 will be the 16th time that Magnus competes in the tournament. Actually, he has missed only one year (2014) since making his tournament debut in 2004 — in group C of the Corus Chess Tournament, as it was then. Having already won the tournament a record 7 times, we wait to see if Carlsen can make it 8.
If Magnus does increase his record to 8 wins, it is unlikely to be an easy task. Also competing this year, are: Fabiano Caruana (USA 2822), Anish Giri (NED 2768), Wesley So (USA 2765), Viswanathan Anand (IND 2758), Jan-Krzysztof Duda (POL 2758), Nikita Vitiugov (RUS 2747) Vladislav Artemiev (RUS 2731), Yu Yangyi (CHN 2726), Alireza Firouzja (FID 2723), Jeffery Xiong (USA 2712), Daniil Dubov (RUS 2683), Vladislav Kovalev (BLR 2660), Jorden Van Foreest (NED 2644).
As has been widely remarked, since the field was announced last November, this year's tournament sees a very varied field. This is at least in part due to the busy 2019 that many of the World's elite have experienced. 2020 is also a World Championship year, with an upcoming Candidates Tournament in March, which some players will be wanting to focus on.
Personally, I think the field is very refreshing. It is great when the Masters is filled with the top players in the World, but to be fair, it does not necessarily make for the best chess. With 'only' 4 players from the top 10 this year, we will see seasoned campaigners going up against young whipper-snappers. The 16-year-old, Alireza Firouzja, for example, who is completely fearless, full of confidence, and has absolutely nothing to lose. Messrs Carlsen, Caruana, So, Giri, and Anand, are going to have to watch him, as well as the likes of Xiong, Van Foreest, Dubov and Duda.
It would be a very brave camper indeed, who bets against an upset or two in the Masters this year.
And while we're at it, the Challengers group is not cut and dry either. Top seed is Spain's David Anton Guijarro (2694), but it would be premature to see him as the clear favourite. Also at the top end of the rankings, are Nils Grandelius (SWE 2673), Rauf Mamedov (AZE 2659), Pavel Eljanov (UKR 2650), Surya Shekhar Ganguly (IND 2636), and Nodirbek Abdusattorov (UZB 2635). None of these players can be taken lightly. Then we come to the dark horses, led by India's Nihal Sarin, (2618), who is just 15-years-old. There is also Erwin L'Ami (NED 2606), Anton Smirnov (AUS 2604), Jan Smeets (NED 2585), Vincent Keymer (GER 2527), Lucas Van Foreest (NED 2523), Dinara Saduakassova (KAZ 2519), and Max Warmerdam (NED 2498).
I feel that every point and half point is going to have to be earned in the Challengers group also this year.
The tournament officially opened on Friday evening, (January 10th), in Velsen-Noord, where the headquarters of Tata Steel here in The Netherlands is located. The evening started with speeches from Myra Rooselaar (Chairwoman of the tournament organising Committee) and Theo Henrar (Director of Tata Steel in The Netherlands). Both spoke of the 'challenging times' that Tata Steel faces at the moment, with various economic factors threatening jobs. While there may be some who question financial resources being used for the chess tournament under such circumstances, Rooselaar spoke of the increased importance of it being staged. It is testament, that Tata Steel, is a partner to chess in bad times as well as good, she said.
Then it was time for the draw to be made, and with a break in tradition, this took place for both the Challengers group and Masters group, (normally the Challengers are drawn separately). This resulted in the following pairings for round 1:
Masters: Xiong vs Dubov, Van Foreest vs Yu, Carlsen vs Giri, Caruana vs So, Anand vs Artemiev, Vitiugov vs Duda, Firouzja vs Kovalev.
Challengers: Saduakassova vs Mamedov, Guijarro vs Abdusattorov, Smeets vs Van Foreest, Ganguly vs Warmerdam, L'Ami vs Smirnov, Keymer vs Eljanov, Sarin vs Grandelius.
All eyes will now turn to the tournament's well-established home of Wijk aan Zee [Zee sounding more like 'say' rather than 'see'], which is just a little further down the road from Velsen-Noord. For the next two weeks, the small coastal village, will live and breathe chess and have the eyes of millions of chess fans upon it.
And there can be no better draw for the opening day, with Dutch hero, Anish Giri taking on the World Chess Champion, Magnus Carlsen. The Norwegian will have the White pieces for this first round tussle, we wait to see what he can do with it. It is also hard to miss the American derby of Fabiano Caruana against Wesley So.
All in all, it could be an exciting start to what could prove to be a very exciting tournament this year. I wish the tournament organisers and all players all the best. I also hope that it brings you much enjoyment, dear reader, it's good to have you following along!