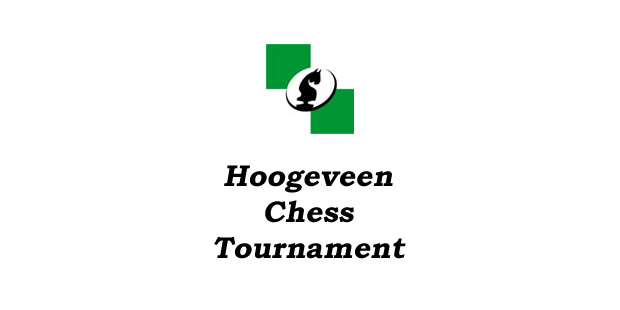 Round five of the Hoogeveen Masters Tournament was held on Friday 21st October. It saw British Grandmaster Nigel Short seal victory over Yifan Hou of China. With wins in rounds three and four, Short was two points ahead of his opponent and only needed to draw in this penultimate round. This he duly did. The game was an English opening and Hou's choice of the Symmetrical Variation was perhaps not the most ambitious. When the Queens were exchanged on move eight, her ability to generate something with which to prolong the match looked unlikely. The game was a nice, controlled display by Nigel Short, in which he did exactly what he needed to, limiting the aggressive options of his opponent and taking no risks. Hou did not take any, either, and there was ultimately nothing left to do for her but agree the draw and in effect resign the match.
In the other match, Jorden Van Foreest finds himself yet again a point down and having to win the final game in order to draw the match. Again, the round saw a win with White, which resulted in Ivan Sokolov being a point ahead and having only to draw the final game in order to claim victory. This has been a very exciting pairing, with the players coming out with their sleeves rolled up in each round and prepared to fight. This game saw Van Foreest place his pieces quite untidily, with both knights developed to the rim and his bishops more or less twiddling their fingers. Bad Queen positioning allowed Sokolov to strike with 18.a3(!) and from here Black was just too poorly developed to fight equally. White won a pawn, and from there his position just took on a life of it's own. Sokolov could have played a little more optimum in places, but he converted the point nicely in a very instructive endgame.
This leaves things with Nigel Short having won his match against Yifan Hou, who is now playing to try to make the score more respectable. She will at least have White in the final game. So will Jorden Van Foreest, and he needs to make it pay and keep up the tradition of White winning every game in this match, if he is to save it.
Short 3½ vs 1½ Hou
Sokolov 3 vs 2 Van Foreest