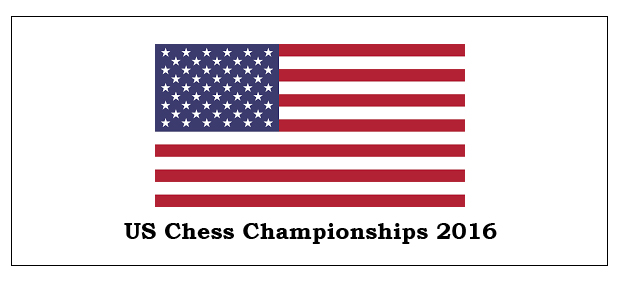 The United States Chess Championships are underway in Saint Louis. The event, which sees America's top male and female players fighting for their respective national titles, began on April 13th and will run until the 30th. Each section is a 12-player round robin. Fabiano Caruana, Hikaru Nakamura and Wesley So, are top seeds, with Anna Zatonskih, Irina Krush, Tatev Abrahamyan favourites in the Women's section.
The players are currently enjoying their first rest day, after 5-rounds of play. Fabiano Caruana and Wesley So will be enjoying it slightly more, setting the pace on 4-points from the 5-rounds. Just behind them is Ray Robson on 3½. Defending Champion, Hikaru Nakamura is a point off the lead due to a defeat at the hands of Caruana in the fourth round.
In their Sicilian Scheveningen, Nakamura avoided Caruana's victorious game with Van Wely in this year's Tata Steel Chess Tournament, by playing 7…h5 rather than Van Wely's 7…b5. There followed 8.a4 Nc6 and then Caruana's novelty of 9.Bc4 – 9.Bd2 and 9.Qd2 had been tried before, with Black leading the dispute by 3½ to ½. Could Fabiano recover the balance a little?
Well, Nakamura will have been quite satisfied, equalising rather nicely. That being said, his decision to castle long on his 17th move looked rather suspect. However, he was not punished, Caruana playing 18.f5 rather than 18.e5, which looks much more to the point. The point is that after 18.e5 Ne8, (18…dxe5 19.fxe5 then Rxf7, clearly better), White has choices of good continuations, one of which is 19.Ne4 Qa5 20.Rd3 with a good initiative.
It was Nakamura's 24…Qb4, however, (Diagram 1.1), which was to prove decisive, allowing the very natural 25.Nd5. From this point, all roads led to Rome for White, 25…Qxe4 26.Nxf6 Bxf6 27.Rxd6 would be winning and Nakamura's 25…Nxd5 turned out no better. There came 26.Bxd5 and with Rb3 a huge danger now, the predicament of the Queen is clear. Nakamura obviously felt that he had this covered with 26…Bxa4, but after 27.Ra3!, he was painfully enlightened. Black has no good continuation, c2-c3 will follow quickly and material loss is unavoidable. Nakamura was soon resigning the point.
Current Standings:
Caruana, So — 4
Robson — 3½
Nakamura, Xiong, Onischuk — 3
Shankland — 2½
Shabalov — 2
Kamsky, Lenderman — 1½
Akobian, Chandra – 1
Games so far:

In the Women's section, those who expected the likes of Anna Zatonskih and Irina Krush to be contesting the event between themselves might have a bit of egg on their faces. Nazi Paikidze is currently topping the table with a very nice 4/5. Hot on her heels are Abrahamyan and Krush with 3½-points. Zatonskih is a whole point off the lead with 3-points.
Paikidze, who moved to the US from Georgia in 2014, is playing nice, positive chess and is so far being rewarded. She got her campaign off with a draw against Zatonskih in round one and matched that with another versus Abrahamyan in round four. The rest of her scores have been full points, taken from Gorti (saccing rook in favour of 2-knights), Eswaran and Yu. Hopefully she will be able to maintain this form in the second half of the event.
Current Standings:
Paikidze — 4
Abrahamyan, Krush — 3½
Zatonskih — 3
Bykovtsev, Yip, Foisir — 2½
Yu, Nemcova, Gorti — 2
Eswaran — 1½
Melekhina — 1
Games so far (Women):