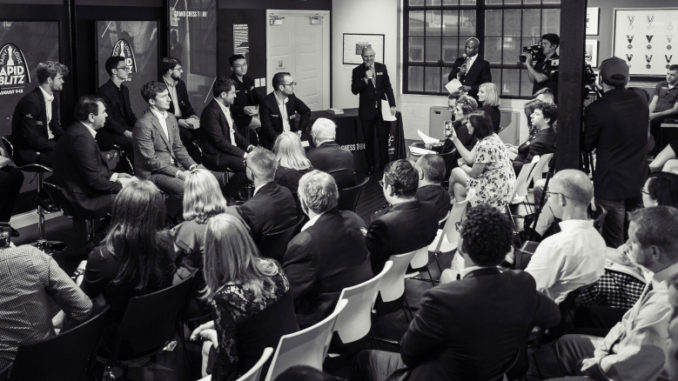 Day three of the Saint Louis Rapid & Blitz 2019, took place on August 12th. It was the final day of play for the rapid section. Going into day three, the tournament was being led by Armenian Grandmaster, Levon Aronian, with his score of 10-points. (Grand Chess Tour Scoring is 2-points for a win and 1 for a draw for rapid games.)
Hot on his heels, however, was Maxime Vachier-Lagrave of France, just a point behind. Aronian and Vachier-Lagrave had very much mixed fortunes. Aronian started the day well, with a win over Fabiano Caruana with the black pieces. However, he would lose his next game to Richard Rapport of Hungary.
Rapport had not been having the best of times in Saint Louis, and had notched up only 3-points (1.5/6) so far. I have to say, that I find this rather surprising. I know it is a tough field, but I still expected the Hungarian to have a better score at this stage. Obviously, he did too, as he came out with his sleeves rolled up for his final three rapid games.
And boy did he need them rolled up, his tussle with Aronian lasted 89-moves! It was a Vienna Game, which started going away from Aronian around move 30, it seems. In the diagram position, below, Rapport has just played g2-g3, to block check from Aronian's Queen on d6.
Here, Levon played 30…Qf6(?) which surrenders the c4-pawn a little too easily. Had he opted for 30…e3 instead, he may have had a much better game. On e3, the Black pawn is not something that White can afford to under-estimate. However, should Rapport capture it with 31.fxe3, Aronian nets a draw with 31…Qd1 — the White King being too exposed.
As for Qxc4+, that would now be a serious mistake. After …Kh7, Black would be threatening to Queen and have a huge initiative. After 30…e3, White would probably be best served threatening mate, with 31.Ra7 and there would likely follow 31…Qe5 32.Qxc4+ Kh8 33.Qe2 exf2 34.Qxe5 Rxe5 35.Kg2 (see diagram) and niether player should lose this.
However, that was not to be and after Aronian's 30…Qf6, there came 31.Qxc4+ Kh8 32.Qe2(!) and now, White has covered any shenanigans from Black's e-pawn. There followed: 32…e3 33.Ra3 Qxf2+ 34.Qxf2 exf2 35.Kg2. And now, the better placement of White's rook, (shown in the following diagram), gives him the advantage.
Richard Rapport was in control, then, but the hard work was only just beginning. Levon Aronian was not going to give his points up without a fight and threw everything he could at the Hungarian. However, Richard showed just what a powerful player he is, sticking to his task and converting his advantage, with Aronian resigning on move 89.
Following this game, Rapport would draw his final rapid game, against Ding Liren. This would give Richard a 2.5/3 score for the day. This really improved his situation, moving him up to mid way in the standings with 8-points.
Aronian also drew his final rapid game, against the other Chinese player, Yu Yangyi, who was on a 2/2 charge. It was a safe, controlled affair of 20-moves — perhaps the game against Rapport had taken the wind out of Levon's sails? Chess does ebb and flow and luckily for Levon, his 3 days had seen mostly flow and he was still at the top of the standings with 13-points (or 6.5/9).
However, he would have to share the top spot with Maxime Vachier-Lagrave. The Frenchman's day started badly, as he lost to Magnus Carlsen, who was on his way to a 1.5/3 score for the day (losing to Sergey Karjakin). Vachier-Lagrave did slightly better, winning his next two games, to join Levon Aronian on 13-points.
The second slot was shared by the Chinese contingent of Yu Yangyi and Ding Liren. The former had a really good final rapid round, notching up 2.5/3 and the latter's 50% was not too shabby either. They proceed to the blitz section as the next best on 10-points.
Standings After Rapid Event:
Aronian, Vachier-Lagrave — 13
Ding, Yu — 10
Rapport, Carlsen, Caruana, Karjakin — 8
Dominguez Perez — 7
Mamedyarov — 5
With the rapid section now complete, play switches to the blitz section. This will be a double-round-robin, played over two days. It also reverts back to normal scoring, which to be honest I am rather thankful for!
The Saint Louis Rapid & Blitz was held between August 9th and 15th, in Saint Louis, United States of America. Part of the 2019 Grand Chess Tour, it featured a round robin rapid tournament, played over August 10th, 11th and 12th. There followed a double-round-robin blitz event, played over August 13th and 14th. Prize fund: $150,000 (£123,447 / €135,202), 1st prize: $37,500 (£30,861 / €33,800). Official website: https://grandchesstour.org/2019-grand-chess-tour/2019-saint-louis-rapid-blitz