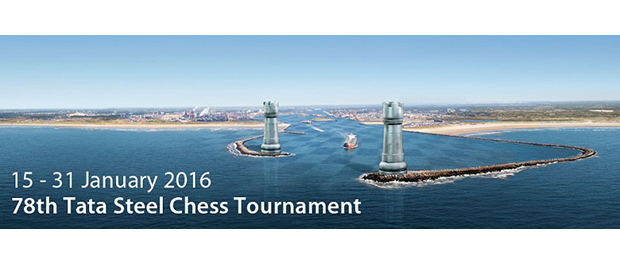 The 78th Tata Steel Chess Tournament is underway, in Wijk aan Zee, Holland, with round 1 taking place on Saturday January 16th 2016. As 1st rounds go, it was quite entertaining, too, with chess fans being treated to 3 decisive games in the Masters Group.
Blood was drawn by Wesley So, against local favourite Anish Giri. Playing the Black side of a symmetrical English, Giri was holding his own, but his position became quite passive. Seeking activity and space, he over-reached with his queenside pawns and this allowed White to grab an over-whelming initiative. With Black's pieces hemmed in, it was White's penetration along the c-file and power along the 7th rank which finally decided matters.
Fabiano Caruana and Pavel Eljanov debated a Queen's Gambit Accepted, in which Eljanov (playing Black) did not do too badly at all. Infact, he acquited himself very well! The crunch came with 31…b6? which allowed White to play 32.e6+! I am not sure what Eljanov had planned in answer to this, but in truth, nothing is adequate due to White's combined threats. Caruana had the point very quickly.
Ding-Adams saw a Bremen variation of the English opening, which sees the position resembling that of a Dragon Sicilian, but with colours reversed. White obtained the superior activity, and Black's position began to deteriorate quite rapidly. This saw White obtain an extra Kingside pawn in the endgame and with his superior activity, Black was overwhelmed.
Draws came, first from Magnus Carlsen, who got his 2016 campaign underway with an exchange Queen's Gambit Declined against David Navara. It was not really a very eventful game. Both sides obtained space and perhaps white's minor pieces were a little more active than Black's, but nothing telling. Black coped very well actually, and when he chose to exchange Knights on e5 there was an undeniable equalibrium. Not long later, the players were repeating moves. A nice confidence-building game for the Czech.
Elsewhere, Shakhriyar Mamedyarov and Loek van Wely were in no mood for an early bath, their game taking 76-moves to decide with shared spoils. Their game followed Marin-Rodgaard, from the 20th European Team Championships (2015) in Reykjavik, which was won fairly quickly (21-moves) by White, after giving up his Queen. Mamedyarov didn't go down that drastic route, opting for 12.Bxc6 instead of Marin's 12.d4-d5. It didn't work out all that great for him actually, and infact, if van Wely had gone for 18…Ng4! instead of his 18…Qxb5, he would have been winning. As it was, some scrappy moves by White helped Black to obtain the better stance, anyway, but try as van Wely might, he could not make headway and a truce was declared. In fairness, while the spectators were no doubt enthralled, both players will be rather disappointed with this game I think.
Hou Yifan was doing very well against Sergey Karjakin, in a King's Indian Attack, and did obtain an initiative. However, some inaccuracies at crucial points, especially in time pressure, saw this fizzle and the players split the point. The remaining draw was very uneventful, and saw Wei Yi and Evgeny Tomashevsky call it a day in 23.
Standings after Round 1:
Caruana, So, Ding — 1pt
Carlsen, Karjakin, Mamedyarov, Navara, Tomashevsky, Wei, Hou, Van Wely — 0.5pts
Giri, Eljanov, Adams — 0pts
Round 2, Sunday 17th January 2016 13:30pm local:
Karjakin-Van Wely
Tomashevsky-Mamedyarov
Eljanov-Wei Yi
Carlsen-Caruana
Adams-Navara
Giri-Ding
Hou-So.
In the Challengers group, every game was decisive! White very much commanded the day, winning 5 of the 7 games, and all with Queen's Pawn openings. Alexey Dreev grasped the advantage with both hands in his Grunfeld with Benjamin Bok and notched up a point in confident manner. Erwin l'Ami didn't have what one would call a completely satisfying opening against Miguoel Admiraal, infact his light-squared bishop left much to be desired, I thought. However, Black's delay in castling, allowed White to obligate his King to the centre and prey on the vulnerability of his Queen, which was far too exposed on c5. As one would expect of a player of l'Ami's standard, he took advantage in competent fashion, and when he obtained a passed pawn on the Queenside, Black's position soon became terminal.
Nijat Abasov over-cooked things quite badly playing the black side of a Nimzo-Indian against Adhiban Baskaran. Grabbing White's bishop on e2, was a bad idea, due to the vulnerability of his own King. White punished, obtaining the point quickly. Safarli-Sevian was a Kings Indian Defence, which saw the 15-year-old American really take the bull by the horns, playing an interesting exchange sacrifice on his 20th move. He was doing ok too, but his 24…h5 was a little too quiet. It was, however, his 37…Qe5 which really did the damage, allowing White a dominating position. Soon, White was two pawns to the good, and Black had absolutely no compensation and surrendered the point.
Queens came off early in Nisipeanu-Batsiashvili, but this did not quiet the game in the slightest. Black was holding his own, (and possibly arguably better at certain points!) but then erred with 29…Nf7, taking his eye off of the f5-square. This gave Nisipeanu an opening, and he took it nicely. Black tried to defend, but it was futile, White converted his advantage nicely.
Black's wins came thanks to the Sicilian, seeing Anne Haast tying herself up in a mating web against Jorden van Foreest and Mikhail Antipov making the final mistake in what was a scrappy game of chess against Wenjun Ju. By the way, when I say 'scrappy', I mean 'great human game of chess'.
Standings after Round 1:
Nisipeanu, Adhiban, Safarli, Dreev, l'Ami, Ju, van Foreest — 1pt
Bok, Sevian, Antipov, Abasov, Batsiashvili, Admiraal, Haast — 0pts
Round 2, Sunday 17th January 2016 13:30pm local:
van Foreest-Batsiashvili
Sevian-Nisipeanu
Abasov-Safarli
Admiraal-Baskaran
Bok-l'Ami
Ju-Dreev
Haast-Antipov