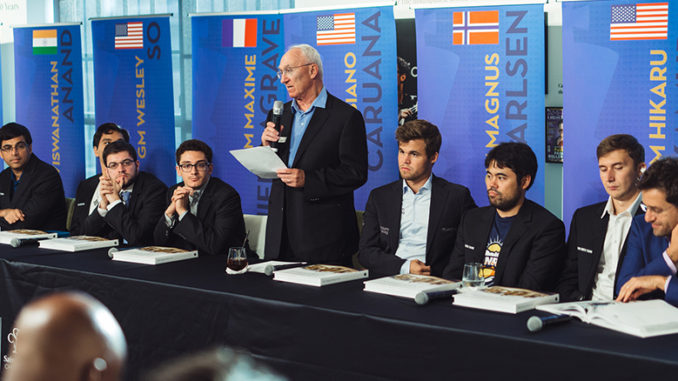 The third round of the 2018 Sinquefield Cup, was played in Saint Louis, United States on Monday 20th August. Just like round two, (which had been held the day before), it saw four draws and one very lengthy decisive game.
On that occasion, Magnus Carlsen had treated us all to a very nice game, which saw an exchange sacrifice and a long campaign. Sergey Karjakin was to suffer at his hands and ultimately relinquish a point in 88-moves. Going one move extra in this round, was Hikaru Nakamura and Alexander Grischuk. And it would be Grischuk coming out on top, taking his first full point and the first point for Black so far in this event.
The players debated the Two Knights Defence, Max Lange Attack and may well have had Levon Aronian and Magnus Carlsen having the odd look as they had played it (for a draw in 43) in Leuven, 2016. Nakamura decided on 17.c4 instead of Carlsen's 17.d4 and a very different game resulted. This was not in favour of the home player, however.
Actually, Grischuk was soon on good terms, thanks in part to Nakamura, who seemed to be playing quite aimlessly. Some shuffling and manoevering went on and Black came out of this the better. He was soon picking up a pawn, but this was actually only part of White's worries. The situation facing Nakamura is shown in the diagram, below, with Grischuk having just played 41…Nxd3.
A real cause for concern, is the extremely passive position that White has. It is hard to see how even a player of Nakamura's capabilities can recover the situation and just not be over run. The only option was to hunker down, defend and hope that Grischuk slips up.
It was a rather big hope, though and it didn't happen. Alexander played a very nice and patient game, adding pressure to the White position. It was not a perfect conversion by any means, but inaccuracies were never big enough to put the result in doubt. 89…Be3(!) was a lovely way to finish, the intention is …Bf4, controlling the h2-b8 diagonal, after which it is mop up time and Black will promote. Nakamura resigned.
As has already been said, the other games were drawn. This was good news for Sergey Karjakin, who finally got a score on the board (albeit only half a point) after losing his opening two games. After his previous round epic against Karjakin, Magnus Carlsen was quite happy to take a comfortable draw against Levon Aronian. This seems to have caused some amusement …
Funny moment from #SinquefieldCup round 3: @MagnusCarlsen tries to not crack up as he's about to draw @LevAronian pic.twitter.com/5XI3Fsl9JP

— Eric Rosen (@IM_Rosen) August 21, 2018
I have had a look around and there seems to not be any elaboration as to what had tickled Magnus, here. I can only guess that the explanation goes back to the previous two days. Firstly, in round one, Nakamura vs Anand had ended in a draw, in the following position.
Due to the Sofia rules, this draw had to be endorsed by the Chief Arbiter, Chris Bird. After the round, Magnus Carlsen and Levon Aronian had questioned whether this position is actually resolved enough to be declared a draw. This prompted Mr. Bird to declare that he had actually made a mistake in allowing the draw. And, before round two, he called a players meeting in order to say that such positions wont be permitted to be drawn in future. (If you wish to know more about this, take a look at the following chess.com report on round two.)
Roll forward to this round and the final position of the repetition draw, Aronian vs Carlsen …
… #JustSaying …
Standings after Round 3:
Mamedyarov, Grischuk, Aronian, Carlsen — 2.0
Caruana, Vachier-Lagrave, Anand — 1.5
So, Nakamura — 1.0
Karjakin — 0.5
Round Four (Tuesday 21st August, 13:00 local time): Mamedyarov vs Aronian, Caruana vs Nakamura, Grischuk vs Vachier-Lagrave, So vs Karjakin, Anand vs Carlsen.