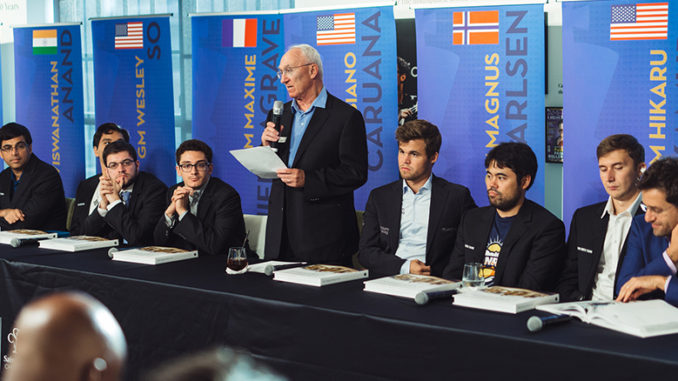 After round three of the Sinquefield Cup 2018, four players were leading with 2/3. Shakhriyar Mamedyarov and Levon Aronian, led after round one and since that round, there has been one decisive game per round, with a new victor joining them. Magnus Carlsen did it in round two and Alexander Grischuk in round three.
In the fourth round, (played on Tuesday August 21st), it was Fabiano Caruana's turn. He got the better of Hikaru Nakamura in the American derby of the round. To make matters worse, it would also be Nakamura's second loss on the spin.
The game followed a line in the Catalan that Nakamura had played against Wei (also with Black) in Bilbao 2016. That game had been a draw. Caruana quickly varied, with the brave decision to castle Queenside on his 14th move — Wei had played 14.Rd1.
The reason that this is so brave, is that Black already has the semi-open b-file that he can use towards White's King's position. The Black pawn on c4 is also not insignificant — should the Nc3 disappear then c4-c3 could cause a great deal of havoc in the White camp. By contrast, Black's own King is rather safe on the other wing.
Nakamura wasted no time in mobilising his Queen's rook along the b-file and when he connected rooks with 21…Bb7, he was at least equal. But then, some slow play allowed Caruana some breathing space. Certainly the manoeuvring of 21…Bb7 22…Ba8 24…Bc6 25…Be8 does not seem to have been constructive. This is especially so because …Be8 prompted the exchange of Queens. This allowed White a much freer game, though Caruana could achieve nothing especially telling. They arrived at the following position, with White having just played 36.hxg5.
Ultimately, Nakamura, would be his own downfall, going wrong with 36…fxe4(?) The drawback of this move is that Black will struggle to achieve any kind of activity or counterplay. Fabiano pounced on the chance to rule out …e4-e3 by playing 37.Ke3, but there was also gxh6 available. As it was, after 37…Bc6 38.Re7 White's control of the position is unquestionable. Black has a lot to be mindful of, especially with the setup of the rooks.
And it was indeed the rooks that decided the day, with Black's position collapsing rather quickly from here. This gave Fabiano Caruana a one-fifth share of the lead. The other games were drawn without too much event, really.
Standings after Round 4:
Mamedyarov, Caruana, Aronian, Grischuk, Carlsen — 2.5
Vachier-Lagrave, Anand — 2.0
So — 1.5
Karjakin, Nakamura — 1.0
Round Five (Wednesday 22nd August, 13:00 local time): Aronian vs Anand, Carlsen vs So, Karjakin vs Grischuk, Vachier-Lagrave vs Caruana, Nakamura vs Mamedyarov.
.