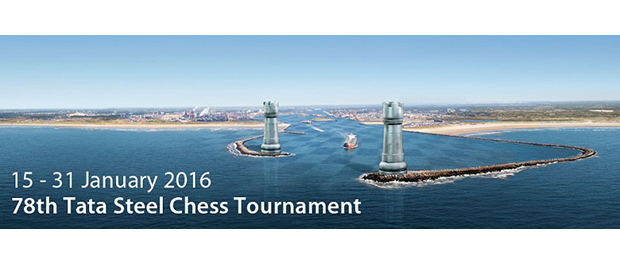 Round 10 of the Tata Steel Chess Tournament 2016, took place at the Spoorweg (railway) Museum in the city of Utrecht. According to the Director of the Tournament, Jeroen Van Den Berg, over three-thousand spectators turned out for the second (and final) 'chess on tour' round of the tournament.
The round saw Fabiano Caruana getting back to winning ways, with a victory over Yi Wei. In an open Ruy, it was Wei's innacurate 19…b4 which disrupted the equilibrium. This move was counter productive, not only in permanently giving up squares such as a4 and c4, but it also allowed White's 20.dxc6! A very useful device for anyone to learn — and a rather elementary mistake for a GM of Wei's calibre to make.
Suddenly, then, White had two passed pawns. For a Grandmaster of Caruana's calibre, one passed pawn can often be decisive, let alone two, and he really caused havoc with them. Black became over-worked and his position was very quickly busted. A very cool, calm, point to notch up.
Michael Adams won his first game, when he took it to Sergey Karjakin as black. The Russian chose the London System, and it didn't really work out for him. Black equalised effortlessly. The players castled on opposite wings, so the play became focussed towards the opening of lines, which Black managed to do very well, as well as obtaining a very restrictive advanced pawn on b3.
Clearly un-nerved, the White King took flight and headed over to the Kingside, but this was at great cost of time. Not to mention that deserting the Queenside was not particularly handy either and Adams took full advantage of it. His 28…Qa1 was a super move, putting the huge errors in Black's play in context. White's backward b2-pawn fell, and White was in a right pickle, with disjointed pieces that were unable to play a part in the game at all. Then came the final blow, 31…Rxd2! upon which White was totally and utterly slayed. This game is one that Sergey Karjakin will want to forget rather quickly, a super-bad day at the office.
Yifan Hou will also be rather disappointed with her White game against Pavel Eljanov. She chose the Giuoco Piano and didn't really do all that great with it. Her pieces seemed to lack harmony, whereas those of Eljanov seemed to look much more alive. Black obtained a nice central passed pawn, and this took White some time to get rid of — but, it has to be said, without too much detriment. It was after Eljanov's 33…Rxd3 that Hou erred with 34.Qe8+? and this handed Black the advantage after 34…Kg7 35.Be4 Rd1+. Her position quickly deteriorated, and all her hopes were in her connected Queenside pawns, one of which was passed. However, Black had these under control and began a mop up operation. White was soon lacking any kind of hope.
Ding-van Wely saw White shooting himself in the foot with hesitation and Black seizing the initiative. Van Wely's combination, begining with 18…Rxe3 was indication of just how badly White was doing at the time, and 18…Bxc3 19.Qxc3 Na2 may have been even better. As it was, though, even with an advanced passed d-pawn, White was heavily on the back foot. It was, however, van Wely's failure to play 27…Ned3! (which takes advantage of the vulnerability of White's Queen, as well as the f2-square), and to instead liquidate his pressure with 27…Nxf3 which gave White the chance to equalise.
A few moves later, and White had the initiative, his lovely passed d-pawn now coming into play. It was here that Ding decided to sacrifice the exchange, dumping his Queen for a rook and knight, this left him with rook, knight, bishop and 5 pawns (one of the the lovely passer) to van Wely's queen, bishop and 5 pawns. Such was the danger of the passed pawn, the bishop would give itself up for it, which left Black with only Queen to play with. Such was the position that it was always going to be tricky for either side to make progress from here, and so they agreed a draw. Interesting game.
Wesley So got absolutely nothing from his English opening against Evgeny Tomashevsky. Black equalised without any trouble at all, and quickly became better. Unfortunately most pieces had been exchanged by move 40, which left an absolute even rook endgame, which should have been a formality for both players to hold. Therefore, they shook hands and split the point.
The clash that was Giri-Carlsen turned into a disappointing anti-climax. Any tension that appeared was quickly dissolved and the game was drawn in 34. Navara-Mamedyarov was also a rather quick affair, where niether player looked like getting up to much.
Standings after Round 10:
Carlsen – 7pts
Caruana – 6.5pts
Giri, So, Ding, Eljanov – 5.5pts
Wei, Mamedyarov – 5pts
Navara, Karjakin – 4.5pts
Hou, Tomashevsky, van Wely – 4pts
Adams – 3.5pts
Round 11, Friday 29th January 2016 13:30 local time:
Wei-Karjakin
Mamedyarov-Caruana
Van Wely-Navara
Tomashevsky-Ding
Eljanov-So
Carlsen-Hou
Adams-Giri
The Challengers group saw a very bloody day, in which all but one game was decided.
Van Foreest-Bok, saw a Sicilian Najdorf in which Black equalised very well. Perhaps White felt obligated to do something, or became impatient, or frustrated, and so went for 21.Bf6? The proceeding play left bishop pair versus knight pair, (as well as major pieces), and saw White being slightly worse. Black's mistake came upon his 28…Qh5?? (28…Qc5 was more to the point) which gave White the chance to seize a huge position with 29.Rxg7! And this, van Foreest did with both hands. Black was in huge trouble, from which there was no way back.
Ju-Admiraal was pretty even in the Catalan, until Black started to play a little slowly, Admiraal seeming to have difficulty in finding good, active, squares for his pieces. Black's 37…b4? was a little too bold, and White to dominate the position. Ju's King became extremely active, working its way to the 5th rank, and Black had too many weakneses (mainly pawns) to deal with.
Black was doing well in the Trompowsky of Baskaran-Safarli. White was looking the more active, creating play with his Queen on the 6th rank, and claiming the e-file, but Black was holding things together fine. That was until White showed his b-pawn to be a liability, and in his attempts to defend it, Black was tied in knots. So bad was the situation, that Safarli gave up his remaining rook for White's knight. Black's trump was that he obtained (whether by desire or intention is not clear) two lovely connected passed pawns, but just when it looked like he might salvage the draw, (with 53…Kc6!) Safarli erred with 53…Nxh5? This allowed White to gain the superior stance, mop off the Black pawns, and notch up the point.
In her 10th round against Nijat Abasov, Anne Haast played a very nice game, up to making one or two quiet moves too many. This allowed Black to seize the initiative and White lost her way. Her position steadily deteriorated, and faced with material loss, she resigned.
Alexey Dreev and Nino Batsiashvili got in to a sharp Queens Gambit Declined, which saw Black going on a pawn-grabbing excursion with his Queen, which left White 4 pawns down but with an extra piece and lovely activity for them. The open f-file was thrown in to the deal, also, aiming right at Black's King. Quite frankly, Black's position collapsed rather quickly, and when White was about to pick up a rook, Batsiashvili resigned.
Another Queen excursion that backfired, was Mikhail Antipov's against Samuel Sevian. White's undertaking of working his Queen from d1 to g4 to e6, was rather over agressive, and Sevian dealt with this extremely calmly, making good exchanges, and developing tempi. Though White was left with a central passed pawn, Black had more than enough resources and attacking chances of his own. Sevian played powerfully, and embarked on a King hunt from which Antipov had no escape. Nice finish.
l'Ami-Nisipeanu was a very uneventful Catalan.
Standings after Round 10:
Baskaran – 7.5pts
Dreev – 7pts
Safarli – 6.5pts
van Foreest, Sevian, Nisipeanu, Antipov, Abasov – 5pts
Bok, l'Ami – 4.5pts
Batsiashvili, Ju – 4pts
Admiraal – 3pts
Haast – 2pts
Round 11, Friday 29th January 2016 13:30 local time:
Safarli-van Foreest
Nisipeanu-Baskaran
Batsiashvili-l'Ami
Sevian-Dreev
Abasov-Antipov
Admiraal-Haast
Bok-Ju