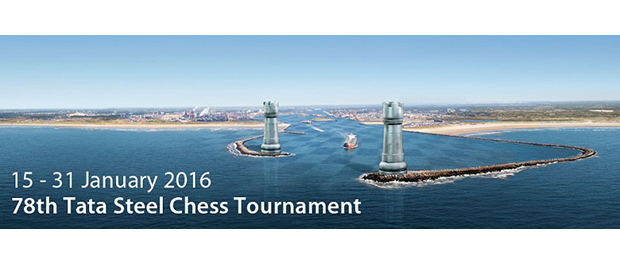 Round 2 of the Tata Steel Chess Tournament took place on Sunday 17th of January 2016. Compared to round 1, it was fairly quiet, seeing all draws in the masters group. Players who got off to a bad start obviously wanted to exercise some damage limitation.
Carlsen-Caruana looked quite spicy, with the World Champion obtaining a nice pawn centre as White and Black's pieces suffering some inactivity. However, White's King being left in the centre was not ideal, and Black was allowed to find the draw by repetition.
Black equalised very comfortably in Giri-Ding. The game took on a Slav and exchanges always seemed to evaporate any building tension. In the end it came down to an absolutely like-for-like position, and there was nothing to do but split the point.
David Navara, fresh from a nice confident game against Magnus Carlsen in round 1, chose the Caro-Kahn as Black against Michael Adams. Both sides seemed quite comfortable, but not really up for trying for too much, what I would call a nice controlled draw.
Tomashevsky-Mamedyarov saw a topsy-turvy game really, but such is chess sometimes. Mamedyarov will probably kick himself for his 25…Bd8? when 25…Bd7 would have been far more testing. It was very much a game in which mistakes and missed chances were exchanged, and I think in the end the players were quite happy to tie up the loose ends and split the point.
As soon as you say 'Berlin Defence' these days, there is a groan, and Hou-So showed why. Both positions were nothing special, yet unbreakable, and in the end position, though White has the better of things, there is no way to make it tell and they shook hands at Black's 54th.
Karjakin-van Wely saw a Dragon Sicilian, which looked to have good potential, with opposite castling and the players eyeing opposite flanks. However, when White offered the exchange of Queens with his 20.Nd5, there would follow natural liquidation. Neither player seemed up to continue and the draw was instantly agreed.
White's play looked fairly unambitious in Eljanov-Wei, and Black was allowed to equalise fairly comfortably. When White's Bishop became stuck on e5, where it was fairly ineffective, Black may even have been slightly better. The sides were always in stand-off, however, and pieces were steadily exchanged after which moves were repeated.
All this left no change in the standings table, of course:
Standings after Round 2:
Caruana, So, Ding — 1.5pt
Carlsen, Karjakin, Mamedyarov, Navara, Tomashevsky, Wei, Hou, van Wely — 1pt
Giri, Eljanov, Adams — 0.5pts
Round 3, Monday 18th January 2016 13:30pm local:
So-Karjakin
Ding-Hou
Navara-Giri
Caruana-Adams
Wei-Carlsen
Mamedyarov-Eljanov
van Wely-Tomashevsky.
Where the Challengers are concerned, Black got its own back a little in round 2. White had ruled the day in an all-decisive round 1, scoring 5-points out of the 7. In this round, only one of the five full points scored would go to White. That was in Bok-l'Ami, which saw, quite appropriately, a Dutch Defence. In all honesty, while l'Ami's patriotism is ll well and good, it didn't really work out for him, and he was soon in trouble, a pawn down and with pressure building around his King. Bok made no mistake of the point.
Fans of the Dutch Defence, don't despair, the other game went to Black, thanks to Nino Batsiashvili. The difference in the game was piece quality, Black's being far more active, especially his knight, which had the run of the board and just seemed to be able to do what it wanted, unopposed. Soon, White was shut out of the game, and material down. A nice, well deserved, point went to Batsiashvili.
Black turned things around quite effortlessly (too effortlessly really) in the Najdorf of Haast-Antipov, which saw White getting quite badly caught. All credit to Haast, she fought bravely, but she was always trying to hold, with very little chance of success, and the point was inevitably Antipov's.
The Reti of Ju-Dreev saw Black get the better of things. White managed to hold, but when his central passer fell, it was always going to be tough. Black was by far the more active and was totally unresisted in claiming the point.
The Giuoco Piano of Admiraal- Baskaran was a fairly balanced affair, but 23.d6 was out of context, giving up the pawn centre. Then came 24.Qxb6, which opened the position and allowed Black too much Queenside play. Due to the exposed nature of the White Queen, this was very costly. Soon Black was winning and had the point in 43.
The draws of the group came from Abasov-Safarli, which saw a Queens' Indian of 40-moves, in which both players promoted; but, as is often the case in such situations, chances for both had fizzled. Samuel Sevian is having a fair start to the tournament, notching up 1/2 thanks to another draw in this round, versus Liviu-Dieter Nisipeanu. He handled the white side if the French Defence extremely well, until the slightly slow 16.Rb1, when the more developing Be3 would have been better. Black achieved a position which was equal at worst, but most pieces were exhanged quickly, and the expected draw arrived on move 25.
Early leaders are Dreev and Baskaran, both on 100% so far:
Standings after Round 2:
Dreev, Baskaran — 2pts.
Nisipeanu, Safarli, Bok, Ju, Batsiashvili, l'Ami, Antipov, van Foreest — 1pt.
Dreev, l'Ami, Ju, van Foreest — 1pt.
Sevian, Abasov — 0.5pts.
Admiraal, Haast — 0pts.
Round 3, Monday 18th January 2016 13:30pm local:
Antipov-van Foreest
Dreev-Haast
l'Ami-Ju
Baskaran-Bok
Safarli-Admiraal
Nisipeanu-Abasov
Batsiashvili-Sevian