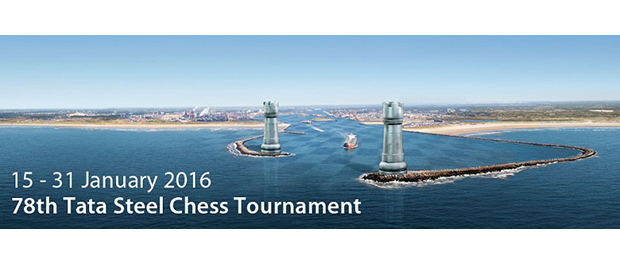 Round 3 of the Tata Steel Chess Tournament, 2016, took place on Monday the 18th of January. The round would turn out very nicely for some and not so nicely for others.
For example, to say that Shakhryar Mamedyarov had a nightmare of a game, would be a monsterous understatement. The Azerbaijani Grandmaster made one of those blunders that would haunt any chess player, no matter what the level. His Queen's Gambit Declined, as White, against Pavel Eljanov, was going swimmingly, and Mamedyarov obtained a commanding position. Then disaster struck. On his 38th move, with a number of good moves to maintain the advantage, Shakh played 38…c5?? It hung a rook and lost instantly. A game that Mamedyarov is not likely to get over in a hurry.
Fabiano Caruana got the better of Michael Adams in a Nimzo-Indian. With a fixed centre, the play became about pieces and White's steadily became the more active. Caruana steadily took space on the Kingside and command of the Queenside and Adams was soon under a stranglehold. When White lined up his rooks along the 6th rank, Black had too many liabilities and the loss of the point became inevitable. Adams decided not to prolong the agony.
Magnus Carlsen, playing the Black side of a Ruy Lopez, against Yi Wei, had no problems equalising. His pieces found good squares and stood their ground well. When Wei decided to give up his pawn on b2, something nice started to happen in the black camp, but nothing that Carlsen could make pay. And when the single rook endgame boiled down to Black having an extra pawn, but on the wing, the players called it a day.
David Navara, in my opinion, is one of the most under-rated chess players. In this round, he showed just how dangerous he is, with a rook sacrifice against Anish Giri. The events of the game will have players of the Grunfeld a little busy for a day or two, 20.f5 seems absolutely unplayable, then came 20…exf5 (which seems best) followed by 21.Rxf5! which is a very sound strike, right at the heart of the Black King's position. The reason is very simple, White is very much ahead in development and his pieces are extremely mobile and flexible. They are ready to pounce at any opening of the Black King.
After accepting the sacrifice, with 21…gxf5 (which was the best choice of action) both sides were obligated to play to perfection or lose. On the other side of a forced line, Black was left with a pair of rooks, knight, bishop, and 4 pawns; White, on the other hand, had queen, bishop, and 5 pawns, one of them an advanced central passer. White had an undeniable initiative. However, Giri hung in there, and as they saying goes, one should always make the opponent win the game. It was just that final step that Navara could not manage, and the Czech will likely be quite disappointed to have only come away with half a point. The players shook hands on move 42.
Evgeny Tomashevsky did rather well with his Queen's Indian Defence against the 1.d4 of Loek van Wely. White seemed to be hampered by his own pieces as well as Black's activity and just couldn't free himself. Perhaps 22…Nfe4 would have been awkward for White, but Black obviously didn't feel he had enough for any great advantage and went for the Queen exchange instead. This gave an equilibrium and the game was drawn in 30.
From Queen's Indian to Bogo Indian, thanks to Sergey Karjakin, playing Black against Wesley So. The Bogo Indian is one of those over-looked openings, compared to the Queens Indian, and Grunfeld, but it can be a very potent weapon when played positively. Karjakin did so, and it was working out well for him — actually being better at some stages. However, a few inaccuracies in the ending resulted in White seizing the initiative. Again, it came down to White having an extra pawn, but isolated on the flank, and Black had enough to save the point.
Liren-Yifan was one of those games where White was always slightly better, but didn't look like trying anything. 19.Qb4 was a big indication to me that a draw was on the way. The players showed willing for a bit, but split the point just before the time control.
Standings after Round 3:
Caruana — 2.5pts
So, Ding — 2pts
Carlsen, Hou, Karjakin, Wei, Tomashevsky, Van Wely, Eljanov, Navara — 1.5pts
Giri, Mamedyarov — 1pt
Adams — 0.5pts
Round 4, Tuesday 19th January 2016 13:30pm local:
Karjakin-Tomashevsky
Eljanov-van Wely
Carlsen-Mamedyarov
Adams-Wei
Giri-Caruana
Hou-Navara
So-Ding.
If you are going to avoid the mainlines of tried and tested openings, like the Sicilian Defence, you should know your stuff, and that was definitely the case for Mikhail Antipov and his 3.c3 variation. His 18.Bxf6 caused complications that White emerged the better from. The best route was probably to accept the forced draw via: 18…gxf6 19.Qxf6 Bxc6 20.Qxh8+ Kd7 21.Qg7+ (not 21.Qxh7+?? when Black is safe to take on d6, winning) Kc8 22.Qf8+ etc. However, van Foreest either didn't like the line, or wanted to stand and fight. He chose 18…0-0 and to be fair, White never looked back. A nice assertive game from Antipov.
Samuel Sevian gave the Catalan of Nino Batsiashvili a bit of a thumping to be honest. Playing Black, the American GM's pieces seemed to spring out of their places, and he grabbed the initiative rather rapidly. He was perhaps a little hesitant, and this allowed White to tidy up a little, and 23…Nd7 was definitely a little slow. No matter, however, White did not punish, and Black took a firm hold on the game. With his King having worked its way all the way in to the White position, Sevian setup up a mating net and claimed the point. A very impressive game.
The other win of the round came when Anne Haast got herself caught out after accepting Alexey Dreev's Queen's Gambit. 12…a6 was a mistake, allowing 13.Bxh6! with a super initiative. 14…Qf8 was a further inaccuracy, and Black could have been in more trouble had Dreev gone for 15.Ng5 instead of 15.Bg5, albeit still with an edge. With Black's King position ripped open, Dreev then dropped the clangerous 17.Nd5? which let Haast back in it after 17…Kg7 18.Qxc4 Be6! If instead, White had played 17.Ne4! then Black was in all kinds of trouble. Probably best would have been 17…Qg7 (17…Kg7 now allows White to capture on c4, when …Be6 is no longer a threat due to the advance d4-d5) but after 18.Qxc4 Bxh3 19.g3 White is sitting pretty.
White's position ended up deteriorating rapidly, to be honest, a great part of human chess and I am sure very thrilling for the spectators, but I am sure that Alexey Dreev was suffering and rueing his mistake. What a big difference a square makes. Black was able to establish her bishop on e6, and such a pain it was, White felt compelled to play an exchange sacrifice, giving up a rook to get rid of it. Black was still severely better. Then it was Haasts turn to gift her opponent some flawed moves, the first 21…Kf7 rather than 21…Qe8 and the ineffective 24…Bc5, which allowed the White Queen to slip in to g6. From here Dreev made no mistakes, and it became a rout.
l'Ami-Ju saw cagey play in a Nimzo, which White got the better of. It seems that l'Ami chose the wrong pawn to grab, when he went for 38.Qxb4, when maybe 38.Rxd5 would have offered slightly more awkwardness for Ju. As it was, even when White obtained an advanced Queenside passer, and Black was in danger of being mated with one wrong move, the Dutch GM just could not quite convert and the draw arrived in 69. I think a disappointing result for l'Ami, who will have wanted to make the most of his White game in this round, especially after his loss with Black to countryman Benjamin Bok in the previous round.
Baskaran-Bok saw an English opening that was always looking just a bit too symmetrical. 31…Qc8? should have resulted in excitement, though, giving White 32.g4 followed by Bd6, winning material. After this, the players just mooched about a bit, steadily exchanged down and called it a day.
The Caro-Kann of Safarli-Admiraal was a long game, in which the two sides didn't really come in to much contact with each other for a lot of it, and were content to manouvre and feel each other out. Black mis-played the endgame somewhat and allowed White an initiative. Though Admiraal put up tough resistance, I can imagine that Safarli will be rather disappointed in his technique and to have not converted the point.
Nisipeanu-Abasov was a (cough) Berlin Defence, and never really cooked on any gas to be honest.
Standings after Round 3:
Dreev — 3pts
Baskaran — 2.5pts
Nisipeanu, Safarli, Antipov — 2pts
Bok, Ju, Sevian, l'Ami — 1.5pts
Abasov, Batsiashvili, van Foreest — 1pt
Admiraal — 0.5pts
Haast — 0pts
Round 4, Tuesday 19th January 2016 13:30pm local:
van Foreest-Sevian
Abasov-Batsiashvili
Admiraal-Nisipeanu
Bok-Safarli
Ju-Baskaran
Haast-l'Ami
Antipov-Dreev