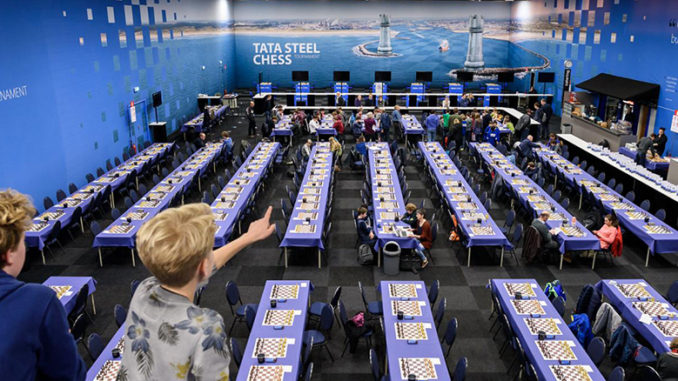 The Tata Steel Chess Tournament 2020, continued on Sunday 12th January, with round 2. It was a very busy day in the playing hall, with amateur events going on as well as the main groups. Spectators turned up in their hundreds, to see their chess heros play, partaking in a bowl of traditional pea soup and their liquid beverage of choice.
The fans were not to be disappointed. Traditionally, Sunday is deemed a day of rest, but the players came out with their sleeves rolled up in the main. The Masters group saw 4 decided games out of the 7. It could have been more, too, had Alireza Firouzja made the most of his chances against Jan-Krzysztof Duda. The 16-year-old, (who had won in round 1, let's not forget), was considerably better as Black in their Queen's Gambit Accepted, but one or two loose moves saw him take home only half a point. He will no doubt kick himself, it was a good chance.
One player who didn't waste his opportunity, was Wesley So. He had the White pieces against Viswanathan Anand. I really don't know what to make of this game to be honest, I think Vishy will be very disappointed. His play seems uncharacteristically impatient and his decision to go for 12…Bxf2+ saw him fall on his own sword to a certain extent.
We must try things in chess, of course, but normally players of Vishy's calibre make sure that they will be getting some kind of return when investing material. It doesn't seem to be the case in this game. Then, later on, the former World Champion misses a drawing chance — again, most unlike him.
This is not to take anything away from Wesley So, however, who had to keep cool and composed in order to have a chance at the full point.
Other decisive results, were seen in Dubov-Kovalev and Artemiev-Vitiugov. As for the clash of the young whipper-snappers, (namely Xiong-van Foreest), well that went to the American, who came well armed as White in a Sicilian. The other games were drawn.
This left a 5-way tie for the lead, between Xiong, Dubov, So, Artemiev and Firouzja. The tournament is yet to get going of course, but the newbies are already showing their metal.
Masters Group, round 2 Results:
Dubov 1-0 Kovalev
Duda ½-½ Firouzja
Artemiev 1-0 Vitiugov
So 1-0 Anand
Giri ½-½ Caruana
Yu ½-½ Carlsen
Xiong 1-0 Van Foreest
The Challengers Group, saw Rauf Mamedov getting the better of Nils Grandelius. Their game was a real brawl in the Two Knights Defence, in which Mamedov was White. Both players just went for it and this was extremely exciting. Unfortunately, throwing his Kingside pawns saw Grandelius lagging a bit in development and he went into the endgame a pawn down and with a rather passive looking bishop pair. Mamedov took full advantage. The other win of the day went to Dutch Grandmaster Jan Smeets, who had a very comfortable White game against Uzbekistan's Nordibek Abdusattorov.
Smeets and Mamedov went top of the table with this result, but as in the Masters, they share it with 3 others, Ganguly, Eljanov, and l'Ami.
Challengers Group, round 2 Results:
Mamedov 1-0 Grandelius
Eljanov ½-½ Sarin
Smirnov ½-½ Keymer
Warmerdam ½-½ l'Ami
Van Foreest ½-½ Ganguly
Abdusattorov 0-1 Smeets
Saduakassova ½-½ Anton Guijarro
Round 3, Monday 13th January, 13:30 local time.
Masters: Van Foreest vs Dubov, Carlsen vs Xiong, Caruana vs Yu, Anand vs Giri, Vitiugov vs So, Firouzja vs Artemiev, Kovalev vs Duda.
Challengers: Mamedov vs Grandelius, Eljanov vs Sarin, Smirnov vs Keymer, Wammerdam vs l'Ami, van Foreest vs Ganguly, Abdusattorov vs Smeets, Saduakassova vs Guijarro.