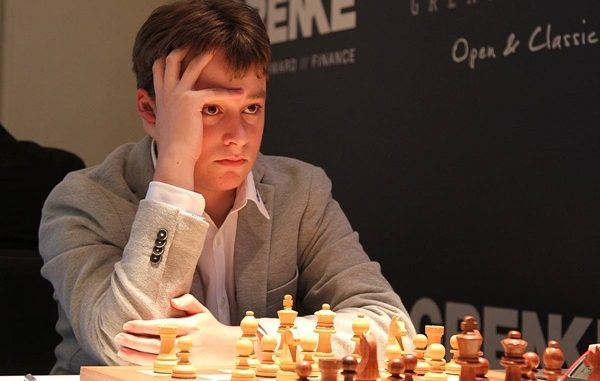 Vincent Keymer was only just coming into the world when Magnus Carlsen became a Grandmaster, in 2004. Born in Mainz, Germany, he discovered chess at the age of five and developed quickly. At six years old, he won the under-8 category at the Sebnitz International Tournament, with a perfect 9/9.
Since then, further tournament victories have followed and an International Master title aged thirteen years. Last year, Vincent competed at the Grenke Chess Open tournament, as the 99th seed and won the event with a superb 8.0/9. In a field of almost fifty Grandmasters, Keymer beat Richard Rapport in the final round (with Black) to seize victory. Deservedly, he earned his first GM norm with this result — the second followed not long after.
2019 has seen Vincent compete in the Tata Steel Challengers and graduate to the invitational Grenke Chess Classic.
Keymer had the toughest of opening rounds imaginable, facing World Champion, Magnus Carlsen. However, if there were any nerves around, he certainly did not let them show. Infact, playing the White side of a Benoni, he acquitted himself very well. Though he did go on to lose the game, it was certainly no rollover and the game lasted for 81-moves.
Further losses would follow and Vincent would finish the tournament on 2.0/9. However, the score does not tell the full story, here. It is important to note, that he is hardly getting swept off the board in his games. This is a big sign that the chess is healthy.
Keymer is consistently getting nice positions from the opening and when I saw him at this year's Tata Steel, I was impressed by his temperament. Once he gathers some experience and maturity, he will, I feel, be a force to be reckoned with.
When it comes to that, having Grandmaster Peter Leko as his mentor, can be no small thing. Once rated number-four in the world himself, Leko's chess knowledge and experience will prove invaluable to Keymer. The fact that he has chosen to take the youngster under his wing, is in itself no small indication of what he feels he is capable of with the right guidance.
And there are already signs that Peter is rubbing off on his charge, in Vincent's solid, calm and level-headed play.
It is early days in Vincent Keymer's chess journey. The aim at this point, must be to get him as much chess as possible against high quality opposition. So far so good on that score. It will certainly mean losses, and there may be the odd heavy one among them. However, losses are part of the learning process when it comes to chess — and in some ways, more valuable than the wins.
It will be a very interesting year or two for Vincent and I will certainly be following closely!