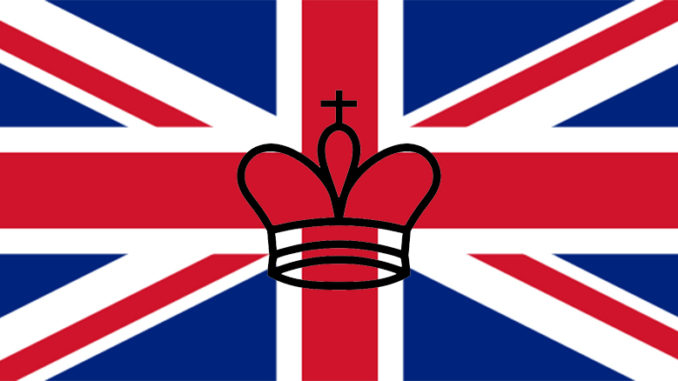 When we last visited this year's British Championships, which was after round-three, (read here), there was a four-way-tie at the top between David Howell, Gawain Jones, Daniel Gormally and Chris Ward. In the three rounds that have followed, there have been some big changes in the standings.
The most notable, is that Grandmaster Luke McShane has made the top slot his own.
This is thanks to a three-round winning spree, which sees McShane in charge at the moment with 5.5/6. In addition to this, David Howell, Chris Ward and Gawain Jones have been dropped. In the case of the former, this is directly due to McShane, who defeated Howell in round 6, which I will come to in a moment.
Gawain Jones has managed to keep his nose clean, but finds himself a point off the lead, due to a run of draws. In Ward's case, he has only managed to score a half point in the last three rounds, losing to Howell in round-four and David Eggleston in the following round. His round-six draw with Jack Russ stopped the rot, but he will no doubt be quite disappointed with his situation at the moment.
Like I said, though, it was the game between Luke McShane and David Howell, in round-six, which has had the biggest impact at the top of the scoreboard.
McShane had the White pieces in a French Defence Tarrasch and the game reached a state of approximate equality. White's biggest consideration, was probably his doubled f-pawns, but he had castled Queenside and also had prospects along the g-file as compensation. Where Black was concerned, it was a similar situation, isolated pawns on the a-and-c-files; but, they were not immediate weaknesses and he had the semi-open b-file towards the White King. It was looking like it would be a very tense game.
That was until Howell took to carrying out the manoeuvre 20…Rd5 and then 21…Rf5. The resulting position is shown below.
I am very reluctant to pick at Grandmasters, but the move just looks horrible to me. First, I just don't think that the rook belongs here. Not yet anyway, regardless of the White pawns. Also, there is the discovery possibility with the Re4 and Bd3. And furthermore, there were other moves possible, …Rb4 (when Black might even have been swinging things) and …Bg5, for instance. To me, …Rf5 brings about one of those positions that would encourage the opponent to look very hard to find something. I certainly would.
And that is really the thing that puts the nail in the coffin of …Rf5 for me, McShane did not have to look too hard. The already mentioned discovery sticks out a mile and points to 22.Ra4! It must be said, that this move should not bring about anything immediate, and that McShane had (and played) the nice counter of 22…Rd8. However, after 23.Rg1 Rg5 24.Re1(! See diagram, below) Black has a situation with his bishop and White clearly has the initiative.
And this is what happened in the game. The point is that Black has no possibilities with his Bishop. The non-ludicrous options (…Bxh2, …Be5, …Bd6) all now fail to f3-f4. Infact, Black is forced into 24…Nd5 and this should lead to a drawy state of affairs after: 25.Bxg7 f6 26.Bxf6 Kxf6 27.Qxh6 Kf7 28.h4! Rg7 29.Qxe6 Kf8. I doubt that this is something that Howell did not see.
And this leads me to wonder why he then chose 24…Nh5(?!) It is clear to see the inferiority of this move, in that it does not protect the bishop on f4. This allowed White the comfort of 25.Bxg7 Nxg7 26.Rxf4. Not only has McShane picked up a pawn, but his pieces are far superior. From here, Howell had issues and completely capitulated — something had obviously gone very wrong with him in this round.
---
---
This relegated David Howell to joint third place while Luke McShane took over the lead of the tournament. The position of John Emms and Richard Hawkins should also be noted. Both have taken 2.5-points from the last three rounds. Along with Daniel Gormally, they are just behind McShane on 5/6.
Round-seven, (Friday 4th August), will see Gormally taking on McShane with White and Hawkins versus Emms. It could make for an interesting round if the players are ambitious and roll their sleeves up!
Top Standings After Round 6:
McShane — 5.5
Hawkins, Emms, Gormally — 5.0
Howell, Jones, Pert, Zhou, Hanley, Wells, Houska, Eggleston, Murphy — 4.5
Adair, Hebden, Ghasi, Merry, Arkell, Hunt, Palliser, McPhillips, Arakhamia-Grant, Fitzsimons, Horton, Jackson, Grant — 4.0
More Information: (sites open in new window)