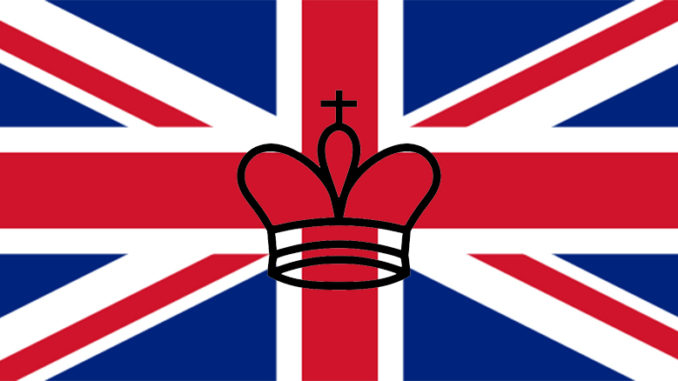 The British Chess Championships run from July 28th until August 6th 2017. The venue is the Promenade, Llandudno, Wales. The main event is played over nine-rounds, Swiss format, with the following time controls: 40 moves in 90 minutes, followed by 30 minutes to finish the game, with an increment of 30 seconds per move from move one.
Among the hopefuls this year, are: David Howell, Gawain Jones, Luke McShane, Nicolas Pert, Mark Hebden, Daniel Gormally, Jovanka Houska, Lawrence Trent and Simon Williams. First prize is £8,500 (€9,499 $11,237). Alongside the main championship event, there are several other sections, including senior and junior events.
After three-rounds, there is a four-way-tie for the lead, between Howell, Jones, Gormally and Ward. These all have a 100% 3/3 score so far. However, there are fifteen players who are just a half point behind. In among them are seasoned campaigners Mark Hebden and John Emms, aged fifty-nine and fifty, respectively; and, by contrast, Joseph McPhillips, who is just twenty.
Top Standings After 3 Rounds:
Howell, Jones G, Gormally, Ward — 3.0
McShane, Hawkins, Adair, Hebden, Emms, Ghasi, Hanley, McPhillips, Eggleston, Arakhamia-Grant, Zakarian, Fitzsimons, Jackson, Merriman, Shaw — 2.5
Zhou, Wells, Merry, Arkell, Palliser, Horton A, Kolbus, Dineley, Claridge-Hansen, Rudd, Storey, Willmoth, Horton J, Kalavannan, Jones S, Gayson, Moore, Murphy, Sun, Pleasants — 2.0
---
---
I suppose it is true to say that things are going much in accordance with expectations so far, as is often the case in the early rounds of Swiss tournaments when ratings match-ups can be quite uneven. However, there are one or two surprising situations, in my opinion anyway. Lawrence Trent (2445) is having quite a disappointing tournament so far. The International Master is on 1/3 after a couple of surprising losses, first to Charles Storey (FM 2214) in round two and then to Sun Xinyue (WFM 2132) in round three.
Likewise, Grandmaster Simon Williams (2442) could be having better times. After winning his opening round, Williams drew John Richardson (FM 2237) in round two before losing with white to John Merriman (2221) in the next. Elsewhere, Jovanka Houska (2402) also seems to be struggling a little, drawing with black against Daniel Abrahams (2162) in round two and losing with white to Peter Shaw (2103) in round three.
The tournament continues with round four on Tuesday August 1st at 14.30 local time. It will not only be interesting to see if the above players can pick themselves up, but also if the leaders can stay at the top.
More Information: (sites open in new window)