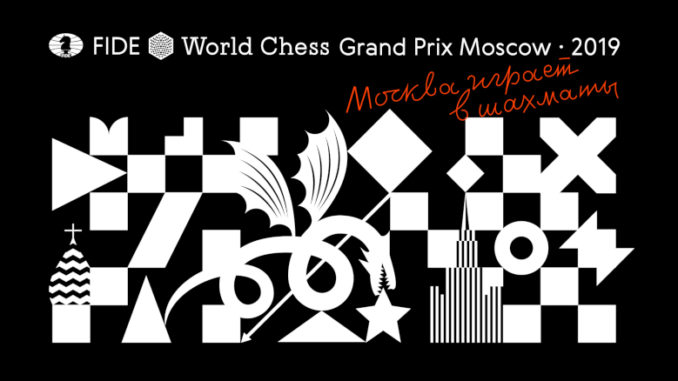 The FIDE Moscow Grand Prix 2019, opened on Thursday 16 May. Of the 22 hopefuls taking part in the whole Grand Prix cycle, the 16 battling it out in this one are: Anish Giri NED (2787), Shakhriyar Mamedyarov AZE (2781), Ian Nepomniachtchi RUS (2773), Alexander Grischuk RUS (2772), Levon Aronian ARM (2762), Hikaru Nakamura USA (2761), Teimour Radjabov AZE (2759), Wesley So USA (2754), Sergey Karjakin RUS (2752), Peter Svidler RUS (2739), Wei Yi CHN (2736), Nikita Vitiugov RUS (2734), Jan-Krzysztof Duda POL (2728), Radoslaw Wojtaszek POL (2724), Dimitry Jakovenko RUS (2708), and Daniil Dubov RUS (2690).
I had hoped that the knock-out format of this tournament would make for sharper and more determined play and that made the first games of round 1 disappointing in the main. Of the 8 games, only three got over move 30 before being agreed drawn — and two didn't even get to move 20. This has led to some criticism of draws being allowed from move one.
For me, there were two performances of this first round. The first, was Levon Aronian's defensive effort against Ian Nepomniachtchi in the first game. Their 72-move, closed Ruy Lopez, saw Nepomniachtchi get the better out of the opening and Aronian was forced to defend. He did so extremely well, even managing to obtain two passed pawns on the Queenside, as shown in the diagram, below.
Unfortunately, Levon was prevented from turning this into counterplay by excellent manoeuvring by his opponent, who controlled things extremely instructively. In the end, Ian was two pawns up and able to force the Queens off and push his own passer, that netted him the point. A very nice game this from Nepomniachtchi in my opinion and it should do his confidence the world of good.
The other performance of the round was by Daniil Dubov, who won game 2 in order to eliminate top seed, Anish Giri. Perhaps Dubov was spurred on by game 1, which he held without problems as black. In his White game, he was certainly not backwards in coming forwards, whipping out 4.Bg5 in the Queen's Gambit Declined. I don't know about you, but I really like seeing things like this and find players who are prepared to give things a whirl and take risks very refreshing.
They say that fortune favours the brave and this proved the case for Dubov, who played a very good game. His 19.0-0-0(!?) looks like a very strange move to play, as shown in the diagram, below.
I don't know about you, but castling long here, seems like insanity by White and probably is, because Black has 19…Qb6(!) here. And then, what White has, if anything, is extremely hard to see. However, Anish went for 19…Qa5, which just not good enough. Perhaps the Dutchman was feeling a bit too compelled to do something, or was super anxious about the d8-square.
There followed 20.Nb5(!) which would not have been possible after 19…Qb6, due to 20…Qc6+. All of a sudden, White had his tail up. 23.Rd3(!) was crucial to Dubov's campaign and left him better by a mile. With the time to walk his King from the precarious Queenside to cover on the Kingside, Dubov's position steadily improved and Giri became a sitting duck. A very nicely earned point followed for the Russian.
So, Daniil Dubov advanced into the quarter-finals, along with Ian Nepomniachtchi, who drew his second game with Levon Aronian to send the Armenian home. Also going directly through, were Alexander Grischuk (beat Sergey Karjakin), Wei Yi (beat Dmitry Jakovenko), Peter Svidler (beat Nikita Vitiugov) and Radoslaw Wojtaszek (beat Shakhriyar Mamedyarov).
This left only two match-ups to be decided by tie-breaks. It saw Wesley So going through against Jan-Krzysztof Duda. In the other match, Hikaru Nakamura bested Teimor Radjabov. Rather amazingly, their classical games only saw a grand total of 26-moves.
The matches for the Quarter Finals would see the following tussles: Daniil Dubov vs Hikaru Nakamura; Wesley So vs Alexander Grischuk; Ian Nepomniachtchi vs Wei Yi; Radoslaw Wojtaszek vs Peter Svidler.