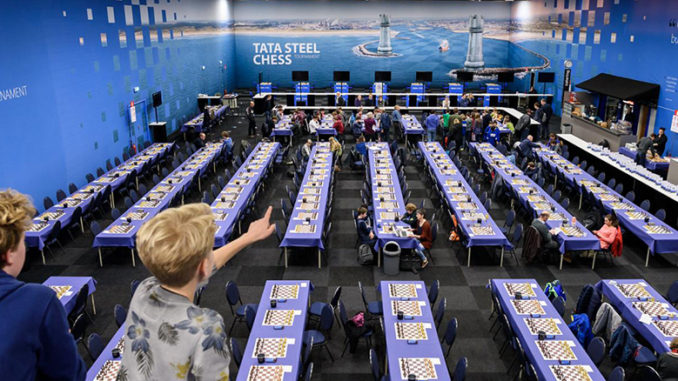 The Tata Steel Chess Tournament 2020, got underway on Saturday January 11th, with round 1. The tournament had opened the previous day at the Headquarters of Tata Steel in the Netherlands, in Velsen-Noord.
Focus will now be on Wijk aan Zee, the tournament's home since 1968. The small coastal village, which is just a few minutes down the road from Velsen-Noord, will see 13 of the 14 rounds played in 'de Moriaan', its sports and social club. As you will probably know by now, round 5 (Thursday 16th January) will be played at the stadium of football club PSV Eindhoven. This is the tournament's 'chess on tour' location this year.
There are no less than 7 players making their debut in the Masters group this year. And it was one of the debut makers who scored first in this round. 16-year-old Alireza Firouzja, from Iran, has burst on to the chess scene in the last year or so. In his first round game against Vladislav Kovalev, he showed why.
The other win of the round went to another member of the new, up-and-coming, generation of chess players. Dutch Grandmaster, Jorden van Foreest, made the most of the white pieces in his game against Chinese Grandmaster, Yu Yangyi. It took the home player 75-moves, in a Sicilian, but he outplayed his opponent in the endgame, taking the point to give Yu a bad start to the tournament.
Elsewhere, the other games were drawn and this included the highly anticipated pairing of World Champion, Magnus Carlsen and Dutch favourite Anish Giri, which failed to live up to its billing on the board. Carlsen went for the English opening, but not very ambitiously. The players steadily exchanged down and split the point on move 25.
Masters Group, round 1 Results:

Xiong ½-½ Dubov
Van Foreest 1-0 Yu
Carlsen ½-½ Giri
Caruana ½-½ So
Anand ½-½ Artemiev
Vitiugov ½-½ Duda
Firouzja 1-0 Kovalev
The Challengers group, saw Ganguly, l'Ami, and Eljanov opening their accounts. The latter won with Black against Vincent Keymer, who got caught tactically and lost a pawn. The young German put up a valiant defence, but the point went to his Ukranian opponent, who showed his experience in the Endgame, to convert his advantage.
Challengers Group, round 1 Results:
Saduakassova ½-½ Mamedov
Anton Guijarro ½-½ Abdusattorov
Smeets ½-½ Van Foreest
Ganguly 1-0 Warmerdam
L'Ami 1-0 Smirnov
Keymer 0-1 Eljanov
Sarin ½-½ Grandelius
Round 2, Sunday 12th January, 13:30 local time.
Masters: Dubov vs Kovalev, Duda vs Firouzja, Artemiev vs Vitiugov, So vs Anand, Giri vs Caruana, Yu vs Carlsen, Xiong vs van Foreest.
Challengers: Mamedov vs Grandelius, Eljanov vs Sarin, Smirnov vs Keymer, Wammerdam vs l'Ami, van Foreest vs Ganguly, Abdusattorov vs Smeets, Saduakassova vs Anton Guijarro.