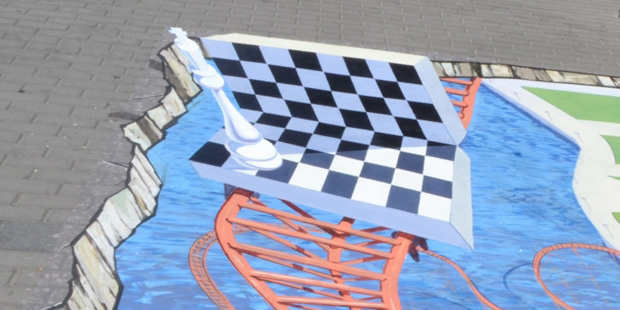 After playing five-rounds, the competitors of the 42nd Olympiad, held in Baku, Azerbaijan, had a rest day on Wednesday 7th September. The question was, could Russia and the Ukraine continue to dominate the standings when play resumed, on Thursday 8th September. As was the case in my half way round-up, I will concentrate on the Women's section for this concluding report, the Open section is dealt with here.
Round 6:
The leaders at the half way stage, faced each other in this round and it was really no surprise that the match was drawn. The round saw Anna Muzychuk taking a point at the expense of Alexandra Kosteniuk on board one, curiously having switched places with her Sister, Mariya, who played board two against Valentina Gunina, drawing. Natalia Zhukova and Aleksandra Goryachkina was also a draw on board three, while Olga Girya levelled the score for Russia with her victory over Anna Ushenina on board four. China-Romania was also a drawn match, and this saw Wenjun Ju (2583) losing with Black against Corina-Isabela Peptan (2394). To be honest, China will likely have been rather disappointed to have not decided this match, as Romania were definitely underdogs on paper, yet failed to show any authority other than Qi Guo winning her game against Irina Bulmaga.
Poland began the second stage of the tournament strongly, with a 3-1 result over Vietnam, which would move them into third place. And the rest day seemed to work for India, who beat Latvia 2½-1½. Turkey were almost whitewashed in their match against the United States of America, only managing to score a draw, thanks to Betul Cemre Yildiz holding Nazi Paikidze. Hungary and Azerbaijan-1 also drew their matches, against Kazakhstan and Georgia, respectively.
Standings at the end of the round, were as follows: Russia, Ukraine, Poland, Romania, India, Azerbaijan-1, China, United States of America, Netherlands, Georgia.
Round 7:
Russia will have been slightly disappointed to have only managed to draw their match against Poland, especially with the Ukraine fairing badly in their match against China. Alexandra Kosteniuk was held to a draw with the White pieces by Monika Socko and Natalia Pogonina also drew on board four against Klaudia Kulon, who she outrated by around 140-points. It really is a missed opportunity to have such a strong player on the lowest board and fail to make it pay.
As I have already said, China defeated the Ukraine in their match, bringing out Yifan Hou for the tussle. Her game with Anna Muzychuk was a draw, as were the other games apart from Zhongyi Tan, who beat Natalia Zhukova to take the win for China. No doubt a blow for Ukraine, who would plummet from second place to seventh.
US Champion, Nazi Paikidze was consistently doing her bit for the campaign of the United States, and she again carried the day with her defeat of Cristina-Adela Foisor in the match against Romania. Nazi played a very nice game as Black in the English opening, really taking the bull by the horns. She must certainly be one of the most promising female players around at the moment.
Elsewhere, Azerbaijan out-performed their round-7 opponents, India, to take a 2½-1½ victory. This was also the case in Netherlands-Georgia, with the Dutch taking the match points. Star of the show was Tea Lanchava (2258) who pulled off a nice win over Bela Khotenashvili (2463).
This, along with Israel taking it to Italy 3-1 and Turkmenistan drubbing Greece by the same score, meant some movement in the top standings: Russia, China, Azerbaijan-1, United States of America, Netherlands, Poland, Ukraine, Hungary, Israel, Turkmenistan.
Round 8:
Round-8 saw the United States paired against Russia in both sections. The men would end up drawing their match, but the Women pulled off a fine 2½-1½ victory. Irina Krush got the better of Alexandra Kosteniuk, with the Black pieces, and Katerina Nemcova also took a win against Olga Girya. Unfortunately Valentina Gunina was too strong for Nazi Paikidze, who lost with White, Natalia Pogonina was held to a draw by Anna Zatonskih. This bumped Russia from the lead of the event, down to sixth place infact, and the United States would move up to second.
Into the lead would go China, who only dropped a half point in their comprehensive victory over home team Azerbaijan-1. Yifan Hou, Wenjun Ju and Zhongyi Tan all took points. Poland dominated the Netherlands on the lower boards, with Klaudia Kulon and Mariola Wozniak both taking points against Anna-Maja Kazarian and Maaike Keetman respectively. This would see the Netherlands drop out of the top ten, with Poland moving in to third place.
Elsewhere, Israel and Turkmenistan (who both had good 3-1 results in the previous round) faced off against each other. The victory went to Israel 2½-1½. This dropped Turkmenistan 11 places, while Israel moved in to fourth place. Very nice going from them. The top standings were as follows: China, United States of America, Poland, Israel, Ukraine, Russia, India, Hungary, Bulgaria, Azerbaijan-1.
Round 9:
For those at the top, with aspirations of winning this event, every game and every match was crucial now. Positions can change so much with a draw or loss in the wrong place and everything would be decided by who could follow through on their potential. China did this against the United States of America, but only just. Nazi Paikidze was again a victim, being over-powered by Wenjun Ju. The other games in the match were drawn. This 2½-1½ victory would keep China in the lead with only a couple of rounds left to play.
Poland continued to perform strongly, taking a 3½-½ victory over Israel to maintain their second place in the standings. It is true that they were the ratings favourites, but this was a good performance from them for sure. Russia held off the challenge of Vietnam, thanks to Valentina Gunina, who scored a win against Thi Bao Tram Hoang, the other games were drawn. The Ukraine had an important match against Azerbaijan-1, which they won convincingly, 3½-½ to move them up into third place behind Poland. By contrast, the home team would plummet further down the standings, from tenth to nineteenth place.
Elsewhere, there were nice 3-1 results for India against the Netherlands and Georgia against Turkmenistan. Germany also scored a 3-1 result against Serbia, to improve their position, and Mongolia entered the top ten standings by getting the better of the Philippines. Excellent going!
At the end of this round, the top ten looked like this: China, Poland, Ukraine, Russia, India, United States of America, Georgia, Hungary, Germany, Mongolia.
Round 10:
China kept their winning ways going in this, the penultimate round. Only just though, it has to be said. Monika Socko had to surrender in the end to Yifan Hou and Zhongyi Tan showed her authority over Klaudia Kulon. However, by contrast, Wenjun Ju (2583) lost to Jolanta Zawadzka (2429). Luckily, Xue Zhao managed a draw against Karina Szczepkowska-Horowska and I say 'luckily' because had her opponent tried 41.Re4 instead of 41.Rb2, the result may well have been different. As it was, China held the lead going into the last round.
Poland moved down to third place and would be leapfrogged by Russia who pulled off a nice 2½-1½ win over Georgia. Alexandra Kosteniuk and Valentina Gunina pulled out the stops to take the points, against Nana Dzagnidze and Lela Javakhishvili. Nothing could separate India and the Ukraine in their match, the top two boards were drawn and the bottom boards saw shared points, Tania Sanchev defeating Natalia Zhukova and Anna Ushenina getting the better of Swaminathan Soumya.
It has to be said, that Mongolia can be very proud of their performance in this event, and not least for holding the United States to a draw in their match. GM Irina Krush was slayed by IM Davaademberel Nomin-Erdene and Anna Zatonskih (2449) was held to a draw with White by Tuvshintugs Batchimeg (2391). Sabrina-Francesca Foisor and Altan-Ulzi Enkhtuul drew their game, with Katerina Nemcova equalling things up for the United States.
And these were going to be the main players going into the final round, with the standings poised as follows: China, Russia, Poland, Ukraine, India, Hungary, United States of America, Bulgaria, Vietnam, Mongolia.
Round 11:
For the last three Olympiad, Russia's women have not been denied first place. They won in Khanty-Mansiysk, they won in Istanbul, they made the hattrick in Tromso. In Baku there was to be a different story. They faced the leaders, China in the final round to decide the title and were found wanting. Yifan Hou and Alexandra Kosteniuk drew their game, which left the lower boards to decide things among themselves. China came out of it the better, Wenjun Ju defeating Valentina Gunina and Zhongyi Tan taking the win over Aleksandra Goryachkina. This meant that Natalia Pogonina's win on board four, over Qi Guo could only made the defeat more respectable. They had been made to wait 12-years for it, but China once again had Gold. Russia out of the medals in fourth.
The Silver medal went to Poland, who drubbed Hungary 3½-½ in the final round. A much deserved medal, for a performance that they should be very proud of. The Ukraine won a nice round for them against Bulgaria, but the 3-1 score was only good enough for Bronze. India and the United States of America drew their match with each other, to finish in fifth and sixth place respectively, just behind Russia.
Elsewhere, Vietnam took a narrow victory over the Netherlands to secure a very respectable seventh place. Israel were ending their campaign with a 3-1 win over Mongolia and Georgia beat Austria by the same margin. They would finish in ninth and tenth places. The home teams had mixed fortunes, Azerbaijan-1 defeating Malaysia 3-1 to finish in 8th place and Azerbaijan-3 whitewashing Macedonia 4-0. A 30th place finish was their, two higher than the Azerbaijan-2 team, who only managed to score a half point in their final match against Iran.
Final Standings:
China — +9 =2 -0; score 20, TB 416,0
Poland — +8 =1 -2; score 17, TB 427,5
Ukraine — +7 =3 -1; score 17, TB 404,5
Russia — +7 =2 -2; score 16, TB 380,5
India — +6 =4 -1; score 16, TB 342,5
United States of America — +7 =2 -2; score 16, TB 332,5
Vietnam — +7 =2 -2; score 16, TB 328,0
Azerbaijan 1 — +7 =2 -2; score 16, TB 309,0
Israel — +7 =2 -2; score 16, TB 307,5
Georgia — +7 =1 -3; score 15, TB 356,5
And so, the event came to a close, with the Gold returning to China. They were indeed favourites for the event, but the result will no doubt smart a bit — there had been opportunities for Russia and Ukraine to pull off an upset. I think that there will be more than a little disappointment, and perhaps some questions to answer.
My congratulations to China on their win, and to all medalists and competitors.