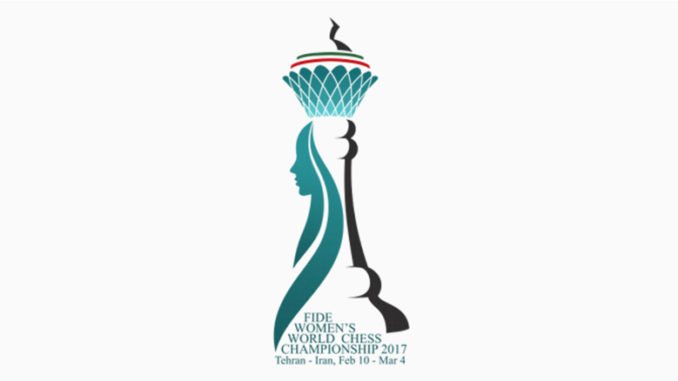 Round Two of the Women's World Chess Championship, was played between the 14th and 16th of February. In this knockout tournament, the round would begin with two classical games on the 14th and 15th and tie-breaks on the 16th if the scores were level. Knockout tournaments can be very unpredictable, with form on the day being much more important than ratings. This was illustrated in round one, with the likes of Natalia Zhukova and Ekaterina Atalik going out.
Would round two see the same surprises?
Game One
For the most, round two went much as expected. Ju Wenjun won against Chen Zhu with Black, the latter having completely messed up in a Nimzo-Indian. Black was already doing very nicely, even before White's absolutely awful 9.g4(??), which allowed …Qh4+ and …Ng3, completely winning. Ju wasted no time in going for the jugular and Zhu had done far too much damage to have any chance of hanging on. In the end it was a 26-move rout.
Anna Muzychuk soon had the better of things in her Giuoco Piana with Alina Kashlinskaya, who ended up getting herself into all kind of trouble on the Kingside. Black played far too ambitiously for the position and in the end both her King and Queen were in peril and to save one would condemn the other. Muzychuk had the point in 24.
Nana Dzagnidze, had what could be described as a shaky start to the tournament, losing her first game and having to really battle it out in tie-breaks in order to get to round 2. However, she did not have much of a problem with Black against Olga Zimina. The tide was already turning when Zimina did not help herself by getting some tactics wrong. This ended up with her having to either lose a knight or give up the exchange, rook for bishop. In the end she chose that, but she was up against it from here and Dzagnidze converted the advantage without problems.
Elsewhere there was some drama, as Shiqun Ni (2399) won against Valentina Gunina (2524) with Black. Gunina had qualified for round two in straight games, but now risked going straight out. She would have to win her second game, with the Black peices, in order to get to tie-breaks.
Other winners of the round were, Yang Shen against Anastasia Savina, Sopiko Guramishvili against Nataliya Buksa, Olga Girya against Anastasia Bodnaruk and Anna Ushenina won against Zhongyi Tan.
The other games were drawn, so the players would need to win their second games in order to go directly into the third round. Among these were Alexandra Kosteniuk, Harika Dronavalli, Antoaneta Stefanova, Nino Batsiashvili, Anna Ushenina, Natalija Pogonina, and the pairing of Elisabeth Paehtz and Pia Cramling.
A lot depended on game two, then.
Game Two
Game two saw Nana Dzagnidze winning her second game against Olga Zimina, to go through to the third round with a 2/2 match score. Saying that, she did not have the best of English openings, getting far too cramped. Black definitely had a chance in this game, with White being quite severely beaten back at one stage.
However, 31…Qh6 (…Qg5!) was not good enough and allowed Dzagnidze back into the game. From here, Black was only looking at drawing chances, but of course needed to win the game to survive and so had to try something. Unfortunately this worked completely against her and White was soon winning.
Also going through was Shiqun Ni, taking the scalp of Valentina Gunina 2-0. Gunina just wasn't up for this round and played two rather poor games. In this one she had a disastrous opening and her opponent was substantially better very quickly. Valentina did her best to fight, but too much damage had been done and with her King stuck in the centre she was well on her way to being mated.
Another 2-0 score was Olga Girya, who eliminated Anastasia Bodnaruk.
Draws were enough for Ju Wenjun, Anna Muzychuk, and Yang Shen, who went through with 1.5-0.5 scores. Pham Le Thao Nguyen also went through by the same score against Aleksandra Goyrachkina, winning their second game, with Black.
Goryachkina will be very disappointed, as the game had been very close, until her 36.f6. Had she played Rd1 instead, the game may well have had a very different outcome. As it was, the door had been opened for Pham, who got by far the better of the endgame, with an extra pawn and passers on each flank. Far too much to defend.
Straight through then, were: Wenjun, Girya, Dzagnidze, Shen, Muzychuk, Pham and Ni.
The other participants, would need to fight it out in the play-offs. These included Anna Ushenina and Sopiko Guramishvili, who were both pegged back by their opponents, (Zhongyi Tan and Nataliya Buksa respectively), having won the first game. The other pairings saw a full round of draws and would see the likes of Dronavalli, Pogonina, Kosteniuk, Stefanova and Xue Zhao all having to play some more games.
Tie-Breaks
No one wants to go to tie-breaks, that goes without saying. Those who do, want to get things settled in the 25-minute rapids and not have to go to the shorter games. This started well, then, for Dronavalli, Padmini, Ushenina, Batsiashvili, Huang and Cramling, who all took points from their opponents in the first rapid game. Things stayed tense for the likes of Kosteniuk, Stefanova and Guramishvili, who drew against Gaponenko, Melia, and Buksa respectively. One slip in the next game could mean curtains for them — no pressure, then.
The second game saw Dronavalli progressing to the next round. With a point lead, drawing against Dinara Sadukassova meant job done for her. Also through was Pia Cramling who won her second game against Elisabeth Paehtz to eliminate her 2-0 in the tie-breaks. Alexandra Kosteniuk defeated Inna Gaponenko to go through. Also avoiding the next round of tie-breaks, were Stefanova and Padmini (2387) who had eliminated Zhao Xue (2505).
---
---
Four pairings went to the next round of tie-breaks and this saw only one decided, Natlija Pogonina going through 1.5-0.5 against Huang Qian. The blitz round saw Sopiko Guramishvili eliminate Nataliya Buksa 1.5-0.5, and this left Ushenina-Tan and Batsiashvili-Khurtsidze going to an Armagedon game.
White has an extra minute in the Armagedon round, but must win and this meant that Anna Ushenina went out of the championship, only managing a draw against Zhongyi Tan. Also going out as white was Nino Batsiashvili, who lost her game against Nino Khurtsidze.
So, at the end of the second round, we are rather surprisingly without Zhao Xue, Valentina Gunina and Anna Ushenina.
Round 3 sees the following pairings:
Wenjun-Girya; Padmini-Tan; Dronavalli-Guramishvili; Dzagnidze-Shen; Muzychuk-Pham; Stefanova-Khurtsidze; Kosteniuk-Cramling; Ni-Pogonina.